"Quality, soul, personality and character"
Mr Pedro Martins introduced himself to the audience and the Media to explain his philosophy and his craving to bring Olympiacos back to champion's seat!
ΕΚΤΥΠΩΣΗ
Tuesday 8/5 afternoon, Olympiacos presented its new coach, Mr Pedro Martins. The Portuguese trainer introduced himself to the media and, in this way, to Olympiacos fans, in order to highlight his philosophy for a Legend's side with quality, soul, the qualities of a champion, as dictated by the club's history!
The panel consisted of Vice President Mr. Theodoridis, Strategic Advisor to the Administration Mr. Christian Karembeu, Olympiacos new coach Mr. Pedro Martins and, of course, our interpreter Mrs Marina Tsali. Olympiacos' Communication Director Mr Kostas Karapapas welcomed all Press representatives, members of the Administration and everyone attending the Press Conference; the floor was given to Christian Karembeu, who stressed amongst others: "Mr Martins has successfully worked in major clubs. We hope he will manage to instill in us the things he has learned and helped him become one of Portugal's top coaches".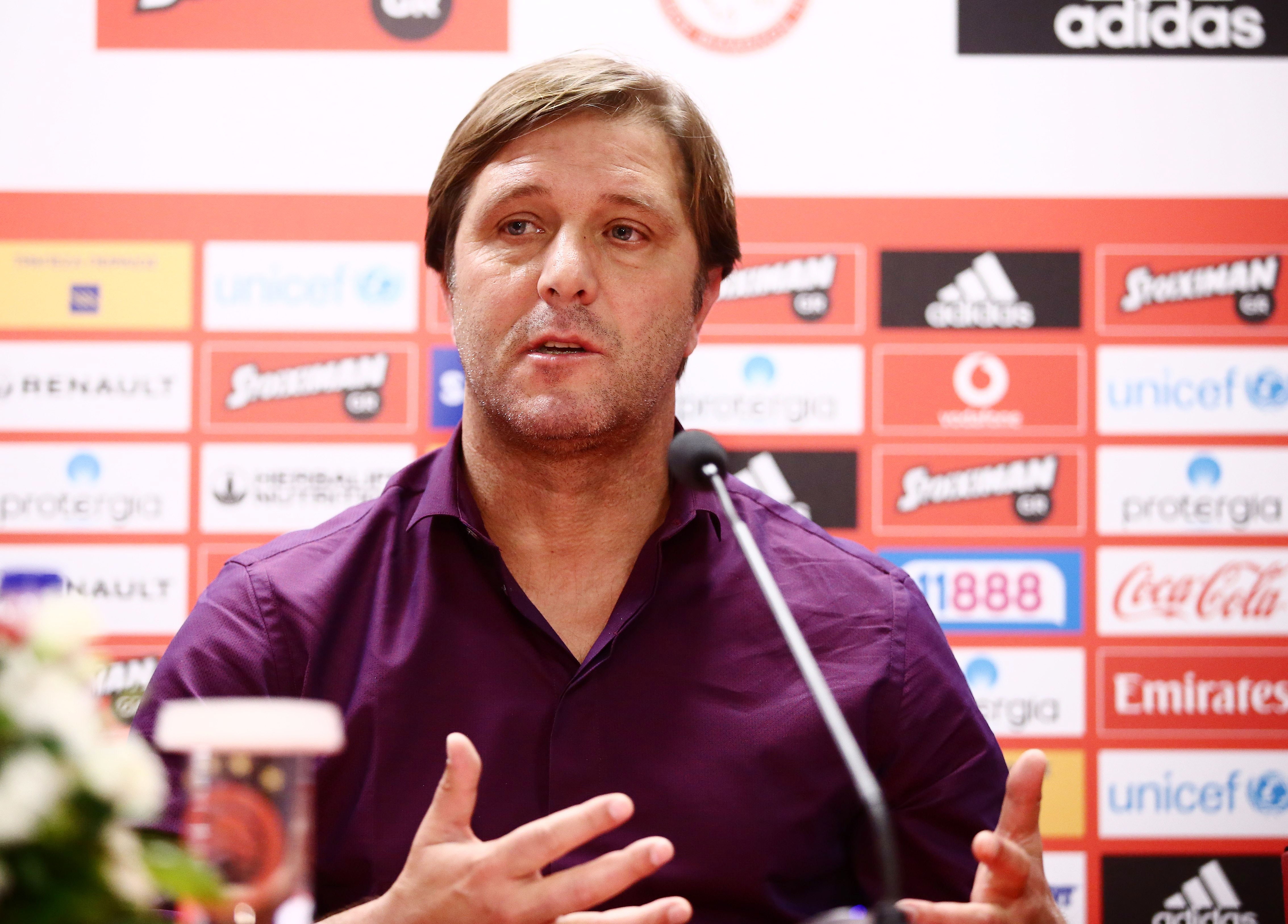 Then, it was Mr Martins' turn to share his first words and reply questions by journalists; he pointed out:

"It is a great honor for me to be able and represent Greece's largest club. I hope we will bring Olympiacos into a brand new era of their history, always preserving the size of this Club. We must always play with our soul and give everything on the pitch. I am ready, I know very well what's expecting me, what the fans want from me and the way I should have the team display.
My objective is to play well, to build an offensive-minded squad with its own personality and, thus, be able to control the match. This can only be the outcome of hard work and focus, to perform attractively on the pitch so that the fans like what they see and, then, results will come. The players to select must bear the qualities of dedication and commitment, beyond formations.
I am very well aware of the importance of Olympiacos fans. What I want, as we set out in this new era, is to put out a team that bears its own identity, character and personality. This is what we will demand from players; Players who can be winners, once again. Next championship will be even harder. Discipline is critically important. The players to join Olympiacos will also represent this great club also by means of their attitude. This is a great Club and inappropriate attitudes will be dealt with swiftly and cautiously, so that the team is left untouched. Everyone who finds himself here, will have to represent the Club's esteemed image as well".


After the coach finished his remarks and just before his presentation the Media was brought to a close, Mr. Theodoridis took the floor to point out, amongst others: "We all have the to become one, together with our new coach. I have endless trust to Portuguese coaches. Our President made sure he joined us at the right moment. We are all on the same page; we are all united to the benefit of Olympiacos".



Click HERE for the photostory.