Such recognition is the biggest reward one could expect! Our team is being recognized as a peer amongst the world's best! Our side holds a prominent place in the European, as well as the international's football elite. No mightier way to prove that but the legendary performance of our side in this year's ICCthat will be hosted at summertime in the USA! Our Olympiacos will attend and play against some of our planet's greatest clubs!
ICC is an international tournament that reaches far beyond the narrow confines of the Old Continent! International Champions Cup 2014, which will be staged in 13 States overseas, is a celebration of football featuring our continent's most prestigious clubs, in front of an audience hungry for top-level football! This is tournament that gradually evolves into an institution. Last year's edition was a huge success, with participating clubs such as Inter, Juventus, L.A. Galaxy, Real Madrid, Everton, Chelsea and Valencia.
This year's guests will be even more illustrious! The eight sides to perform will be the following:Olympiacos, Milan, Real Madrid, Inter, Manchester United, Roma, Manchester City and Liverpool. Split in two groups, these eight clubs will stage epic football "battles" on American soil, at US-located, gorgeous stadiums! New York, Chicago, Washington, Denver, Dallas and Phoenix will be some of the States providing the scene for European football's stars to shine bright and display what they are capable of!
Our team will be there!The tournament will kick-off on July 26th and end on August 4th; the final will be hosted in Miami! Our side's captain, Avraam Papadopoulos, shared his particular joy for the opportunity given to the squad to visit the USA and be part of such a marvelous tournament:"It is a great honor for our team to perform together with the planet's top sides. Our joy is even bigger since we will find ourselves next to the Greek Diaspora in the US! Olympiacos is a club of great magnitude and participating in the ICC proves that once again"!
During the tournament's official presentation on Tuesday February 4th in Miami, Florida, the organizers disclosed the eight teams selected to perform on American ground.Our club's Sports Director, Mr Pierre Issa, was there and said:"It is a great honor and a reason to be proud of, that Olympiacos FC is here amongst Europe's finest! This is where we belong and we aim at displaying our best for the spectators who will attend the matches. We are really happy for being able to be close to the Greek Diaspora in the USA"!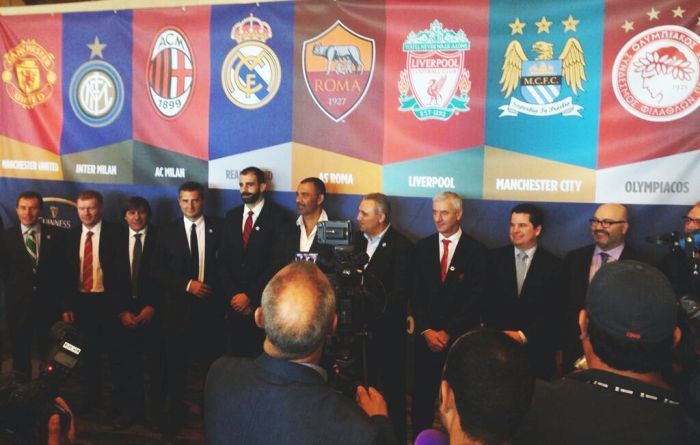 Stay tuned in our Olympiacos official site (www.olympiacos.org) since in the weeks to come you will be able to find out more details about the fixtures schedule, and other interesting information on the International Champions Cup. Also, you may visitwww.internationalchampionscup.comfor info on match dates and purchasing tickets.
Photostory of the Press Conference, click HERE.