In football, there are a few iconic players, who remain at top level, NO matter how many years have passed. Hover, it is their character and leadership qualities the kind of legacy they bestow to football, which they used to serve and may still do. One of this great icons of football is Steven Gerrard! Last Saturday afternoon, the great captain sealed the end of his Anfield spell, in a match against Crystal Palace, and walked off the pitch in exaltation! Reactions were the same like 2 years ago, during his testimonial match, on the very same pitch, against the Legend of Greek football: OLYMPIACOS!
For many years, Legend's fans used to have a certain image of Gerrard in their mind. It was the encounter that marked the end of Olympiacos's European campaign match of that year, in which Gerard had scored and thus secured Liverpool qualifying for UEFA Champions League's next stage. This fine Englishman, however, never stopped hailing the great side he had played against and stressing the importance of that victory, which opened Liverpool's way until the final and the European title!
Many years later, when in summer 2013 Olympiacos was invited by Steven Gerrard to Anfield for that testimonial friendly match to honour Liverpool's celebrated captain, our side could not but accept. In a kind of… family atmosphere, both teams lined up before thousands of spectators cheering on every pass between Olympiacos players. Even when Olympiacos squad arrived in Anfield, people gathered outside the stadium and waiting on nearby parks, stood up and started to respectfully clap and welcome the Greek champions!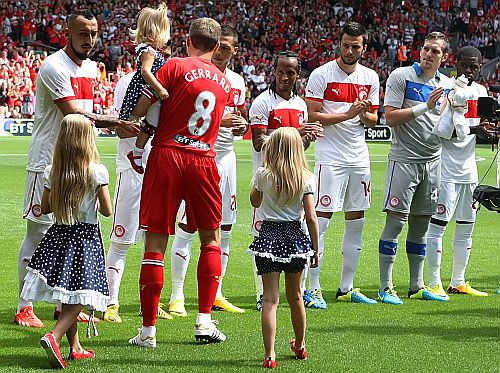 Steven Gerrard himself used to and still fosters the same respect for Olympiacos. He gave a red-carpet treatment to our President Mr Marinakis. Both men exchanged honor plaques and expressed one to another their mutual admiration and respect. In an interview for Olympiacos TV,"Stevie" stressed that he was sort of words to describe the significance of the Legend's participation in that Anfield testimonial…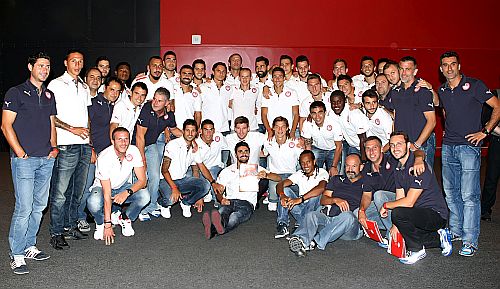 On the same night, Mr Vaggelis Marinakis and the entire Olympiacos squad were invited by the great Liverpool captain in his charity gala! Mr Marinakis announced his impressive financial donation of GBP 100,000 to the Steven Gerrard Foundation, a charity fund established by Liverpool's top player to help disadvantaged children in need, through poverty or illness! Gerrard personally thanked him! Both sides used to have excellent ties that, following that event, became even stronger. Besides, our clubs are linked by two tragedies, which were mentioned during the 2013 testimonial and will always remain in the hearts of both sides' fans…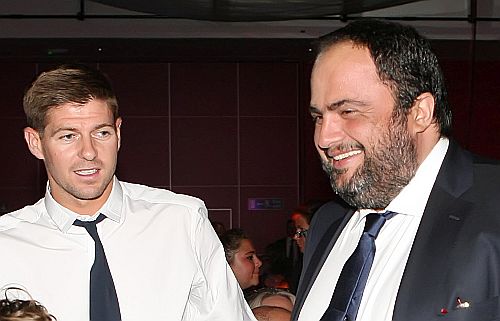 One year later, in 2014, the one and only Gerrard and the Legend met again. Olympiacos, as one of the top clubs present, participated in the International Champions Cup, held in the US; amongst others, our side played, once more, against Liverpool. Gerrard had, back then, the OPPORTUNITY to give another interview to OLYMPIACOS TV and said, amongst others, that "Olympiacos has always a special place in my heart. I always try to learn about Olympiacos news, when they score goals and win matches! I am a fan of Olympiacos, it's one of the clubs I support"! Some great words from a great player…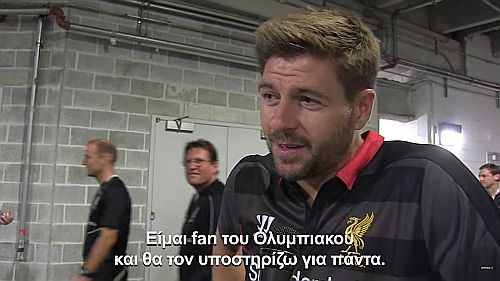 There are things that acquire important value when those who utter them, have an importance of their own… And Steven Gerrard was and will always be a significant friend of Olympiacos! And he will be dearly missed in Anfield…
Steven Gerrard's interview to Olympiacos TV: