Hope is born every time a child smiles; it was no lie that on Friday April 1st many refugee children started smiling at the port of Piraeus, where they are all hosted with their parents. It is this "stone-built warehouse" and Gates Ε2 and E3 they now call "home".
For how long? Time will tell. But Olympiacos will be standing next to them no matter how long it takes. The country's largest sports club remains firm next to these people in need. Our efforts started on March 4th and will go on.
For almost 2 hours, the Legend's mission of love, headed by Karaiskakis SA CEO Vassilis Vassiliadis, and made of Club volunteers, distributed lots of items to improve everyday lives of those people. This time Mr Vassiliadis and his assistants had some great help. Following Roberto, Dominguez, Hernani and Seba, another seven of our players came to help the refugees.
It was Fortounis, Cambiasso, Milivojevic, Kapino, Kasami, Bouchalakis and Masuaku, as well as team manager Kyriakos Dourekas and FC's Communication Officer Kostas Karapappas.
The players were actively involved in this "drill of compassion" since they spent a lot of time handing out jackets, sweaters, towels, balls, pairs of shoes, beanies, underwear, bars of soap, fruits etc. Almost 6,000 products were offered by our players and Olympiacos volunteers to young refugees and their parents.
Nor those high temperatures in place, or the scorching sun were enough to deter Olympiacos players from attending. They participated wholeheartedly; besides, they received so many smiles, mainly, by refugee children that they wouldn't change them for the world. In fact, once handing out stuff was over, they couldn't resist playing some ball or having a handshake with them, giving them a hug and asking them things out of true concern. It was something genuine, nothing pretentious about it.
Actually, Kasami had a young fan with him while giving an interview; he also gave the kid a present. How else could it be? The young boy spent the entire interview staring at him while talking to the Press, and kept thanking him for being there, with his teammates, for them. Cambiasso was also there having some high-5s with these young football players.
Pajtim Kasami, obviously moved and under emotional pressure by the refugee tragedy, said: "This is really hard to see. It's my first time here to see the refuges. It is hard to see what these people are going through. This is 2016 and such things still happen. I am grateful that my club, Olympiacos, is helping all these refugees. Currently, the weather is great and kids are smiling. However, imagine what was happening some time ago, when the weather was cold with all kids crying and suffering. What Olympiacos delivers here is important and the club is worthy of great respect. These kids have been crying and suffering; just picture that! It takes a ball or some playing with them to put a smile on their faces. We, as human beings, must be grateful for what we have. These people deserve a better future".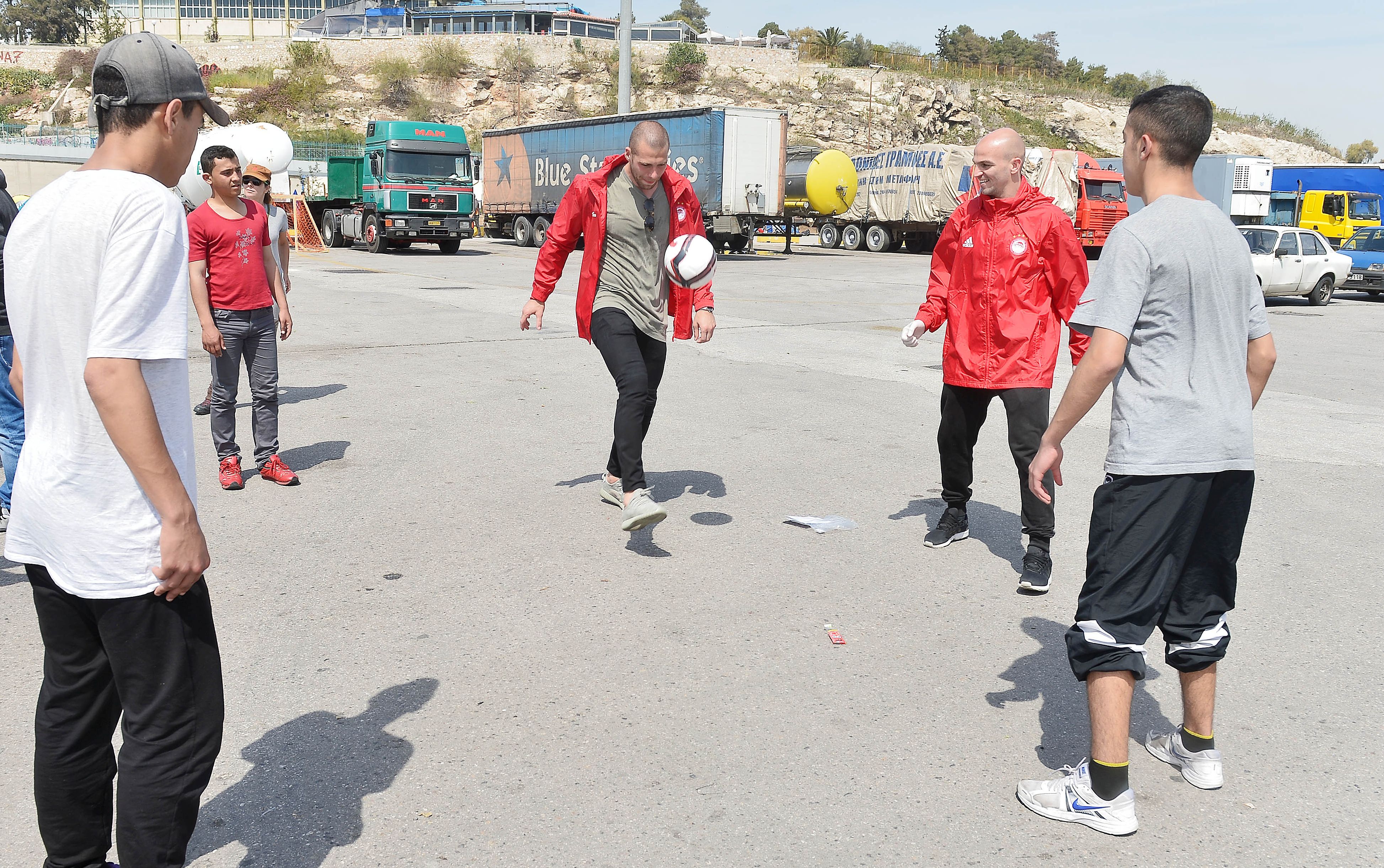 Esteban Cambiasso said: "This situation is tragic and particularly delicate; happily, there are people who want to help, just like our Club's President Mr Marinakis. Certainly, there are other individuals who currently help turn everyday lives of these people into something a bit less ugly".
For his part, Kostas Fortounis mentioned: "Each and every one of us feels bad and this is why Olympiacos wants to help in every way possible; be it by offering food or distributing clothing that these kids so dearly need".
Andreas Bouchalakis was also shocked by the ordeals the people are going through, particularly young and vulnerable children who suffer the most by hardships. While talking to the Press, he stressed: "On the one hand, we are happy to be able to help, via Olympiacos and following our President's wish, as much as we can; on the other hand, it is really sad to see what the situation these people have to face. We hope that whatever is best for them will take place as soon as possible, both for the kids and adult refugees who left their home countries in such a way. Our minds might be set to other concerns during training or a match, however we are all touched by this situation. It would be great if everyone, to the best of his abilities, can do his bit in this great effort and help these people find a way-out".
Stefanos Kapino, from his side, added: "it's my first time here. It is really sad for everyone, for mankind as whole, to witness such things. Having said that, our President Mr Marinakis and Olympiacos supports refugees and all people in need, regardless of their nationality, in order to carry one. We give children and adults something to put on and other items. We hope that one day these kids will be back on their feet and say that Olympiacos has been there for them".
Artur Masuaku underlined: "Olympiacos is a great club and one with a great heart. I salute our President, Mr Marinakis, for helping people regardless of their nationality. It is a great joy for us to participate in such initiatives and this is something really good both for the club and its image".
FC's Communication Officer Kostas Karapappas said: "Since day one, Olympiacos has been here trying to support refugees going through such a hard time. We have handed out more than 70,000 portions of food and two times more clothing items and other commodities. The idea of stopping has not even crossed our mind since our President Mr. Vaggelis Marinakis asked us –early enough- to be here and help for as long as it takes. Just the way we do it all year around with all our fellow citizens in need. Mr Marinakis has asked us to make sure that the Club returns to society all the love it receives from people".
Watch the video:
Click HERE for the entire photostory.