To support our fellow-men massively represents the essence of OLYMPIACOS. As do our actions against all forms of hardships that torment mankind. Victories, titles and all kinds of acknowledgments grow the legend of our Legend, but, apart from all these, what stands next to them is the ability to make children smile, to make happy all these people in need, to offer relief to those who cannot carry it off on their own…
This huge initiative taken by both Olympiacos and UNICEF, this great partnership of these two organizations, keeps on growing and developing. It opens up new horizons and new paths towards a better life for the children, who represent the future of this world.
On Tuesday afternoon, kids became once again the focal point. The Legend's stars Brown Ideye and Arthur Masuaku visited the refugee reception center in Elaionas. They were there, next to minors hosted in the premises and spent all afternoon with them, offering them both joy and many-many gifts!
They handed out new Olympiacos-branded balls (including -but not limited to- athletes), puzzle games, drawing paper, color pencils, stuffed animals, and all kinds of toys that may keep minors happy during their hardships away from home. Laughter and smiles lit the place up and our hearts and both Olympiacos players couldn't help laughing as well, out of their happiness for being able to make those children cheerful even for some time.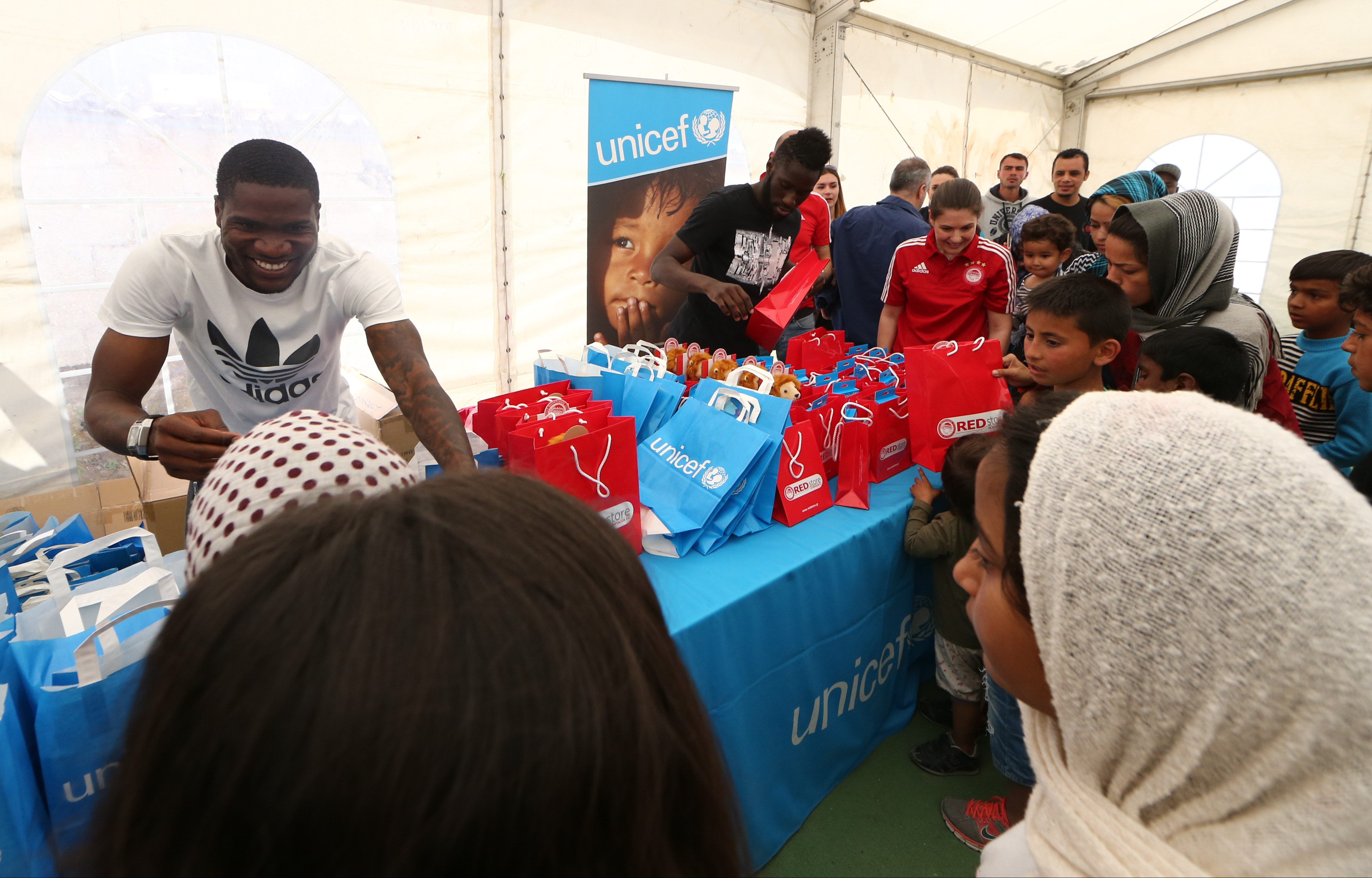 Not only children are they hosted at the Elaionas Reception Center, but also adults, who during the gift distribution played football, at the center's courtyard. Brown Ideye and Arthur Masuaku asked to play with them and refugees accepted with great joyΟι δύο ομάδες χωρίστηκαν και το παιχνίδι άρχισε! They had 2 teams made and the game begun. The legend's stars and former Legend players played – for a while- as opponents, by marking one another and by creating some really beautiful replays with other refugees!
Just before leaving the Elaionas Reception Center, Ideye and Masuaku expressed on Olympiacos TV crew their immense happiness for their being here, as well as their pride for becoming UNICEF and OLYMPIACOS!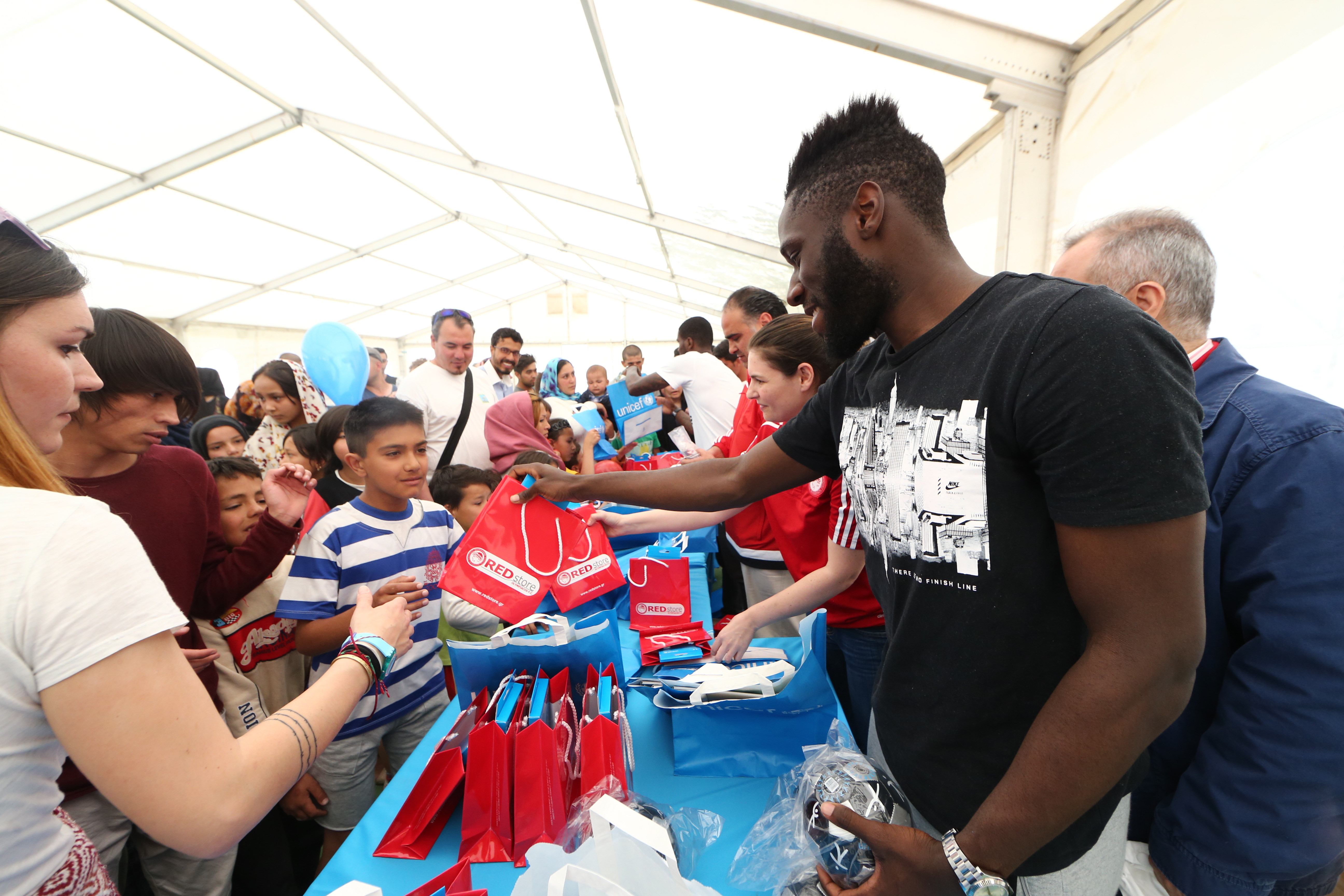 "I feel really grateful for being given with the opportunity to participate in such a significant action, like the one here today! We are all quite aware of the value of what UNICEF and Olympiacos do, since they both help significantly all children in need. The have babies vaccine and they actually do everything in order for these kids to move forward in life.
I am so grateful and proud of being part of such an initiative.
I am also proud of my Club, Olympiacos, which helps in every way possible these people, these kids to be happy. Being able to make someone smile is wonderful. Our President is doing something really important and I am really proud of that.
Being here with them even for a short while, being able to give them joy is something that gives me so much happiness in return", stressed Arthur Masuaku.
"It is very important that we are here to see these people from close. They suffer a lot. After all the things they have been through, having UNICEF and Olympiacos in place and ready to help them with their resources, is the best thing.
I want to say a big "thank you" to Olympiacos and UNICEF for their kind gesture towards these people-and not just that. Seeing all these kids here is particularly moving for me, personally. These children have dreams of their own, they want to live their life; however life has not been treating them as they wished for.
Coming here today meant also meeting some of tomorrow's football players (note: his words and the smile on his face showed how much he enjoyed playing football with them). These individuals will be the ones to make a strong contribution in our society in the future. It is good to be able to help, to offer what we have at our disposal and I am really glad we came here today to support them", underlined Brown Ideye.
Click HERE for the entire photostory.