A world class academic event that crossed over to the entire US, under the auspices of Olympiacos, has drawn to a close. Harvard University's conference, entitled "Reinforcing, Crossing, and Transcending Borders: Soccer in a Globalized World" concluded its works, Wednesday evening, at the Karaiskakis Stadium.
It was two full days well spent that featured numerous debates on various football-related issues connected with humanity and the assistance the king of sports may provide to mankind. The participants were eager to express their satisfaction on the way the conference developed, the progress made and the fact that foundations were laid for the 3rd World Congress in June 2018!
Closing the conference works, Mr Steven Ortega shared his heartfelt thanks to Olympiacos, Mr. Evangelos Marinakis, for all the help provided to the participants during these 3 days they spent in our country. a fine version of Greek hospitality was presented to them, provided by host club of Olympiacos and all members of the academia attending expressed their joy for the opportunity they were given to experience in person both Greek culture and the Legend of Greek football!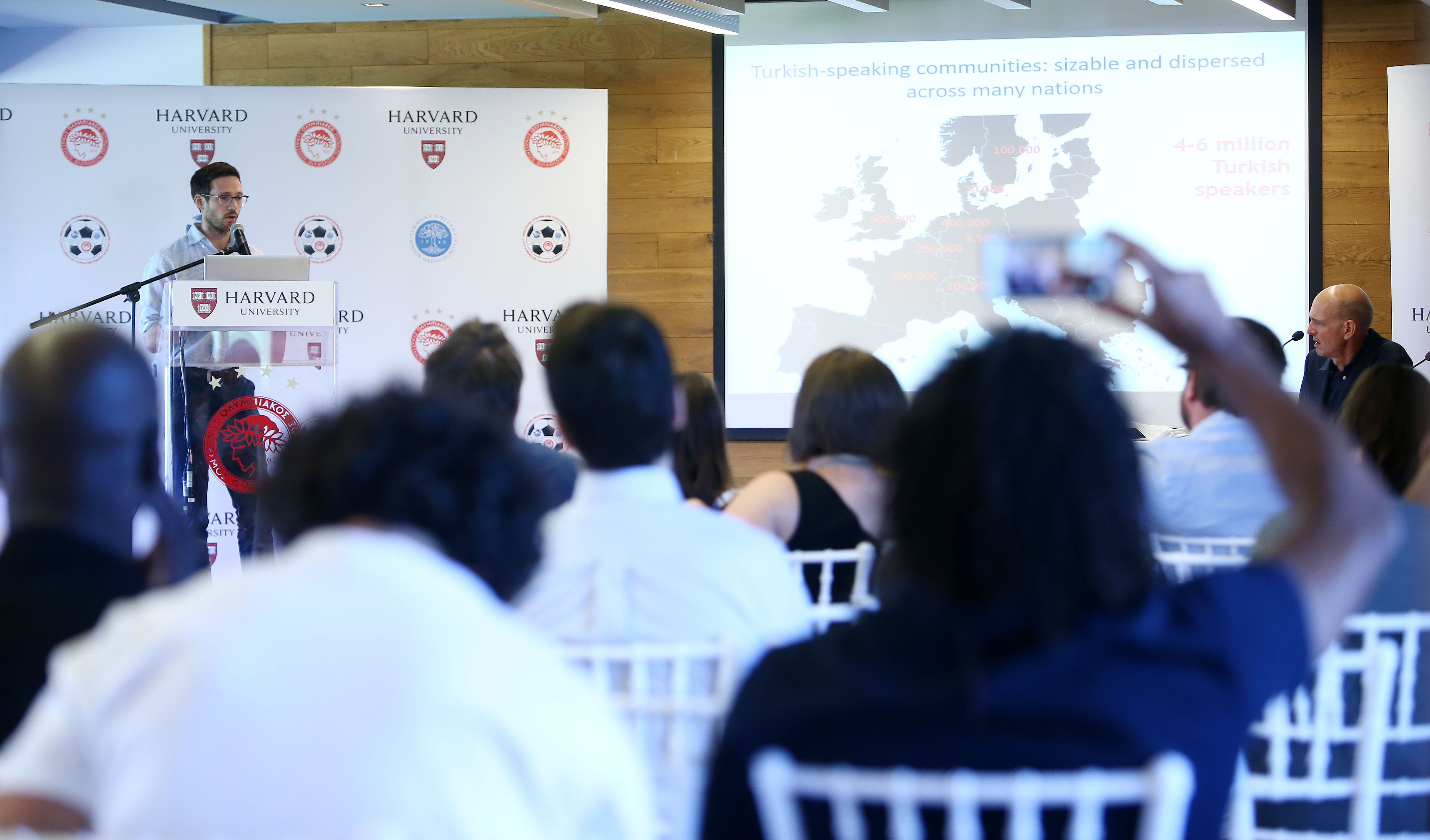 The 2nd day's agenda had not changes to the original one drafted and included the following sessions:
09:00 Panel 3: Transnational Fandom
"I Love Messi and My Shirt Says Messi Loves Me"
Tamar Rapoport, Professor Emerita of Sociology, Hebrew University of Jerusalem, Israel, and Columbia University
"Fandom at Work: The Salt Lake Stadium, Supporters Clubs and encounters of Organized Fandom in Contemporary Kolkata"
Rohan Sengupta, PhD Candidate, Centre for Studies in Social Sciences, Calcutta, India
"Expanding borders, expanding quarrels: rethinking transnational fandom through Turkish diaspora soccer fans"
John McManus, Postdoctoral Fellow, British Institute at Ankara, Turkey
"Transnational soccer fan identities and cultures in Zimbabwe: Globalisation, glocalisation, appropriation and hybridization"
Manase Kudzai Chiweshe, Senior Lecturer: Chinhoyi University of Technology, Harare, Zimbabwe
Moderator: Stephen Ortega, Associate Professor and Director of the Graduate Program in History/Archives Management, Simmons College, USA
10:45 Panel 4: Expats and Migration
"Brazilian Expatriated Footballers: Crossing and Transcending Borders"
Carmen Rial, Professor of Anthropology, Federal University of Santa Catarina, Brazil
"Mexican-American Futboleros in Greater Mexico: Crossing and Transcending Borders" Romeo Guzman, Assistant Professor in U.S. and Public History, California State University, Fresno, USA
"Football Im/mobilities: West African Perspectives"
Christian Ungruhe, Post-Doctoral Researcher, Aarhus University, Denmark
Moderator: Stephen Ortega, Associate Professor and Director of the Graduate Program in History/Archives Management, Simmons College, USA
12:30 Player Roundtable
Temryss Maclean Lane, MA in American Indian Studies, University of California, Los Angeles. Former player for Ajax America Women and Balinge, Sweden.
Christian Karembeu, Strategic Advisor for Olympiacos F.C. He played professionally from 1990-2006 for several teams, including Real Madrid, Olympiacos, and the 1998 World Cup-winning French National Team.
Antonios Nikopolidis, Under 21 Greek National Team Coach, Former Olympiacos and Greek National Team Goalkeeper
Lilian Thuram, Former French National Team, FC Barcelona and Juventus Player and Human Rights Activist , Head of Lilian Thuram Foundation: Education against Racism
Moderator: Leanne Doherty Mason, Simmons College Arts and Sciences Dean; author of Level Playing Field for All: Female Leadership and Athletics
14:15 Lunch_Vammos Restaurant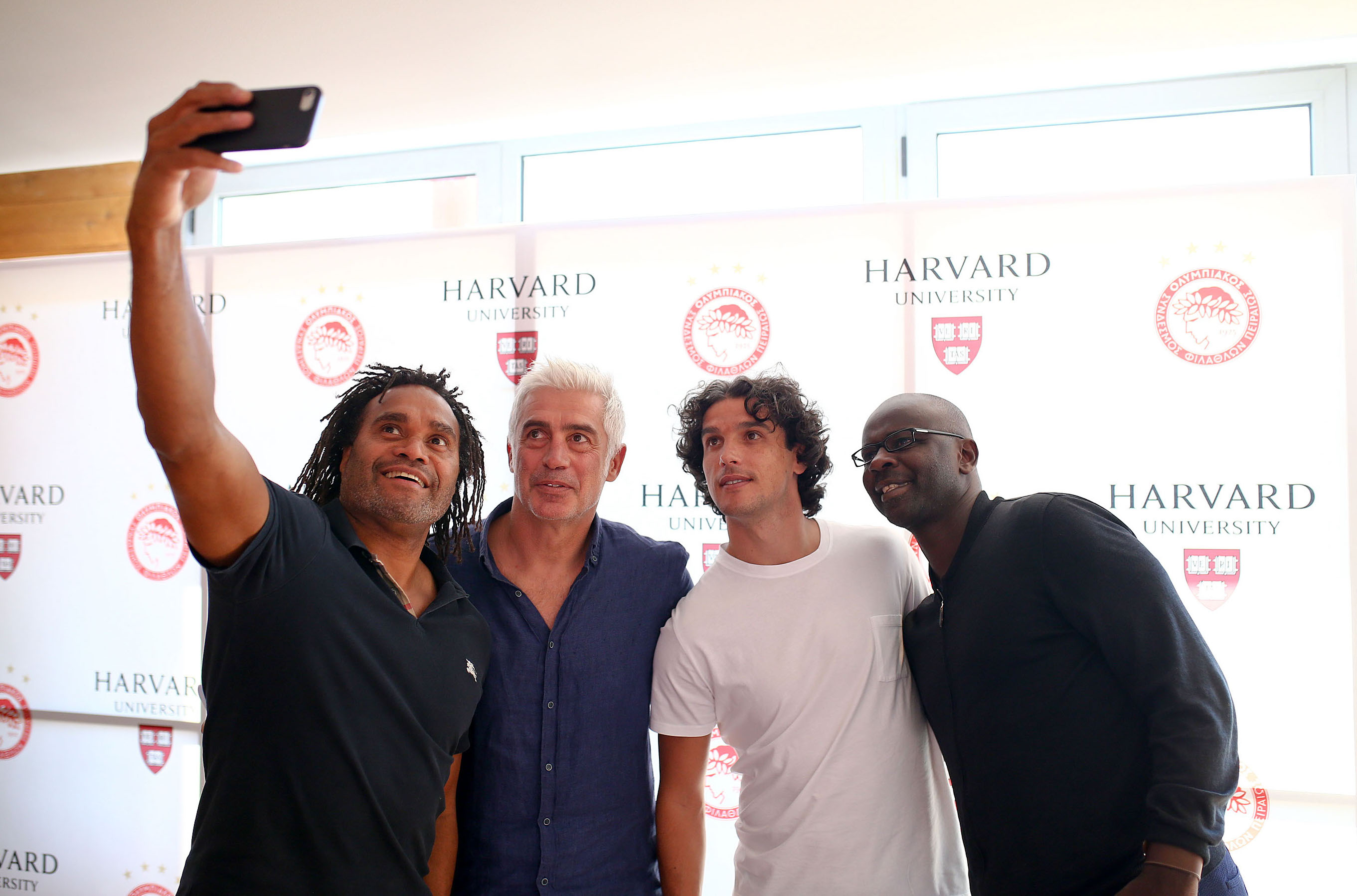 Conference Conveners:
Sven Beckert, Laird Bell Professor of History, Harvard University, USA
Stephen Ortega, Associate Professor and Director of the Graduate Program in History/Archives Management, Simmons College, USA
Yağmur Nuhrat, Instructor, Bilgi University, Turkey
Daren Graves, Associate Professor, Education Department, Simmons College, USA
In the end of the conference, it was time for everybody, meaning academics, Olympiacos officials and speakers to put their Legend jersey on and, accompanied by Leone, to have countless photographs taken! One could see nothing but big smiles shining across the V'ammos premises; this was the afterword of such a great academic event hosted in Karaiskakis by Olympiacos!