In an impressive ceremony in Madrid, Euroleague signed the Athens Principle, thus supporting the initiative of Olympiacos' leader, Mr. Evangelos Marinakis, in cooperation with Harvard University!
In the panel, from left to right, we can see Mr. Stephen Ortega (HarvardUniversity), Mr. Florentino Pérez (President of Real Madrid), Mr. Jordi Bertomeu (President of Turkish Airlines Euroleague), Mr. Ozan Balaban (Vice President of Fenerbahçe Doğuş) and Mr. Christian Karembeu (OlympiacosFC).
The top European basketball competition stands by Mr.Marinakis' initiative to defeat borders and discrimination through sport!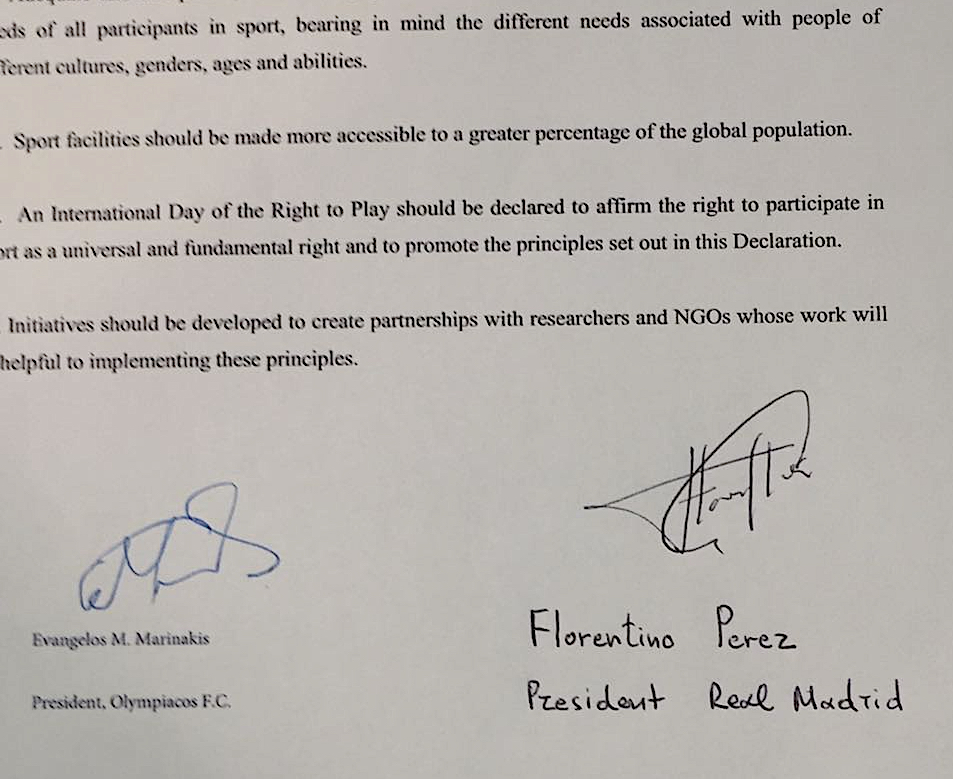 Most important of all, however, is the presence in the panel of the President of Real Madrid himself! After Barcelona, just a few months ago, the "Athens Principle for the Right to Participate in Sports" is signed again by a huge club like Real Madrid and it becomes clear that, at the highest level, initiatives and efforts like the one Mr. Evangelos Marinakis did (and keeps doing) with Harvard University find worthy supporters!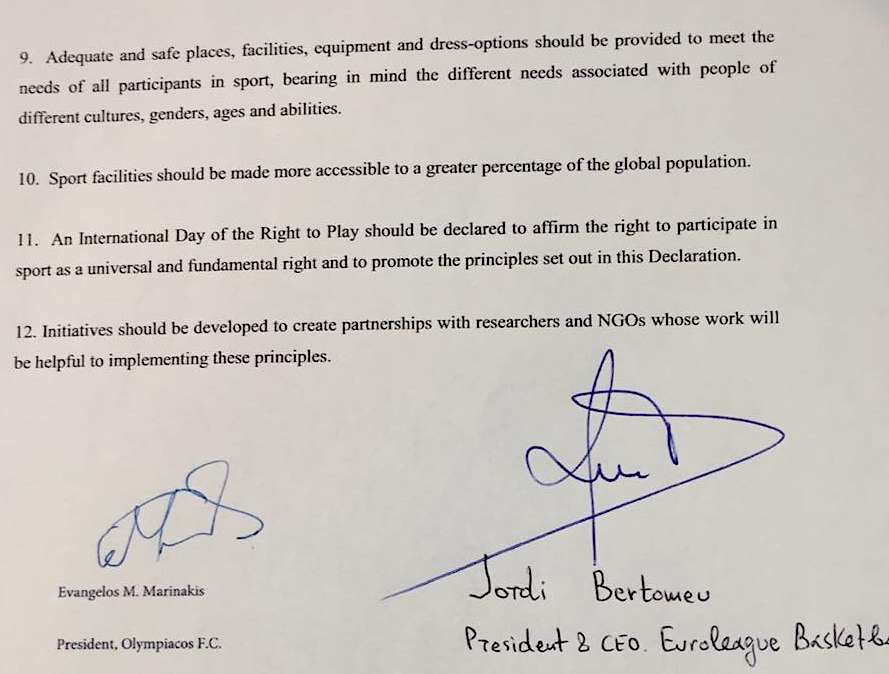 Statements on the event:
Florentino Pérez (President of Real Madrid CF): "We respect this great effort by Mr. Marinakis for the Athens Principle and we will help with all our strength so that the message this initiative wants to pass is spread everywhere".
Jordi Bertomeu (President of Turkish Airlines Euroleague): "Sports must not be divided into each specific sport. We all must try, based on the "Athens Principle", to abolish discrimination also through sports, and to unite the different peoples all around the world".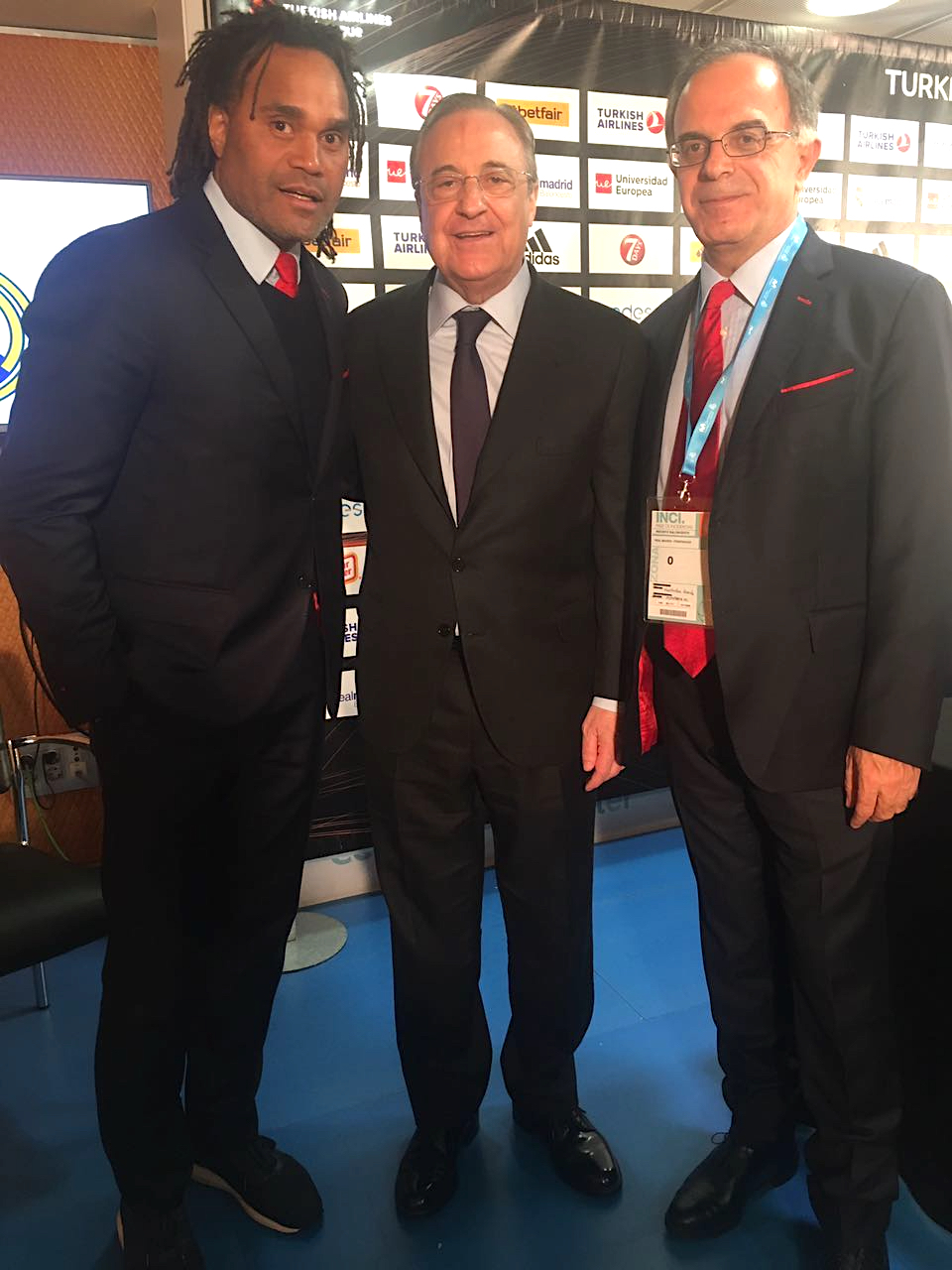 Stephen Ortega (Harvard University):"I sincerely thank Euroleague, Mr.Florentino Pérez and Mr.OzanBalaban (Vice President of Fenerbahçe Doğuş) for their support, as well as Mr. Karembeu, who is always on our side, since the beginning. However, I would like to thank particularly Olympiacos' leader, Mr. EvangelosMarinakis, because without his assistance and effortwe wouldn't be able to organize this conference a few months earlier and to sign this great Athens Principle in order to send the message of unity through sports".
Christian Karembeu (Olympiacos FC): "We are truly satisfied, in Olympiacos as an institution, that this effort of ours with Harvard University is being embraced by the world of sports. Real Madrid, Fenerbahçe and, of course, the Euroleague itself are huge organizations and we see that they stand by Mr.Marinakis' initiative so that we might turn sportsinto the "vehicle" that will lead to a better future for the peoples of the world".