Olympiacos FC along with the entire Olympiacos CFP organization represent a family that lives and breathes sports! The journey that started with its establishment led to OCFP becoming, as of today, a huge entity and one of the largest multi-sport clubs around the world! In this contest, it keeps on deploying partnerships and synergies across the planet, let alone Europe.
Friday afternoon, Greece's largest club received, at the Georgios Karaiskakis Stadium, a delegation of the Chinese Athletic Federation and a special committee on Marathon-related events and issues. The Legend of Greek football and all sports, which was represented in Rio during the recent Olympic Games, is spreading its wings and, in collaboration with the Municipality of Marathon and their Mayor Mr. Ilias Psinakis, introduces the "red-and-white" culture and legacy to sports executives of China and to HE Ambassador of China in Greece, Mr. Xiaoli Zou.
Delegates coming all the way from China had the chance to visit in person Olympiacos famous home ground, the Georgios Karaiskakis Stadium, marvel at the premises and try culinary delicacies prepares at the stadium's restaurant. They also held discussions with Olympiacos FC executives on various matters about football and sports in general, while also focusing on the Marathon event.
The list attendants indicatively included Christian Karembeu, Olympiacos Vice President Dimitris Agrafiotis, International Relations Director Konstantinos Vernikos, Commerical Director Michalis Laios, Director of EKE Domenikos Masoulas, Club Brand Management Director Penny Lagka, Head of Schools Network Vassilis Nanos, Team Manager Kyriakos Dourekas, General Director of Olympiacos CFP Christina Tsiligkiri and OPAN President Stavroula Antonakou.
With the Karaiskakis Stadium in the background, visiting sports executives from China enjoyed their meal and our famous Greek hospitality as a whole. Olympiacos-branded gifts were given to all visitors. Last year, the Legend had played also host to another Marathon committee during a splendid event held at Karaiskakis to honor friendship ties established between municipalities from our country and China.
Olympiacos' leader Mr. Evangelos Marinakis had stressed amongst others: "Welcome to our home, to Greece and Piraeus, the port of our heart; to Georgios Karaiskakis Stadium, the home of the Olympiacos family and the venue that hosted the original 1896 Olympic Games as a velodrome and football matches of the Athens 2004 Olympic Games. Of course, we fully reconstructed it in order to build a state-of-the-art football pitch. China and Greece! Two nations that lifted science, phyllophyte and arts at unprecedented heights thousands of years ago! Two nations that spread the offerings of civilization and culture across the world. Two peoples, which have been standing out as merchants and seafarers from ancient times to date.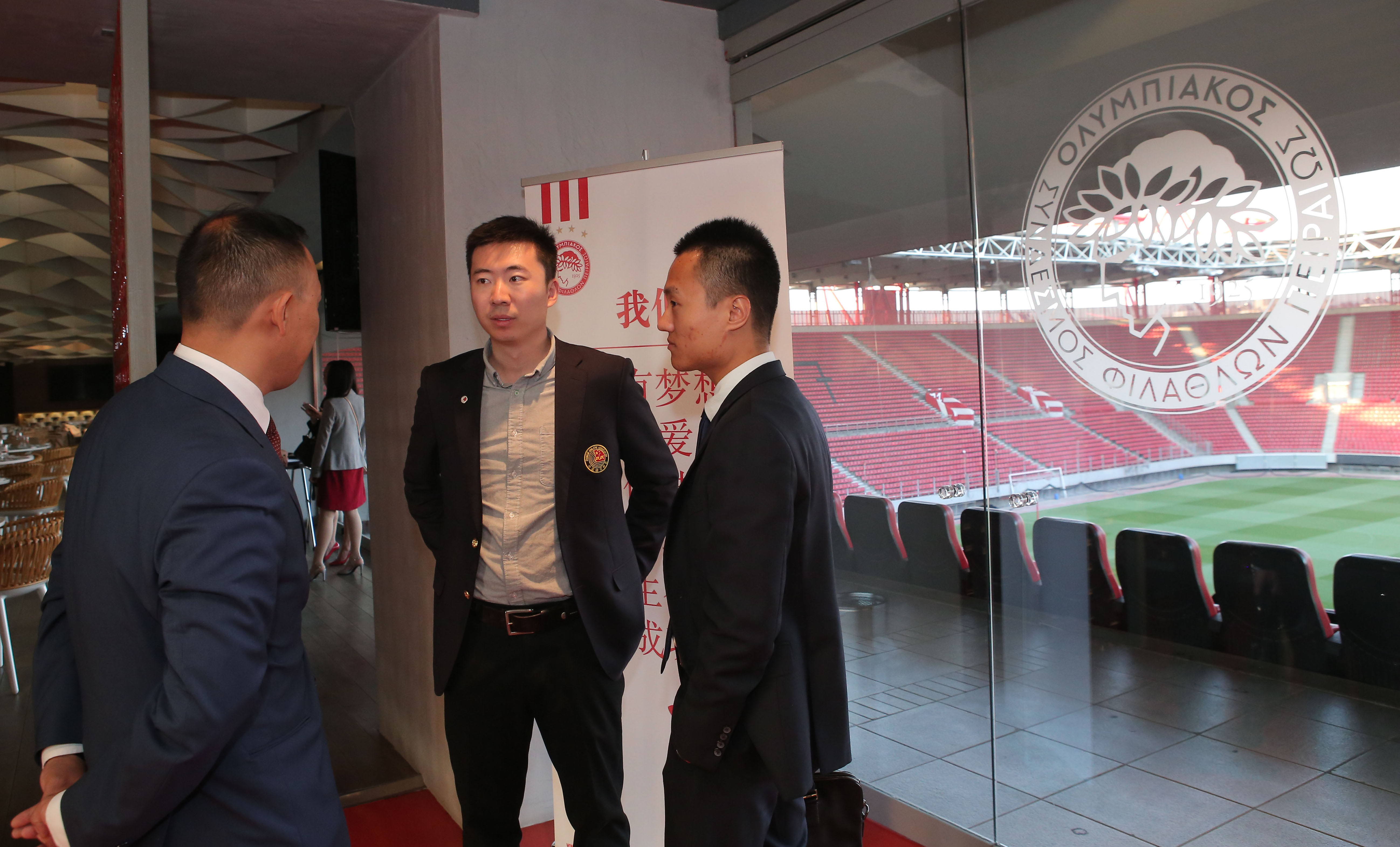 Together we can make history, since we carry the hopes and aspirations of Greeks and Chinese alike, our nations' history and culture, our peoples' traditions, our countries' beauties, our economies' potential and the spirit of our kin. The world is changing fast. During the last decade, we witnessed changes we have never dreamt of before. When it comes to change, China is a pioneer; Greece is changing as well, in a positive, creative and productive way. Greece and China survived in the course of centuries; they overcome not mere financial or political crises but the fall of entire civilizations as well. They both weather harsh and long periods of foreign occupation that were unable to destroy their culture or tame their spirit. Greeks and Chinese walk along the same path; we share eternal values that will always stay solid"!
A few words on the Marathon Forum
The "Marathon Forum" is a global initiative by the Mayor of Marathon Mr. Ilias Psinakis and HE Ambassador of People's Republic of China Mr. Xiaoli Zou, which aims at promoting new capabilities and opportunities that derive from organizing a Marathon race, as well as innovative proposals on cultural, athletic, touristic and financial development and cooperation between both countries. In fact, on Wednesday April 18th, a joint Press Conference was delivered by the Mayor of Marathon Mr. Ilias Psinakis and HE Ambassador of People's Republic of China Mr. Xiaoli Zou, at the Marathon Municipal Board Room, where the iconic start of the Marathon race is. Said Press Conference was given in the context of the "1st MARATHON FORUM", to be held on April 27th and the "5th Semi-Marathon race 2018" to be held on April 29, 2018.
The "5th Semi-Marathon race 2018" represents a major challenge for the entire running movement, since both its start and finish point and the entire course are parts of the authentic and historic Marathon race; so, all participants have the chance to enjoy a unique experience and become themselves part of history. Apart from the Semi-Marathon race, a 10-km, a 5-km and a children's 1,5-km race will take place.
Click HERE for the photostory.