Olympiacos' foothold amongst European football finest is one of the club's major achievements during Mr Evangelos Marinakis presidency. The Legend's leader managed, in recent years, to take Olympiacos up many steps, placing the club n Europe's elite both in athletic and non-athletic terms; and this is clearly evidenced by Olympiacos close ties with the ECA (European Clubs Association). Once more, our Club played host to the ECA, which chose Greece and Piraeus as their hosting grounds for the Club Management Program's conference.
In an attempt to drive football toward a better future, delegates from Europe's top clubs meet in our country;s most beautiful stadium and one of Europe's finest, the Karaiskakis Stadium, for two days; they come in contact with Greek culture in order to discuss important issues related to Social Responsibility in football and sports -driven always by the effort to contribute to society, engaging relations with supporters, developing Academies and the role of Communication and Media in modern football.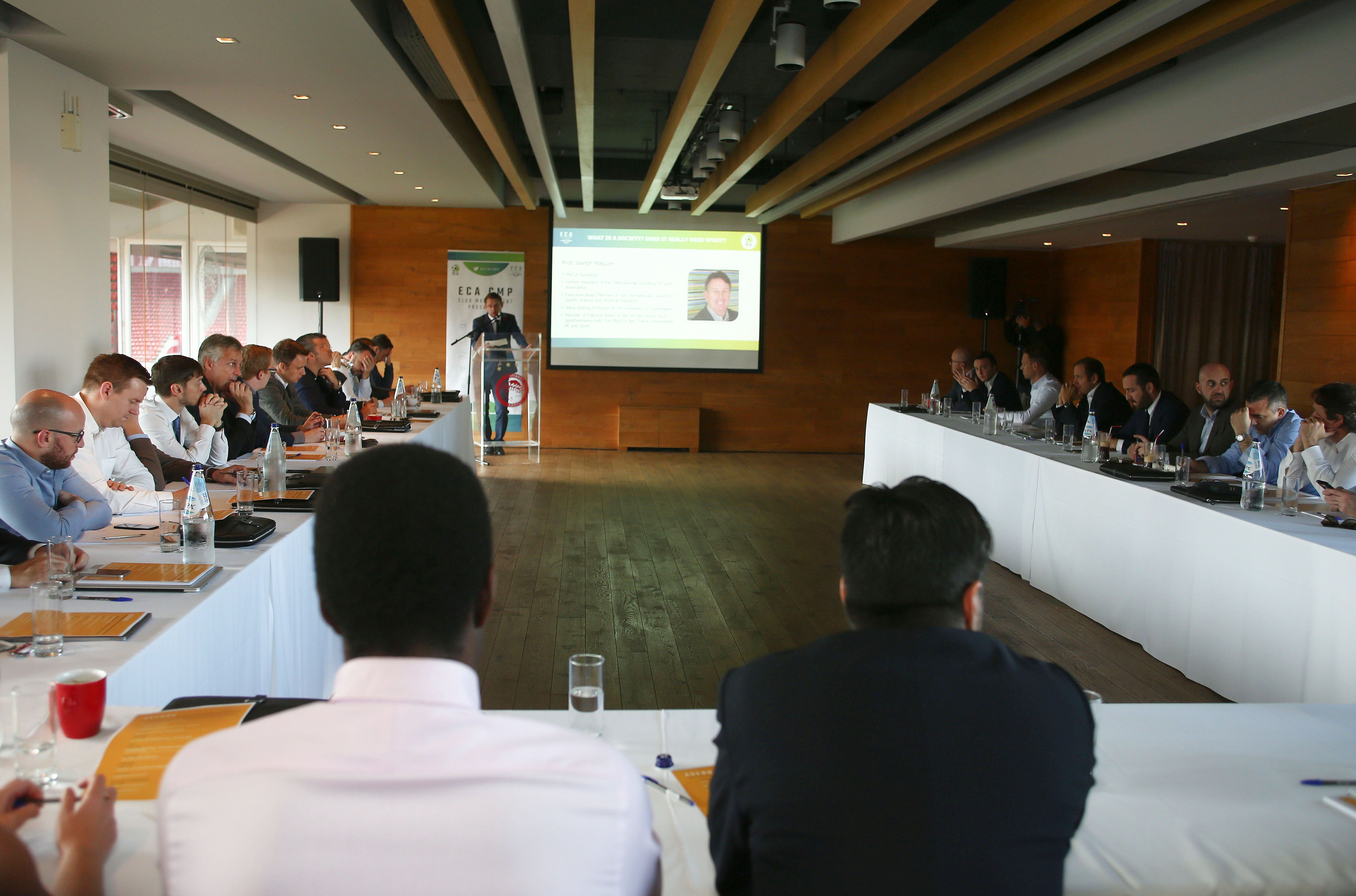 From Tuesday morning (9/10) until Wednesday evening (10/10), Karaiskakis will be turned into a cradle of debates and exchange of opinions, ideas and insights to improve football on non-athletic, yet critically important, areas. Indicatively, some of the top European clubs to attend the Club Management Program are the following: Manchester City, Juventus, Inter, Roma, Benfica, Manchester United, Arsenal, PSV, Standard de Liege, Saint Etienne, Ajax, Dinamo Zagreb, Galatasaray, Wolfsburg, Sporting Lisbon, Grasshopper, Genk, Brøndby, Dinamo Tbilisi,Apollon Limassol and AEK Larnace from Cyprus, Maccabi Tel Aviv, Legia Warsaw and Levski Sofia. Coming from Greece, apart from host Olympiacos, is Panathinaikos Club.
With a total number of 40 ECA members, the Club Management Program features 8 2016-17 Champions, 14 clubs that participated in the UEFA Champions League 2016-17 edition and 16 UEFA Europa League teams of the same season, 8 2016-17 runners-up and 6 domestic Cup holders of the same year. The roster is, if anything, quite impressive; it is equally important that all the aforementioned clubs selected the city of Piraeus and Olympiacos as their host, in order to debate on these crucial issues in the agenda.
Olympiacos FC Head of International Relations, Mr. Konstantinos Vernikos, delivered the welcome speech and shared some introductory thoughts. Mr Vernikos talked extensively about Olympiacos societal actions and the club's CSR initiatives and reminded how quick the Olympiacos organization was to support UNICEF, the refuges sheltered in the port of Piraeus, the 2010 8th Match against Poverty in Karaiskakis, the case of Mandra, the fire-affected people in Mati… The list goes on!
The Legend's CSR Director, Mr Domenicos Massoulas presented the club's CSR plan under way; moreover, other issues were discussed such as "Self-adequacy within a club's environment", "Communication with supporters", "CSR in practice by Olympiacos FC", "Memories from Scotland". The main topic was "What is society? Does it truly needs sports", a critical issue on the relationship between sports and football, in particular, with our fellow people. Following the conference sessions, it was time for a visit at the Rentis Training Center and the Olympiacos Academy premises, where the attendees had the opportunity to meet our special team under the program "Together in life, together in Olympiacos" and watch them in action. Later in the evening, they dined with our guests in a Piraeus fish tavern by the sea!
Works of the conference will resume on Wednesday tomorrow and will be finalized by noon.