Detailed presser by the Olympiacos coach:
On current problems: "Masouras will not be ready. He is doing better and close to returning with us, but not for tomorrow. There is nothing major with Androutsos; we will reassess him tomorrow and see whether he will be ready. Lala suffers from gastroenteritis, so we don't know whether he will be fit to play. All others, of course with the exception of Fortounis, are fine".
On when the team will be able to perform well for longer times during a match compared to the 30-minute display against Atromitos: "We are working on that to have a more consistent and sustained performance. Tomorrow's encounter is a completely different one; we are to face an offensive-minded side, they have some top strikers, playing an -often overwhelming- vertical football. We want to be more ready and we are getting into a better shape. We want to be equally good like in the last
part of the Atromitos match, yet sharper".
On the key element to earn the victory: "It will take consistency, persistence and being smart. we have to be tactically flawless. it will require patience; there will be moments when our opponent will be better, we will have to handle that. There will also be times in which we will be better. We must perform tactically and avail ourselves of Antwerp's weaknesses and also deal with their attacking game".
On whether the formation will change because of the differences in this tie and the extent to which Camara's return will influence the overall planning: "I can say nothing about our plans, tactics and strategy. Mady is ready, he is likely to play, but i can say nothing more on how we prepare ourselves for the match".
On whether there is an element that will give the side an edge over Antwerp: "There are many things we want to improve in our structure even if they look to be good. we want to be equally creative, build many opportunities and improve our sharpness. Truth is we have not yet seen our team the way we want and we are currently working to improve certain aspects of our game. We are happy with our delivery in the midfield, and our transition to defense. we also need to improve our offensive transition. these are the aspects we keep on working on".
Antwerp coach said he is troubled by his side conceding many goals. Do you count on that and are we to expect a match rich in goals tomorrow? : "Tomorrow's match might be very open and have many goal scored. Both
teams are offensive-minded, that go after scoring and like playing an open game. we are to play a quite pro-attacking team, however we need to be very cautious and equally creative like against Atromitos, but use these opportunities this time. I agree we expect to watch an open match".
Detailed presser by Yann M'Vila: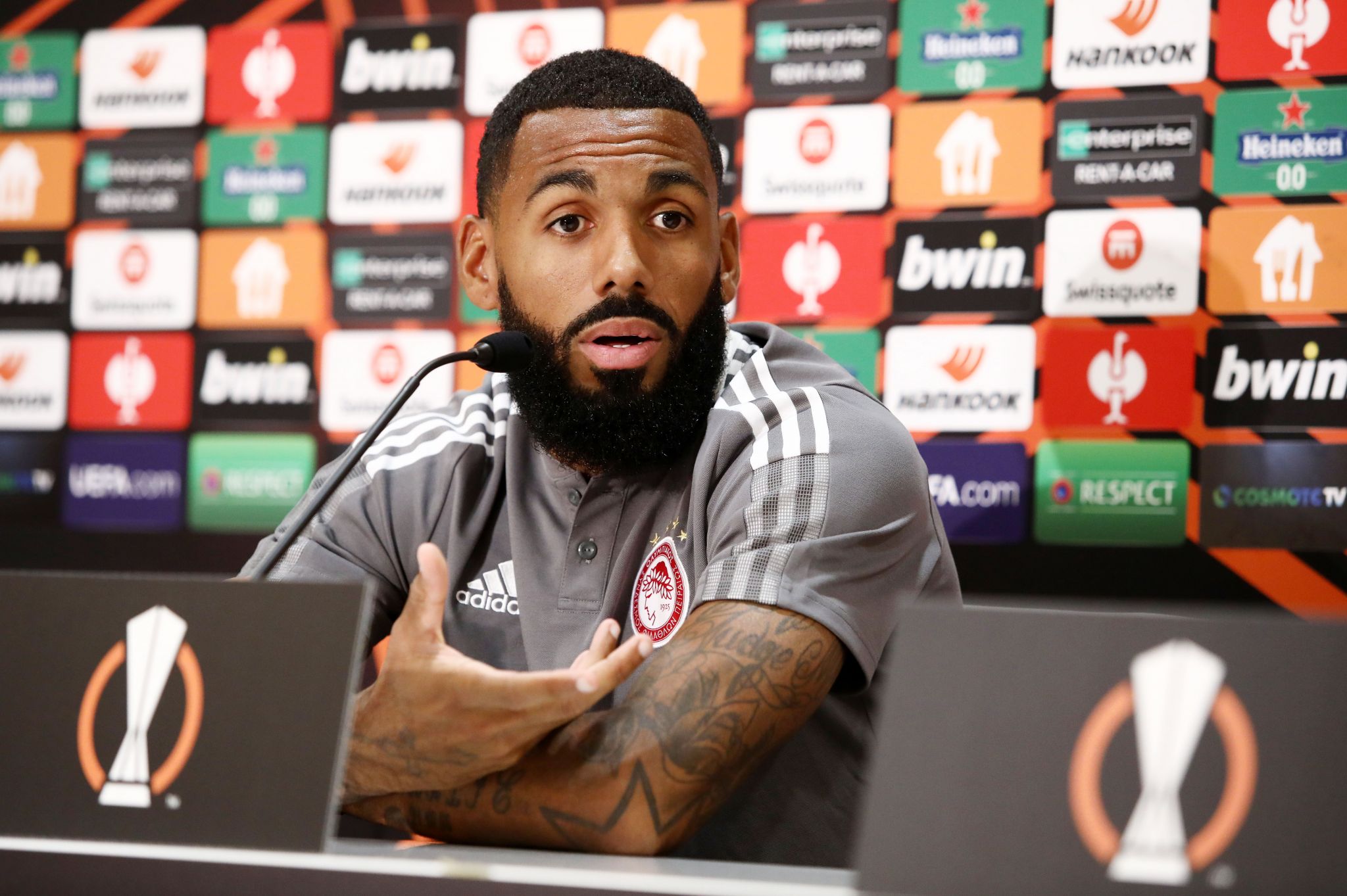 On the team's state of preparedness and the elements needed to win: "We are ready for the match and well prepared. We managed to make it in the Group stage and we are ready to begin. Our coach has done a remarkable pre-season training, and this I have seen since the first day I joined the club day one of my joining the club. Sadly, we did not beat Atromitos, we could have played for many hours and still not get the ball into the net. We made a good game and we took good things out of it. We conceded no goals and created many chances. now, we have to use this opportunity to earn our first victory in Europe".
On Camara's return and their collaboration: "It's up to the coach to decide who will play. Mady is very important for us and all players are necessary. we want all to be at their best in order to win the match".
On the atmosphere within the team, whether in the dressing rooms one might feel the will to react: "Instead of trying to react, it is better to to be active and proactive. On Sunday, we didn't play badly, after a certain point it was not in our hands. We must not wait for something to happen in order to react. We have to maintain the momentum of the last match and this is the mood we have in the dressing rooms. We are ready to win this match".
On the fact that he scores in Europe and whether he has one more in stock for tomorrow. What is the secret for his scoring spree with Olympiacos compared to his previous clubs: "The secret is confidence. The team, the fans and the coach make me feel secure and, with such support, I can make it. With the help of God, I hope this continues. However, the important thing is not for me to score, but for the team to win and my desire is for tomorrow to play well and earn the win".