Olympiacos will face Maccabi Haifa on Wednesday (20/7, 20:00, Cosmote TV, official TV partner of Olympiacos FC) in the context of the Champions League second qualifying round. Ahead of the away match of Olympiacos, coach Pedro Martins and team player Giorgos Masouras spoke at the press conference.
The press conference of Pedro Martins in detail:
Are you concerned about the weather? Is there a last-minute issue regarding the match and, finally, do you have a 4-3-3 formation in mind?In regard to humidity and conditions, it will be higher than in Greece, but our team is ready. Conditions will not be that acute in relation to Greece at that hour of the day, we have checked these things. I believe that our side will respond to the match requirements and the conditions it will face. There will be some changes in the squad. Androutsos is dealing with some discomfort and will not travel with us, so is Hassan (ribs) and Ba (leg). We made some last-minute changes, Avila and Kunde will be with us. For the upcoming games we don't count Hassan and Ba in, but Avila and Kunde will be at our disposal. I will not reveal our match formation, but what you mentioned is a possibility.
You watched Maccabi and you have the latest picture of your opponent; what do you expect from Maccabi and what should Olympiacos have in order to get what they want?
Indeed, I watched their latest game against Hapoel Be'er Sheva. Maccabi made a strong start in the game and scored fast, then faced difficulties but insisted on their own style of play. They are a team of quality and we are ready to face a strong opponent. We will treat both matches as two finals; they are the first finals we are facing before the group stage and we are ready to play against a strong opponent. We know that Maccabi is a team that will try to put pressure on us and make us adapt to their game. This is their strength, their pressure and their well-organised defence. We have to be careful throughout the game and we also know that one condition we have to deal with is the hot atmosphere their fans create.
In previous summer qualifiers, the side had had no defeats and got disqualified once on the penalty shoot-out having you at the bench. What had mattered was to keep a clean sheet; is this the basis for your matches in such a period at a time when sides are not ready?
It means nothing we didn't lose last year since we got disqualified and didn't achieve our goal, so for us it was a defeat even in the penalty shoot-out. However, this year things are different for us, we are determined and ready to qualify to the group stage. It is an important and great match. We should all stick together and do our job and not allow being knocked out like last year, and that is what we intend to do. The basis for success in such ties is organisation and discipline, to be well organised and, of course, we should not concede more goals than we score. It's good not to concede a goal, but you still have to score. Olympiacos is a big and experienced team and knows how to cope with these games, but our basis is discipline and good organisation in the pitch.
It looks like there is faith in the team, however, because of last year's elimination, do you feel that this year the pressure is higher, because Olympiacos being out of the Champions League group stage for the second consecutive season is something unusual, to say the least.
We know clearly what our goal is, as we are aware of our ambitions. We focus on the present rather than on what happened in the previous season, that elimination belongs to the past and we are focused on what's ahead of us. We know what our ambitions and capabilities are.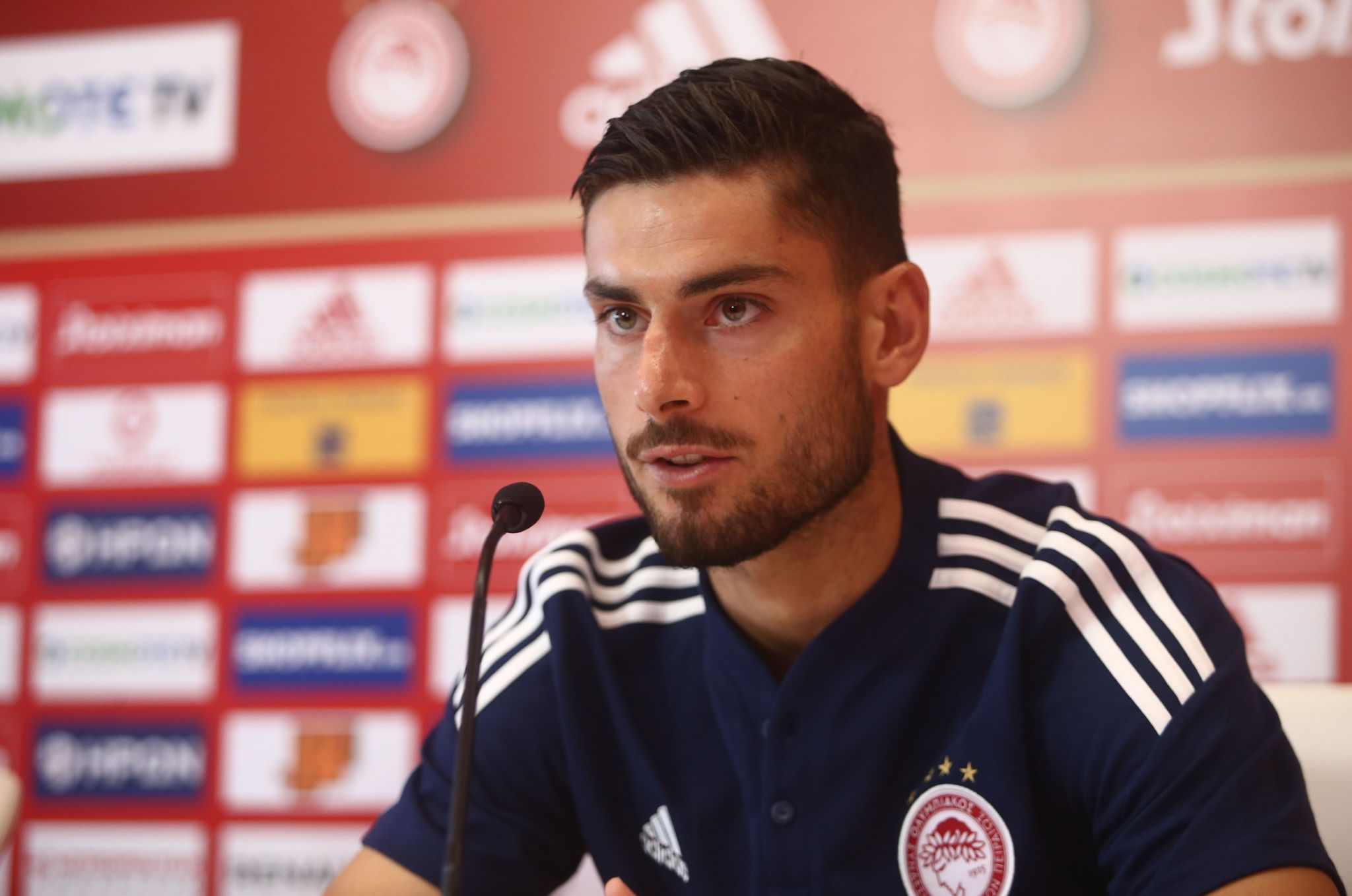 Giorgos Masouras: Our sole goal is to qualify
It's a Champions League qualifying match against a domestic champion. We are treating the match with the corresponding attention, with the sole goal of qualifying.
You've scored important goals, like against Neftçi last year, or in Istanbul before that. Is this the time to end a streak of bad luck from last year and score another goal in a major tie?
It's always important to score. There is indeed a good tradition in qualifiers, but the only goal at this time is about the team and not the individual – to qualify. If I can score a goal, it'll be great, but if I don't and we still qualify, it'll be even better.
Judging by your experience, what have the qualifiers shown you? What is it that matters at a time like this?
The important thing about these games is to go step by step and consider each opponent individually. Not to think about what's next in the competition and how far you will go; you need to analyse each game and get each player's 100%, because as I said, teamwork is what gets you into the next stage and you try to make the most of what you can on the field.
What's the level of readiness of Olympiacos currently and what is it that the team should display against Maccabi?
Currently, no team is at the utmost readiness. Likewise, we are not at 100% of our potential, but we are focused and ready in terms of tactics to face a good team with confidence and strong offense that remains creative throughout the match. We are ready and I believe that in the end we will achieve our goal.
When you play on the right you are fortunate enough to have Vrsaljko, who has a rich resume, at your back. What is it that you have taken from him and your cooperation?
He is a guy, who is just joining the team, yet he has great experience and this has been obvious during practice and at a friendly match where we played together. He constantly communicates with me and this is a characteristic of those with experience. I think he will help me a lot because he knows how to manage situations on the field and is an experienced football player.