On Wednesday noon (21/9) at the Olympiacos FC offices, the administrative leader of the "red-and-whites", Evangelos Marinakis, presented the team's new coach, Míchel.
He started by saying:
"I welcome you all to Míchel's presentation. I'd like to say a few words about him. Míchel needs no formal introduction. We all know him from his tenure at Olympiacos but even more so from his tenure as a footballer, a top footballer, and a coach.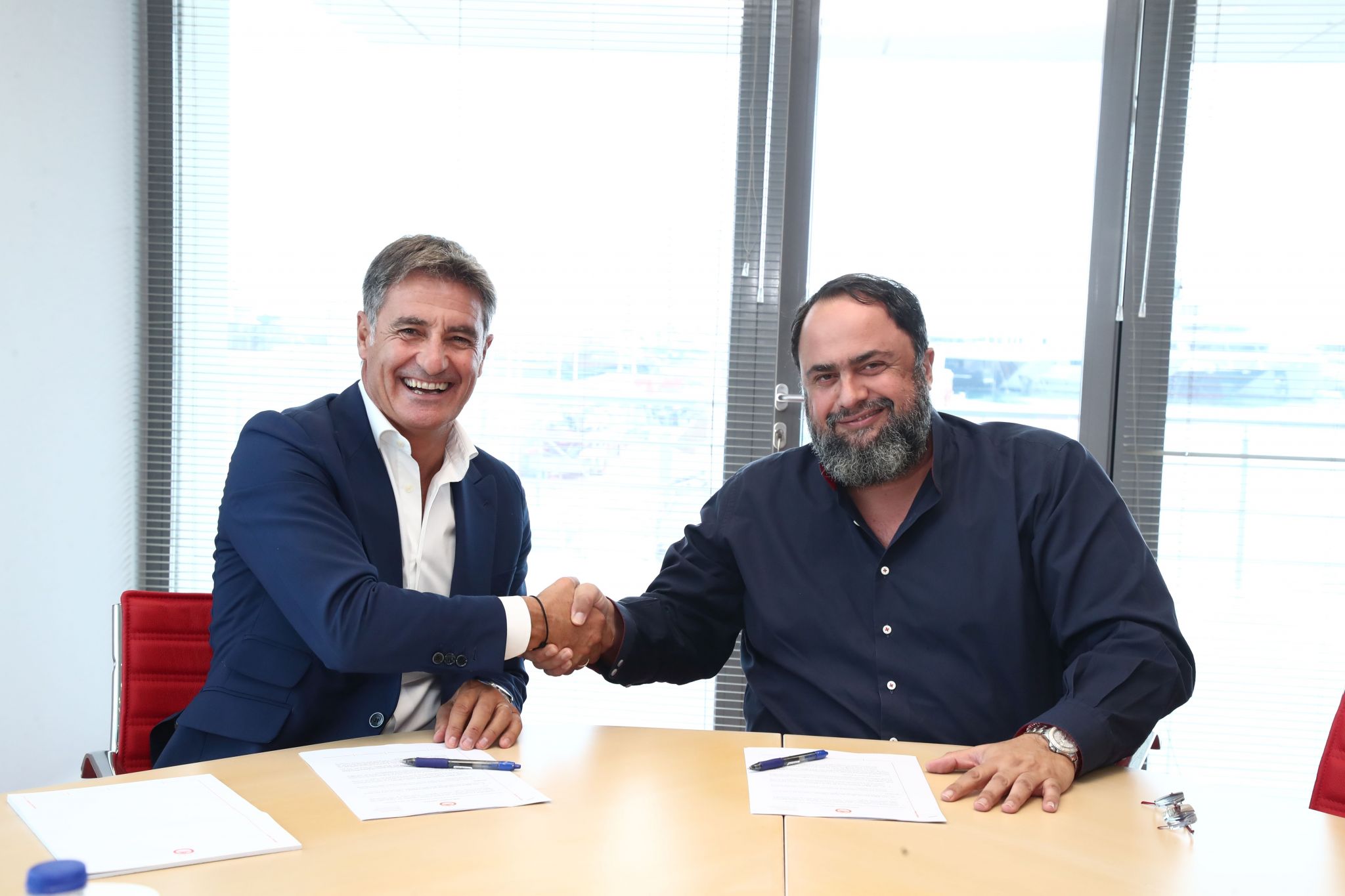 Míchel and I had great times, unprecedented European nights, with Olympiacos playing very good football and facing the best teams in Europe and champions in Spain, Italy; even Manchester United. We all remember those matches.
We looked them in the eye and played some good soccer. It wasn't just about defense to get the result, and we all enjoyed that. In addition, he made sure the players' psychology was appropriate for facing these teams and beat them. He also knows Olympiacos well, he knows many people who have been with us for years.
We had a good cooperation and when we stopped working together we remained friends and each wanted the best for the other. Míchel has always wanted the best for Olympiacos and we wanted him to do well wherever he was. We kept in contact, which means that there's no period of adjustment. That's all I have to say, we don't have to say much. I believe that a lot of work, concentration and good performance is needed on the field.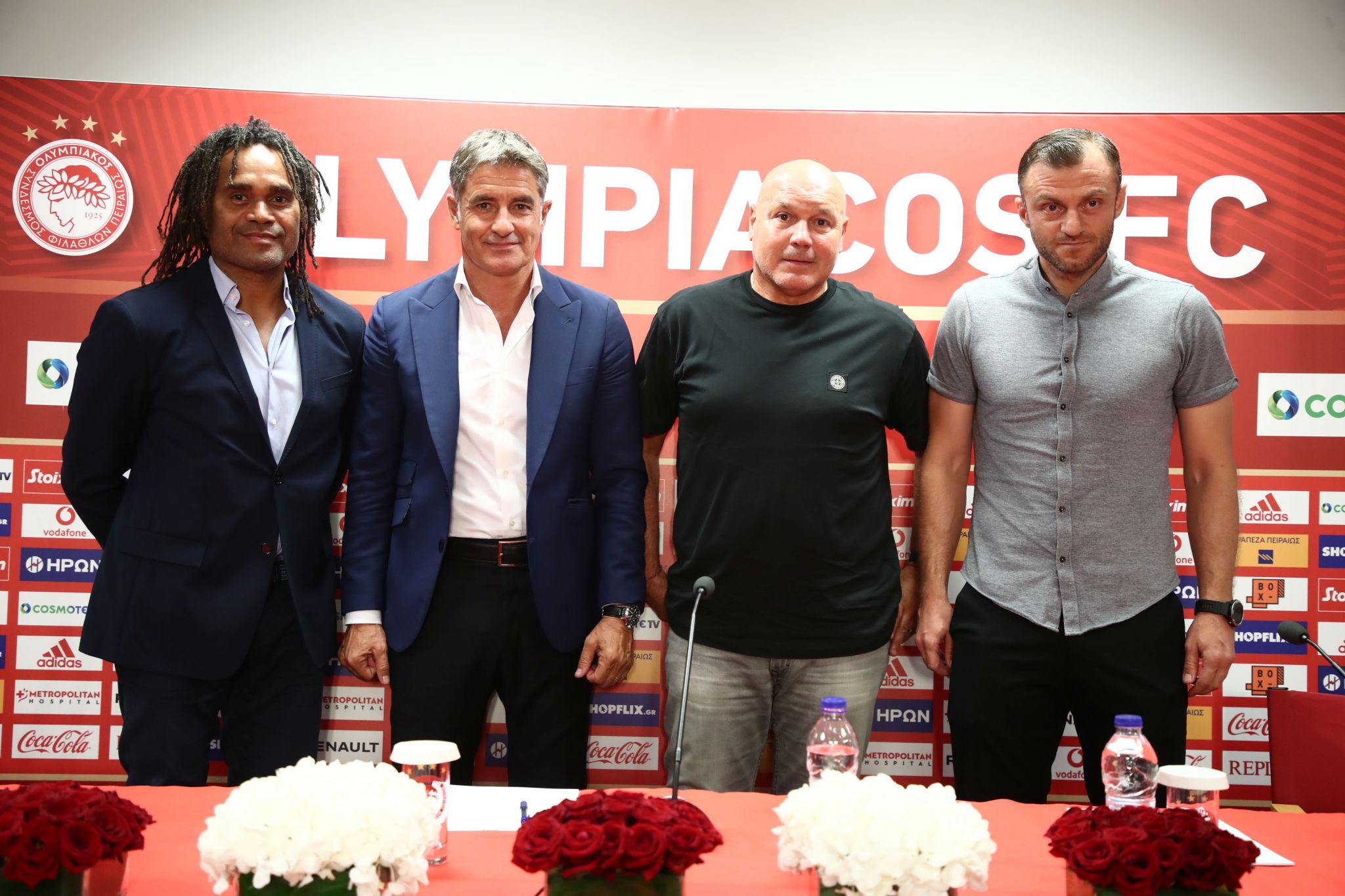 I would also like to introduce José Anigo, who has been with us for four years. He will be our director of football. A man of immense experience in European soccer, with enormous success, with players who achieved great things by his side. He will be with us, he will support Mitchell with his experience and help us with his knowledge. Christian Karembeu has been a timeless part of this team; a man who loves the club and offers much on a daily basis. Another associate of Míchel's who has joined us this year, Avraam Papadopoulos; a man whom I trust blindly. He loves the club and will be by our side for many years to come. These are collaborators I have confidence in and daily contact with. Mitchell has also known them for years. I believe that we are a solid team and we keep on dreaming."
When asked how he persuaded players like Marcelo and James Rodríguez to join Olympiacos, he replied:
"This is thanks to our experience and our contacts in European soccer. I believe that it's helpful for our ability to negotiate and convince certain great players to come to Greece and play for Olympiacos. I think that a lot has happened for Olympiacos in the past 12 years. And a great deal has happened in Europe, not only through our successes in Greece. That's why many of our nights and days may be a lifetime for others; or even ten lives. We continue to build on these contacts. What has also been most helpful is our involvement with Nottingham Forest. This helps Olympiacos and Greek soccer. Nottingham Forest is in the Premier League at the moment and this aids us even more. It works in favour of Olympiacos. When you can communicate with people all over Europe through a Premier League team, it certainly makes your job a lot easier here in Greece. As I was saying to Míchel, jokingly, when he arrived, we have become a small colony of Real Madrid. Starting with Míchel, Karembeu, James, Marcello."