Míchel signed his new contract with Olympiacos and then appeared before the media. The Spanish coach, who is returning to the bench of the "red-and-whites", expressed his great joy in working with the champions again and appeared confident that the team will do even better than during their first collaboration.
He started by saying:
"Since Sunday, I am a happy man once again. The fact that I would even discuss my return to Olympiacos gave me hope and great expectations. I have always expressed to all my friends and family what a good time I had with Olympiacos and in Greece, how much I love the team and this country and, right now, it turns out that I left behind many dear friends. I would very much like to experience the same good mood and joy that we felt then, but in order for this to happen we will need victories.
I know I've joined a great club that has so many fans. A huge social portion, who love the club not only because thanks to its victories. I have a huge responsibility. Whoever wears the jersey of Olympiacos must recognise, as we all do, that the most important thing is the name written on the front of the jersey and not the one on the back. We'll use the past to turn the present into what we want it to be. There's only one way to do that. It can only be achieved with humility, hard work and a sense of responsibility. We know that we have experienced many beautiful moments, but we achieved this with a lot of work, by being responsible, with confidence and trust. Not just because of famous players. We have good players and it's not just their name that matters.
There's one thing I really like, the fact that the president and everyone who works for our president have entrusted me with all the responsibilities. I've been put in charge of everything. My hair colour will suffer, but my soul will be joyful. Thank you, but it's time to stop with the words and start working with humility because this is what we need now more than ever."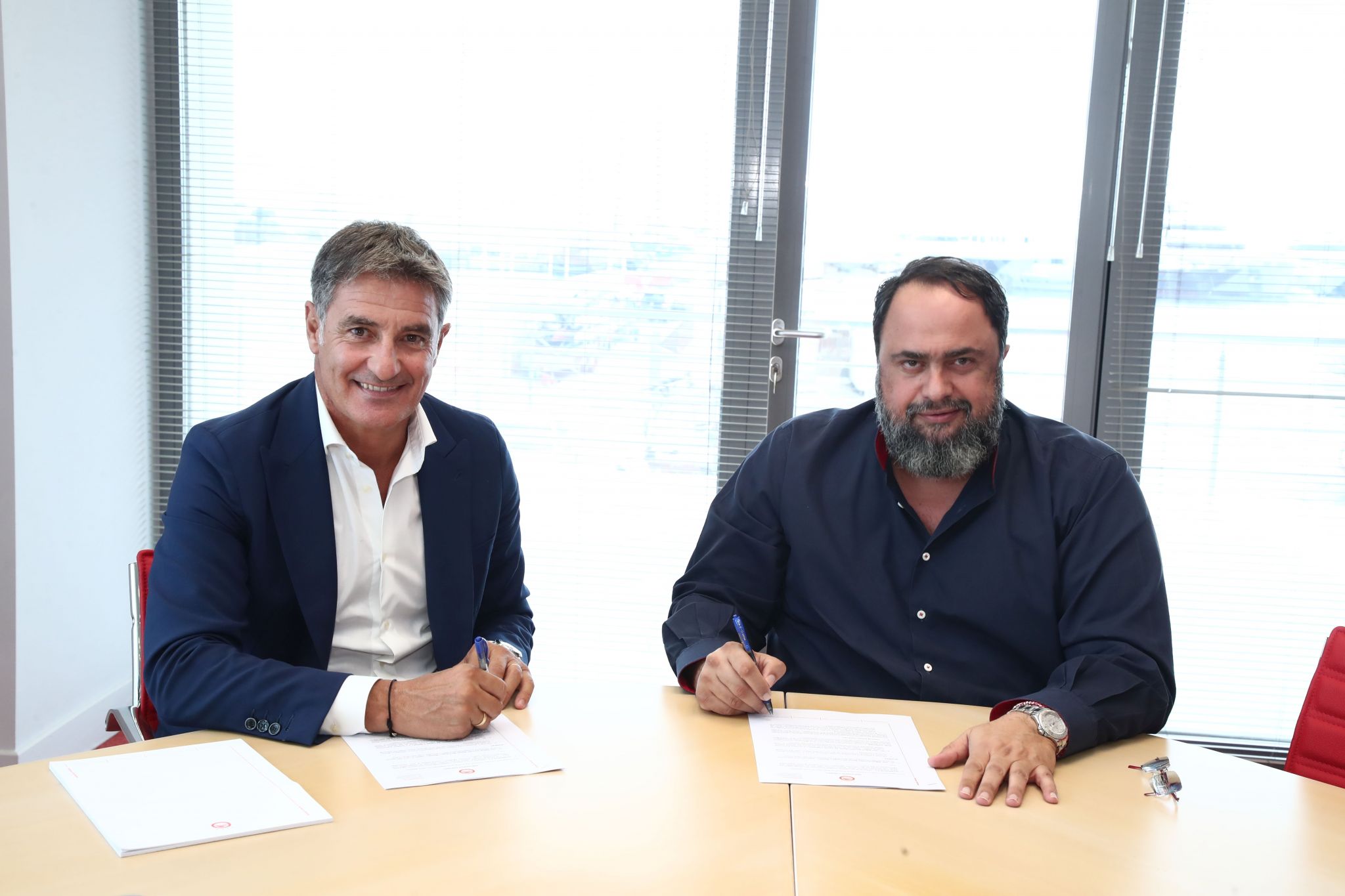 How were you contacted for your second tenure with Olympiacos and how many players would you like to work with, since there are so many in the training centre right now?
"I was contacted immediately – the man who called me on Sunday is among us and my reply was immediate: "What time is practice on Sunday?" I am telling you all this so you can understand that my desire and intention to return to Olympiacos already existed. I was expecting it; and we'd come together once before. In terms of the number of players, it is a problem to have so many players; it is a drawback for the coach, the team, and the players. This is why I've asked the president not to sign more than 24 players, excluding the goalkeepers. Everyone seems to believe that this is correct, because it will give players the opportunity to participate, those who have been off the European list and who are very important to us. What I have asked is not an easy to do, but I know how it will be done."
What should change in Olympiacos? Do you have an idea of how you should proceed?
"I know we're going through a difficult phase right now, but we have the ability to overcome it. We have very good footballers. We have time ahead of us, we intend to calm things down a bit. We are well aware of the difficulties not only in the sense that we are going through a difficult phase, but also in the results that show it. This could make us pessimistic, but we are realistic and we know the players we have, our qualifications, and how we can turn this into a good performance. We have something that others do not – the constant and non-negotiable support of our fans; it is invaluable. We know they want the team to win and play well."
What's the first thing you'll change with your arrival in Rentis?
"What is self-evident. We will look the players straight in the eye and try to build their confidence, which is lost following those bad results, as is expected. There is one thing that is non-negotiable and we will not discuss again, and that is victories. In order for this to happen we need good soccer players and we have them. If footballers become confident and believe in their own skills, and recognize their superiority, then it is certain that things will improve. They don't have to believe in the coach, they have to believe in themselves and understand which club they belong in. And this is what we'll do."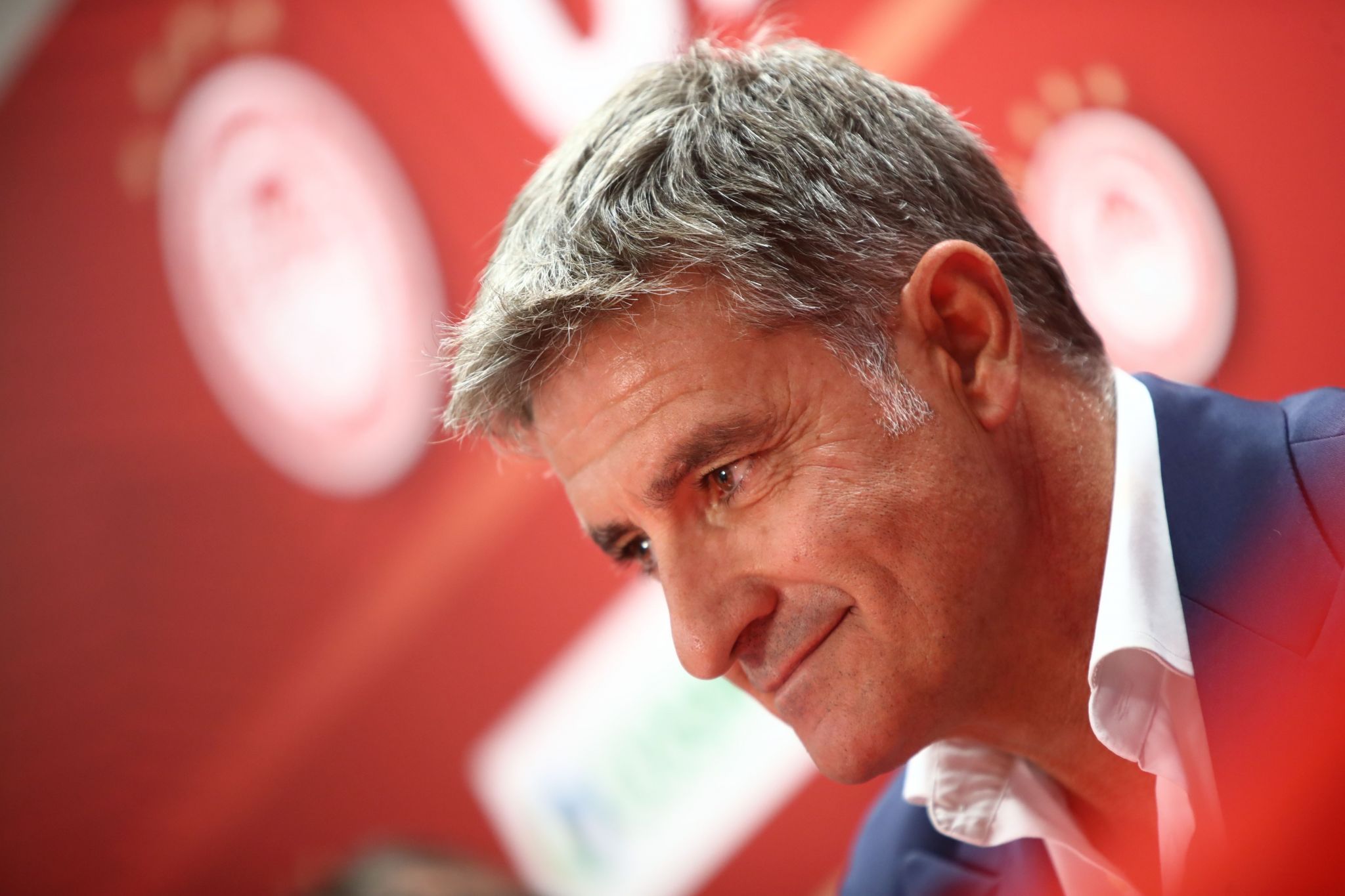 Is Olympiacos an unforgettable club for you? If yes, why is that? Do you also think you can accomplish what you may not have accomplished last time?
"My path with Olympiacos is truly unforgettable; I have stayed with the team for a long time and I really felt like one of you. This is why I kept following and loving the team. What made me happy here, more than the results, was the team's psychology, the climate that existed, which I'm sure we'll create again very soon. This time will be like my first time at Olympiacos and even better. I see better players, I want them to feel that they are better and I hope they understand that themselves."
How important is it for you to have players like Marcelo and James on the team?
"During the 24 hours that I have been in Athens, everyone talks to me about Marcelo. And what I'm told is not how good a football player he is, because the whole world knows that, but how humble he is as a player. And this is a characteristic of the personality of any player who has triumphed in Real Madrid. This is a stunning example for any club in Europe and any locker room. Everyone wants to have such amazing teammates. They show you how to fight, to learn to respect any opponent without underestimating them even if you play in a club as big as Olympiacos. I can promise you that you're going to experience great nights with players like Marcelo and James. What they leave behind, what they offer to the team with their personality, is even greater. They really are shining examples of character and personality. I'm also talking about our president's amazing taste in picking players from different teams."