Olympiacos is set to face Qarabag in the side's UEFA Europa League MD 4 away match (Cosmote TV, official TV partner of Olympiacos FC).
Olympiacos coach, Michel, and our team's player, Ousseynou Ba, in press conference duties.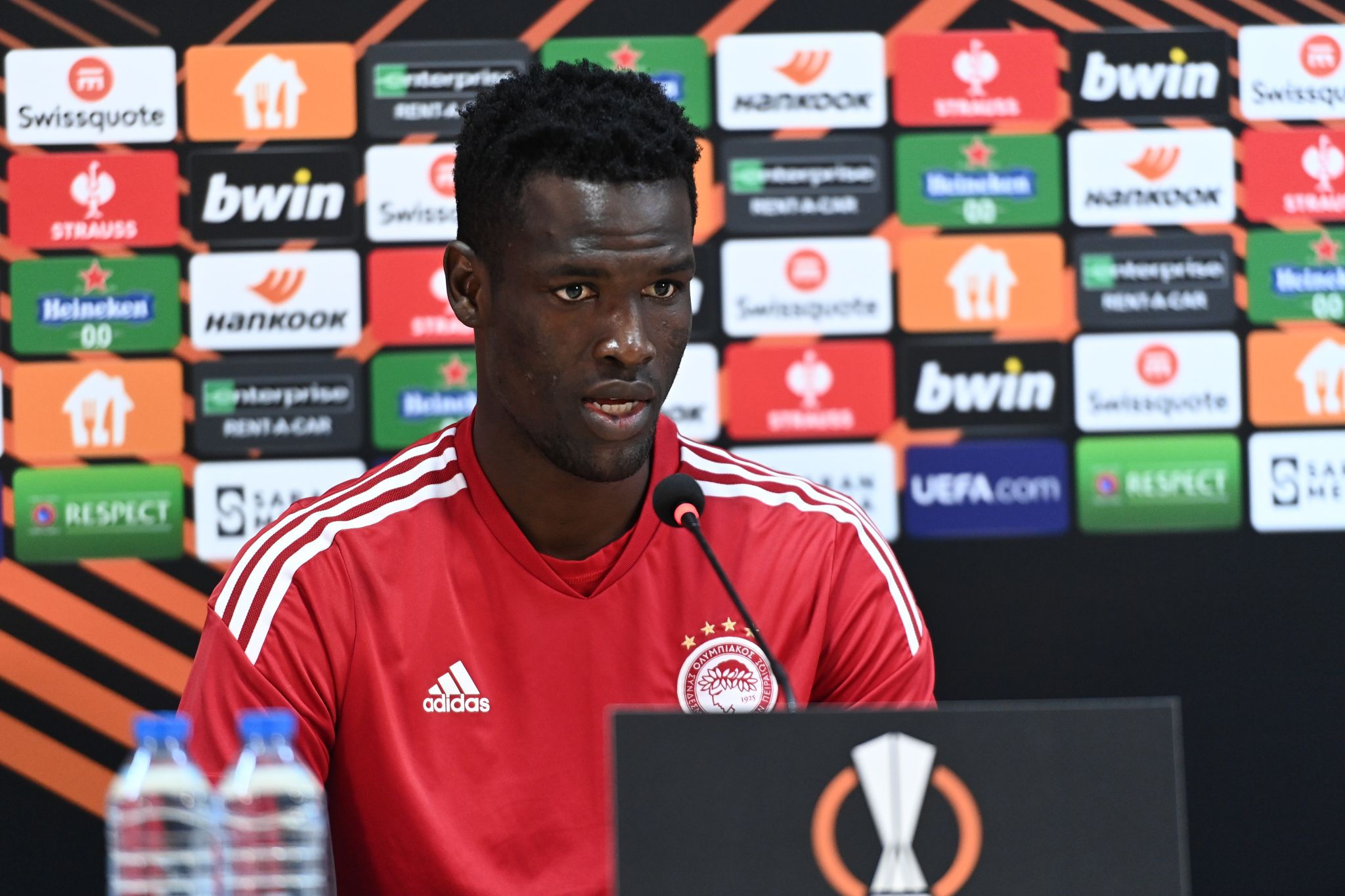 In detail, words by our team's central defender, Ousseynou Ba:
You are back following a long period of absence. While watching the first match against Qarabag from the stands, have you identified what Olympiacos points of reactions should be?
I feel well after my injury. I watched the match from the stands and I saw we performed poorly and lost our home match, which is not normal for us and we were saddened by that. We have worked in order to give our 100% tomorrow and change our gameplay in order to get a better result.
Have you talked with your coach about tomorrow's fixture? What are the focal points and what will you change so that Olympiacos leaves with a better result compared to the first match?
Truth is that many things have changed since we have a new coaching staff, we find ourselves at a point when we have changed many things in our way of playing. One of the most important things it be attentive to our level of concentration and be more aggressive, have control of our emotions during the match and be better organized during the entire match; these are some of the things we have talked about. Mainly, however, it all boils down to our concentration; we should not lose focus, which led to our poor result (las week) and we have to improve that.
After the first match, do you feel that players in the dressing room are hungry for revenge?
Yes, truth is we really need that because we have a bad standing in Europe and this is a top club with important and quality players. We want to set things right, we are disillusioned the same way our fans, we know, are unhappy with our first fixtures played in Europe and we want to change that and put on a better display.
Olympiacos have scored in all European fixtures this year and lost one match by a last-minute goal. Contrary to matches played in Karaiskakis, why is it that Olympiacos is more competitive on the road, and not at home?
Indeed, this is the current situation so far; we have been more competitive in away matches. Perhaps, this happens because we have several newcomers who needed time to adapt, have not performed in our homeground and did not know about it. This might have been why the side needed time to adapt. We always try to be competitive and to score for the win. When one does not score, then it is more likely that things will not go well; we have discussed about that with our coach and we try to be more competitive in our matches.
Words by the coach of Olympiacos, Michel:
Have you made up your mind on the line-up? What differences and similarities are we to expect to the first match?
Of course, I have made up my mind on the line-up. Truth be told, we have some stamina-related issues compared to the first match and this is why we have some changes both in the squad and the line-up. Definitely, we want to be competitive, but on the other hand we have to adapt to the applicable circumstances.
Your opponents' coach said, a few hours ago, that tomorrow's match shall be Olympiacos' last chance in the group. Do you agree with him and will you treat the match this way?
Yes, we know that of course. Many things have happened this year and tomorrow's match shall be decisive for us. I heard him saying so but we knew that already.
In Crete, you gave the opportunity to a young Academy player to be capped. Now that you have three such players, do you intend to do it again? When are we to see Alexandros Paschalakis on the pitch?
People know that I like using guys from the academy, I believe in the academy and, in general, I love that all guys are available whenever we ask for a player. I have been at the bench in three matches and in two of them, guys from the Academy have been capped. I think it is a bet currently, we have a roster of 34 players and it is harder to give such opportunities. But we will sort it out. Paschalakis shall be capped tomorrow, he knows it already, that's why I telling you.
Following the Qarabag defeat, what were your emotions? Did you fell any fear?
The result was cruel because we did not play so bad to suffer a 3-0 defeat. However, we lost control, especially of our emotions after their first goal. This is because of a certain illness that we set out to cure.