Olympiacos is set to face Nantes in the side's UEFA Europa League MD 6 match in G. Karaiskakis (Cosmote TV, official TV partner of Olympiacos FC).
Ahead of our team's match tomorrow, Olympiacos coach, Michel, and our experienced striker Youssef El-Arabi talked to journalists during the Press conference held in our home ground of G. Karaiskakis Stadium.
In detail, words by the Moroccan "red-and-white" striker:
What is the atmosphere amongst your teammates?
We are great and we know there two important fixtures ahead of us. Tomorrow, it will be our last in the Europa League and we want to put on a good display and, of course, we are confident about Sunday's top derby
We read articles back in your country that you might find yourself in Qatar in the eleventh hour. Also, do you believe you will go on with your non-stop scoring spell in the Leoforos pitch?
The list has not been finalized yet, so there is a chance I make it and I do hope so. I am doing all I can since this is the World Cup and any player would love to take part in such a tournament. But first, we have our match tomorrow and we have to get a good result out of it. Then, we shall prepare in the best way we can for Sunday's one, in order to get the win and close the gap.
You have been in Olympiacos for 3 years, you have "canned" other strikers off the squad, and you have earned the trust of both the fans and the team. What is the secret for a footballer at that professional age to be the troubleshooter when it comes to scoring goals?
The secret lies in the fact that I am a footballer who always tries to give all he got in the pitch and does everything for his team. Whenever I am in the pitch, I give all I got, but that's something I don't deliver on my own. A striker is there to score goals but it is the entire team that does the do, even defenders like all other players on the turf. What I do is to not stop working, ever.
This is the first time that Olympiacos gets disqualified before the group stage is over. How are you going to handle tomorrow's match knowing that you have a derby to play on Sunday. Moreover, it looks as if Olympiacos and Nantes… have switched their group places.
Indeed, this is a different match to the one on Sunday. We have to close the gap on the championship table. As said, Olympiacos is not accustomed to that and this is the first European spell with no wins and no hopes to qualify. Playing well tomorrow is quite an incentive for us. I do not want to leave this tournament without getting a win. We will do anything to put on a top display and then repeat that on Sunday. On your second question, perhaps it occurred this way but something similar also happened with Marseille and this is something we witness in European competitions all that time; the same with teams getting disqualified in the last minute of the match.
Is Nantes a team that befits you? Also, have you ever scored against Nantes?
Yes, we can say that; this is a match we shall try to put on a good display. In France, we conceded a goal in the very last minute; always in football, one should try for the best and this is what I am going to do tomorrow as well. Yes, I have scored against Nantes during my spell in France.
In detail, words by Olympiacos' Spanish coach Michel ahead of the match against Nantes
How difficult is it for you to split the squads and give your players an incentive both ahead of tomorrows' match and the one against Panathinaikos?
The problem is that it is hard to prepare a match for which there is no hope. Olympiacos is used to playing two important matches in a week, this is no challenge at all. We do know the importance of Sunday's fixture the same way we know what it means to play for this club.
For the first time, Olympiacos is left out of the next stage before the group ties are over. How do you deal with this?
This is hard because I originally joined the club with the objective and hopes to qualify. I think we had that until the last minute against Freiburg. This is how things are, however, and we have to accept that. What we have to do is get better and we are delivering in that.
Would you wish not to have this Nantes fixture in your calendar now or is it an opportunity to check what some players are capable of doing?
It is a privilege and a great honor to train Olympiacos at any moment and under any condition; even in friendlies, we do everything so Olympiacos is there and we represent the club in the best possible way. I would like to say and remind all that it is my great love for Olympiacos that brought me here. This is why I am here and this is what fuels me with strength for ties like the one tomorrow. In this case, and I don't know if I should say that or it is needless to, but we will certainly keep an eye for the Panathinaikos match.  However, all those to play tomorrow have been capped in European fixtures before and, certainly this is a great opportunity for these players to demonstrate that the coach was wrong.
Is there a case for someone to play both tomorrow and on Sunday?
The only sure thing is they will be wearing the same shirt.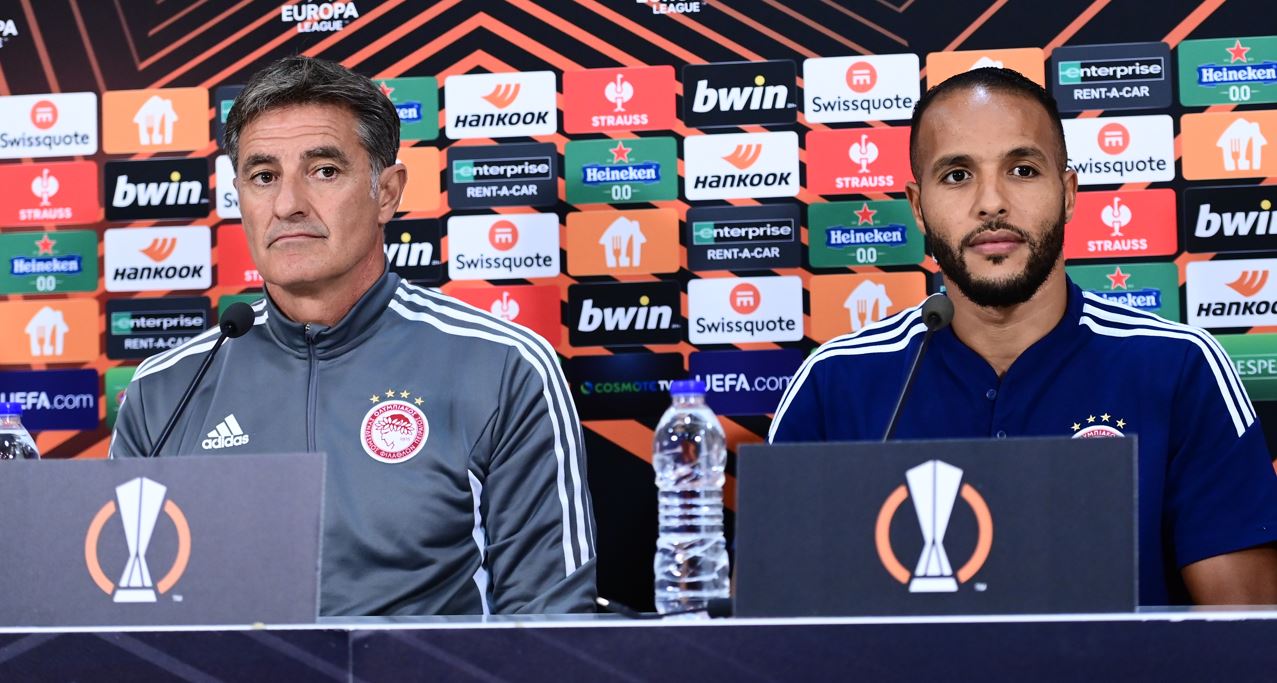 What does Nantes mean for you? Both for the coach and Youssef El Arabi?
Youssef El Arabi: Nantes are a great team; I have played against them quite some times. They have many fans that follow the team and I have many friends there. We want to put on a good display and not finish our spell with no victory and gather as many points as possible.
Michel: Nantes is an important club for me, I played against them when I was in France for Marseille. I respect them and I consider them to be a god team. Tomorrow, we want to get the win, it is a matter of prestige. Definitely, for them, this match is more important, we respect our opponents and we believe they have great players and we are looking forward to tomorrow's match.
Do you consider it to be risky if you present a lineup of players that might not have the right "chemistry" amongst them?
For us, this is an important fixture despite it makes no difference in the standings. We know how things are this year and we have to accept that; we want to end the group matches giving a good impression. Our Sunday's tie might be an excuse, however whoever puts on the jersey tomorrow will a footballer who can represent our club. A coach is a human being who tries to keep the right balance and takes risks in various cases. For us, this does not mean that the match is insignificant; there are other teams, like Qarabag, that will watch out match with great interest.