Olympiacos and the team's President, Mr. Evangelos Marinakis, are always present where support, help, and hope are needed. On Tuesday afternoon (7/2) the leader of the "red-and-white" FC and the entire football department visited the Paediatric Oncology Unit. For yet another year, the family of Olympiacos stood by the side of these young valiant fighters to give them strength and courage, to offer moments of joy and gifts.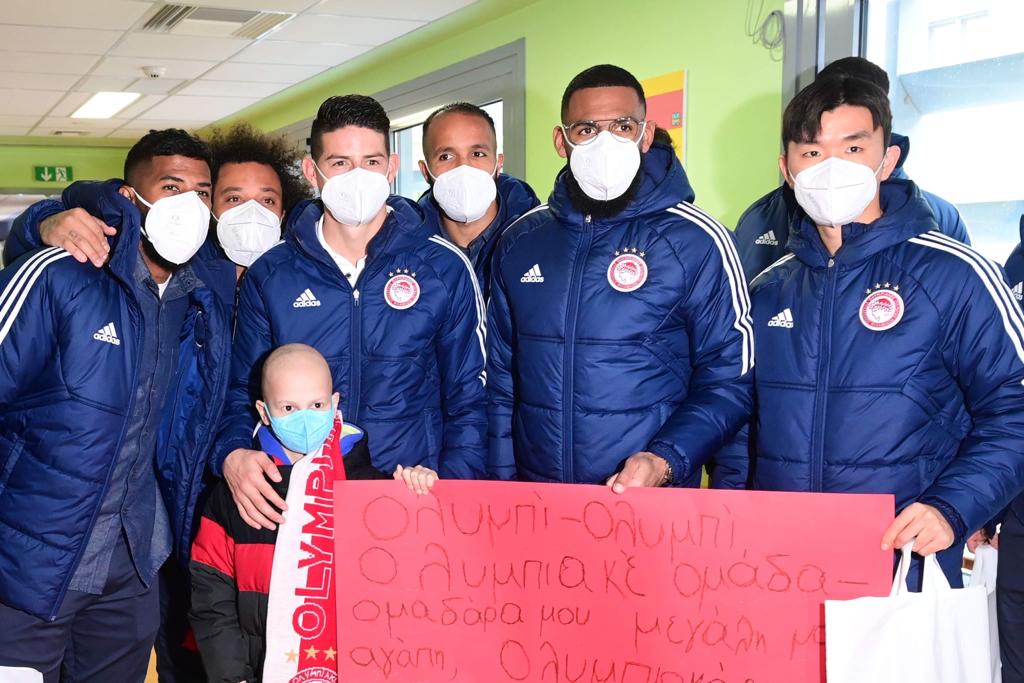 To bring a glow and smiles on their faces, to impart the flame of fighting. To send a message of support in the struggle of the real heroes of life. It's a visit that every year constitutes a special moment for the entire family of Olympiacos, expresses the deep sensitivity of the FC and conveys the message of selfless giving throughout Greece and abroad. Mr. Marinakis and the football department were welcomed by the President of the "ELPIDA" Association of Friends of Children with Cancer, Mrs Marianna V. Vardinogiannis, and the Director of the Children's Hospitals "P. & A. KYRIAKOU" and "AGIA SOFIA," Mr. Manolis Papasavvas.
In gratitude for the enduring support of Olympiacos FC, which has been on the side of ELPIDA since 2011, Mrs Vardinogiannis once again declared the team "Champion for HOPE" for the years 2023–2025, renewing this "title of love and offer".
In her speech, she said: "As a minimum recognition of your enormous contribution to the fight against paediatric cancer, our Association has the honour to declare Olympiacos "Champion for HOPE 2023–2025," renewing this "title of love towards children" that you have worthily held in recent years, contributing to their struggle for life. Α difficult fight, where defeat or draws are unwanted and we only welcome victory! Just as Olympiacos wants; a historic sports club, with more than 90 years of national and international distinctions. The contribution of Olympiacos to Greek Sports is immense, as is the team's social contribution to Greece. I would like to express a big thank you to Mr. Evangelos Marinakis, Honorary Member of our Association! He is an invaluable ally and he sends a strong message of social solidarity through his support".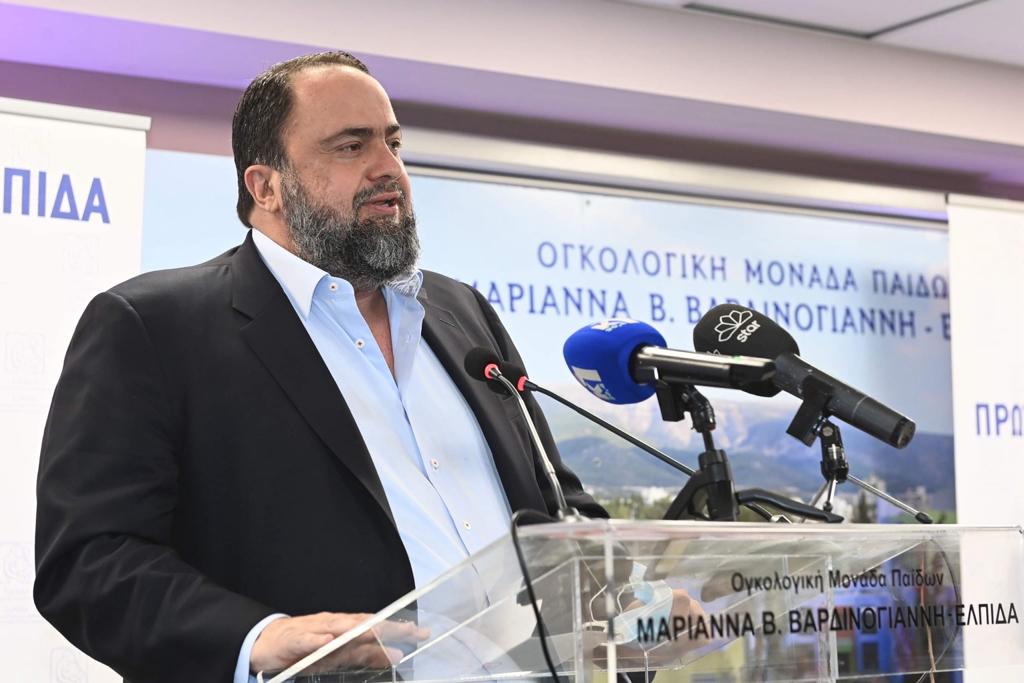 Mr. Marinakis stated: "Since 2011, today is our 13th visit. It's a tradition we are proud of. Olympiacos has been a champion most of the years, the team has a champion mindset, and these children, as well as all of you, are champions in the lives of people, in the lives of young children. We want to thank you for this and want you to know that we will be by your side throughout this effort for many years to come. What we can do is support this project with all of our strength and our athletes are here to instil courage to these children. Know that we will always be by your side in support of your work. I would like to wish everyone a good year and good health. We have seen too much lately with the pandemic. We saw what happened yesterday –the tragic event– in Turkey; we would like to support those people as much we can, it's tragic. May we all be united and, once again, I wish for health to all and to you Mrs Vardinogiannis to continue performing this social service with unwavering strength. May you always be well".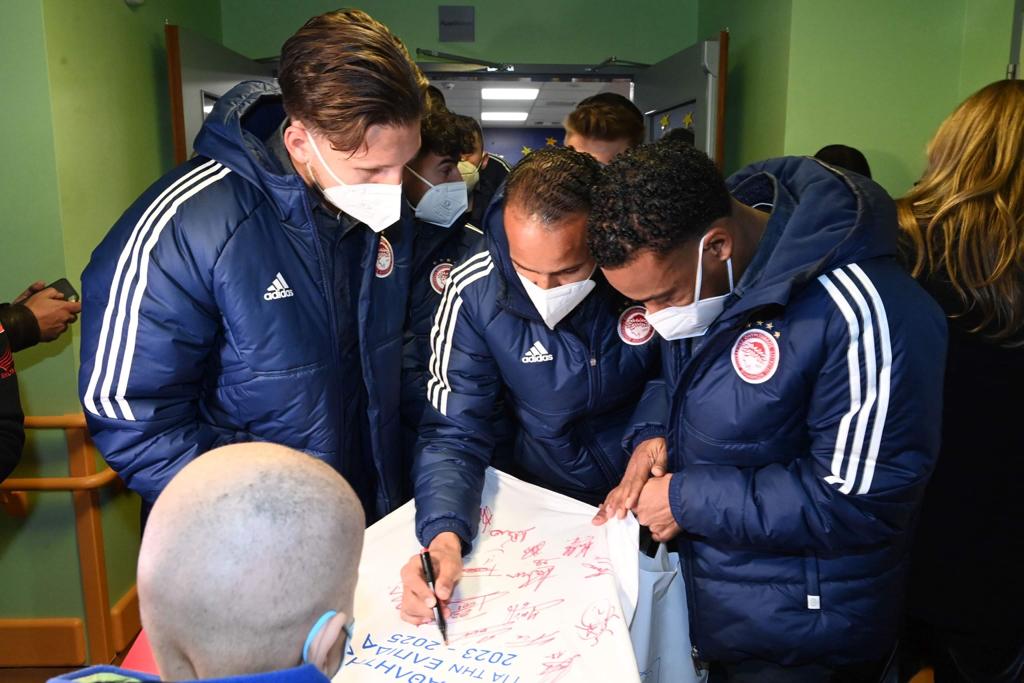 Also present was the Vice President of Olympiacos FC and Mayor of Piraeus, Giannis Moralis, who mentioned that he will soon honour Mrs. Vardinogiannis for her contribution at an event at the Municipal Theatre of Piraeus.
Mr Marinakis handed Mrs Vardinogiannis a check for the support of the Paediatric Oncology Unit for yet another year, while the two then placed the Stars of Olympiacos FC and the Champion for HOPE on the "Wall of the Stars of Hope." Mrs Vardinogiannis also honoured the Vice President of the team and Mayor of Piraeus, Giannis Moralis, and the coach of the team, Míchel, for their support while offering the t-shirt of "Champion for HOPE 2023–2025" to all the players, as well as a calendar made by the children of the Oncology Unit.
Particularly touching was the moment when young patients offered handicrafts and drawings to the President and members of the team, expressing their love and admiration.