Olympiacos FC innovates once more to become the first club in Europe offering our fellow people with visual impairment an audio-descriptive commentary service in all fixtures played in G. Karaiskakis Stadium, in collaboration with Panteion University of Social and Political Sciences.
The project was officially presented by Olympiacos FC during a Press Conference, Tuesday (28/3), held at G. Karaiskakis Stadium by FC's Vice President D' and Managing Director Kostas Karapappas and CSR Director Nikos Gavalas. The panel also included Dean of Panteion University Prof. Christina Koulouri and the Athens Bar BoD member, AMKE "Me alla matia" President and visually impaired lawyer Vaggelis Avgoulas.
The press conference was followed by the signing of a Memorandum of Cooperation between Olympiacos FC and Panteion University of Social and Political Sciences.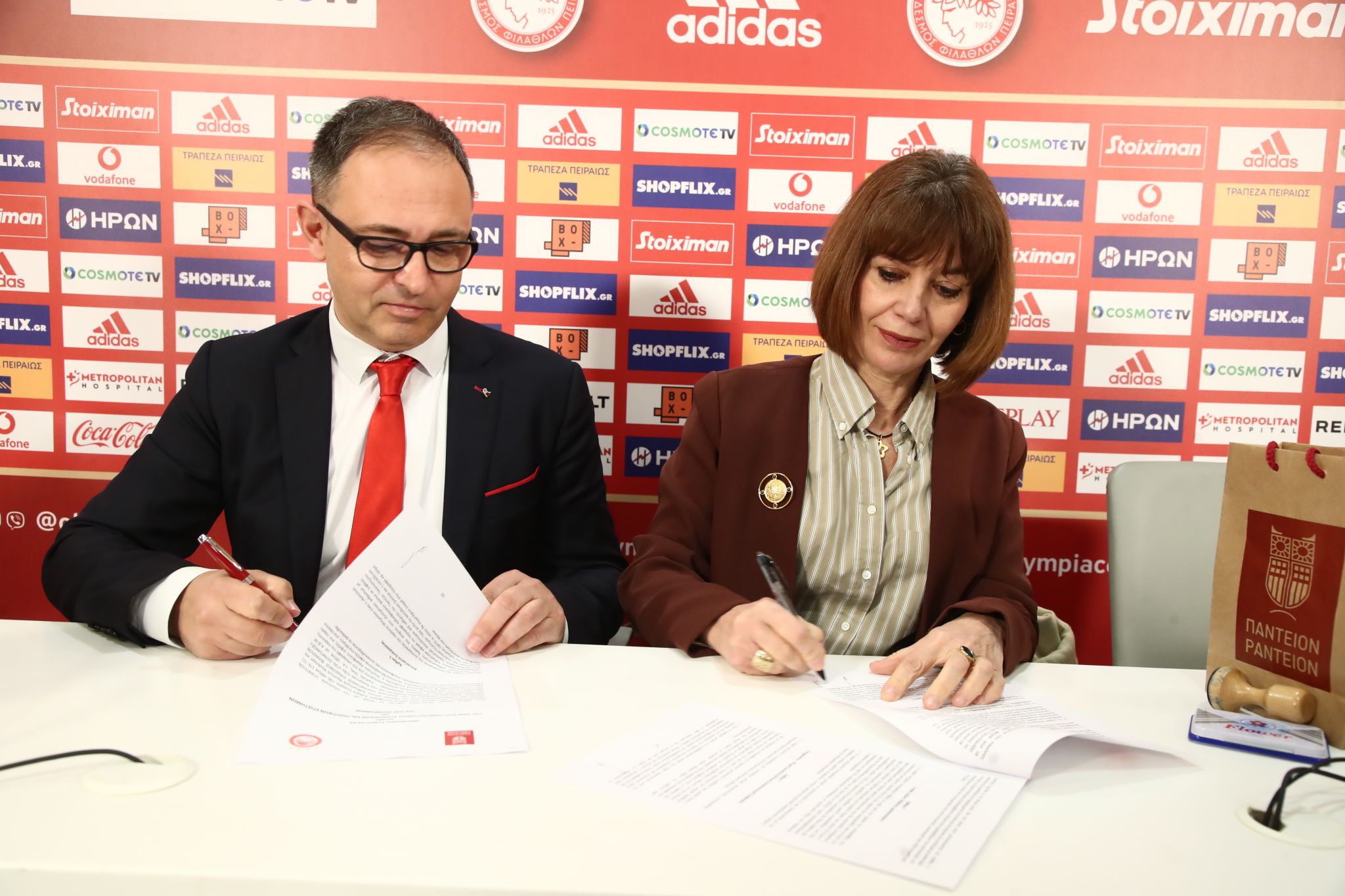 The audio descriptive commentary service will be launched in G. Karaiskakis Staidum in the coming Olympiacos fixture with Aris for MD2 of the Stoiximan Super League play-offs. This is a breakthrough initiative that makes Olympiacos the first European club to enable visually impaired individuals to equitably watch a football match by means audio commentary.
In our club's matches, specialized staff shall be engaged including Panteion University professors, for the audio commentary. Also, to this end, a training course has been launched addressed to students at the Department of Communication, Media and Culture, who will actively take part in the commentary and oral description of matches for blind people in a comprehensive and easy-to-understand way.
The Panteion University student to broadcast matches shall be the following Manos Aggouridakis, Vaggelis Valavanis, Vassilis Voutsinas, Vassilis Gouzelos, Stelina Dardougia, Alexandros Konstantonis, Chrissa Margaroni, Rafaela Mitropoulou, Nikos Naoum, Sofia Sakaveli, Izabella Tougli, Antonis Chalas, Aiantas Charonitis and Martha Chorianopoulou.
The objective of this innovative project is to offer an equitable experience, in all matches hosted at G. Karaiskakis Stadium, to all visually impaired people via an audio-descriptive commentary services. This humanitarian action shall help people with visual disability to equitably attend a football match and support their favorite team.
This way, our anticipated benefit will be to ensure fundamental rights of people with disabilities and their equitable treatment, while at the same time fighting down all stereotypes, biases and practices of exclusion against disabled persons.
This is how we turn into practice the program's sole expectation, i.e., for disabled people to have the right to enjoy arrangements that guarantee their autonomy, professional inclusion and participation in the country's social, financial and cultural life.
Initially, Olympiacos FC CSR Director Nikos Gavalas took the floor and said: "This day is particularly important for the entire family of Olympiacos, since we are happy to announce that the service of match audio descriptive commentary shall be put in place for visually impaired people in all club fixtures held in G. Karaiskakis Stadium. Thus, Olympiacos becomes the first club in Europe to permanently offer said service thanks to our partnership with the Panteion University of Social and Political Sciences. With regard to all issues that relate to improving accessibility of people with disabilities to the G. Karaiskakis Stadium, our President Evangelos Marinakis is quite sensitive and essentially supports all related initiatives".
Olympiacos FC Vice President and Managing Director Kostas Karapapas stressed: "it is really pleasant to hold such press conferences on such a topic. This proves that the club and the entire organization takes one step forward to the right direction. Mr. Marinakis has chosen to materialize all concepts in the G. Karaiskakis Stadium that will ensure accessibility to all people who want to be close to Olympiacos. As a result of said actions and ideas, people stronger than us come closer to us and they represent a source of energy for us. I feel happy that you will all enjoy every match.
This is a project under preparation for a long time. We are happy it is now launched and we hope it will evolve in various aspects and domains. We aim at bringing close to us more and more people who, at one point, might have thought they could not come to the stadium; however, now they will be able to and we want that so much. We are not giving out special powers, we ask those people to make us stronger. When I met Mr. Marinakis, the first he told me was that, apart from football, he is interested in returning somehow all this love the club gets. We want to return it back to all people, not just the supporters of Olympiacos; to any human being who needs a holding hand. There are daily actions deployed by Olympiacos FC and Evangelos Marinakis; besides, it is his decision to implement such a strategy and social policy that people is not aware of. Olympiacos is the sole club that, in its name, has a sacred word "Sindesmos" in Greek ("Association"); said sacred word holds forever and ties us with the people".
Dean of Panteion University Prof. Christina Koulouri said: "The Panteion University of Social and Political Sciences considers its public intervention in favor of vulnerable social groups and the promotion of an equal access policy to all students as a strategic choice of the institution. As the same time, we foster our students' initiatives and creativity by means of actions such as Radio Panteion. So, we are particularly happy to partner with Olympiacos, because we shall offer a service to people with visual impairment while utilizing the Radio Panteion. Besides, the MoC with a club such as Olympiacos provides our university with an open window to our society and, thus, we prove ourselves to be a modern academic institution setting its mark on this area".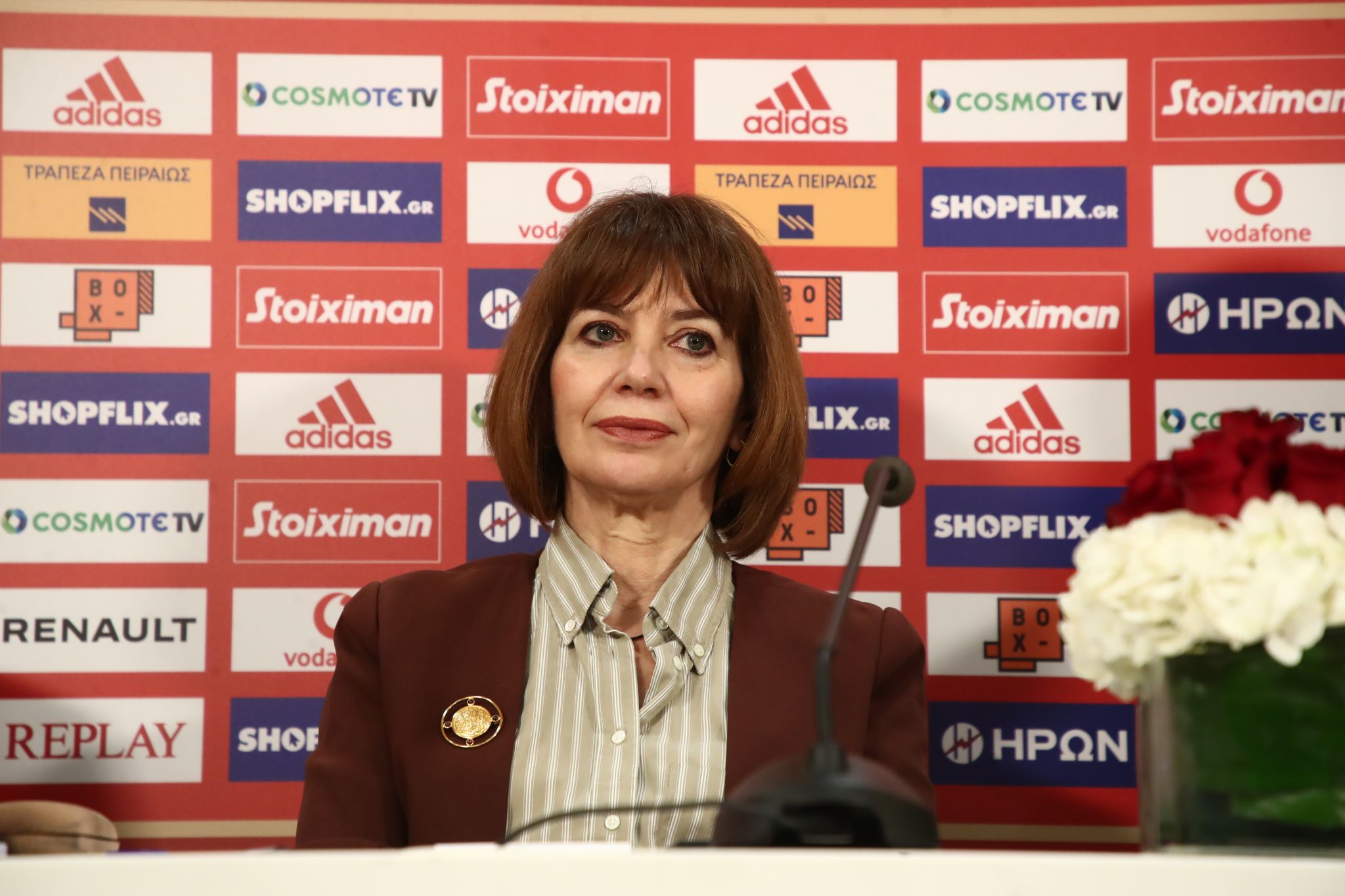 Athens Bar BoD member, AMKE "Me alla matia" President and visually impaired lawyer Vaggelis Avgoulas also stressed: "I was born blind. I have never seen colors, or my family members or even myself on the mirror. And yet, I will be able to literally watch Olympiacos whenever I want. This initiative taken by Olympiacos FC is set to consolidate and defend a constitutional right of blind people of this country: equal participation of all supporters in sport events. Europe-wise, Olympiacos is now raising the bar high and forces both journalism and sports to stand up to the level of social circumstances. It is unthinkable that, due to our disability to see, we cannot watch the moments our beloved club has to offer and rejoice or feel sad in the same second with all other fans. In 2019, I personally met the President of Olympiacos FC Evangelos Marinakis in Piraeus. Amongst others, we asked me how I felt about Olympiacos. I replied: "Dear President, I want to feel the club even closer". He replied back "What can I do for that?". We started talking and I told him one simple thing: if a blind fan decides to go watch a match, he will pay his ticket and his escort to support him in describing the play to the best of his abilities. Mr. Marinakis made a phone call in my presence and immediately gave an order – promptly published- that it is the FC's decision to offer one free ticket to all blind supporters who purchase their season ticket, so we may select any person we want to escort us when we are season ticket holders and, this way, come closer to our favorite team. Today, we are here to launch an initiative that's here to stay".
Associate Professor of Psychology in Media and Technology at the Department of Communication, Media and Culture, said: "The radio has been described as the "blind medium". It is the medium that is made of sounds and moments of silence. This acoustic form of communication is exactly what makes it a Medium capable of directly and broadly address the public. The radio is the medium of communities and inclusion. Olympiacos FC has a specific idea to create radio/audio content for the visually impaired. Students of Radio Panteion Sports, led by Vassilis Voutsinas, made the first contact with Olympiacos FC. It was a happy conjuncture that, today, we present our preliminary outcome in this very place. On behalf of Radio Panteion and Radio Panteion Sports, we would like to thank Olympiacos FC for this new journey we set out together, aiming always at building a better world. A world made for the many".
Brief contributions were also made by Head of Training in the Audiovisual Studio of the Department of Communication, Media and Culture Thanassis Palos-Papantonopoulos and Accessibility Consultant Michalis Liolidis, who took part in the student trainings, as well as Christos Koromilas (BoD member of "The Lighthouse for the Blind of Greece" and the National Sports Federation for the Disabled, General Secretary of "Greek Guide Dogs" and Open Water World Champion in the inspiration and 5 km category) who said: "I lost my eyesight 15 years ago. My greatest complaint is that I couldn't come to Karaiskakis on Sundays to watch Olympiacos playing. Now, the problem is solved and I am so happy for that". Moreover, three Panteion University students, charged with producing audio descriptive commentary, spoke to the Media.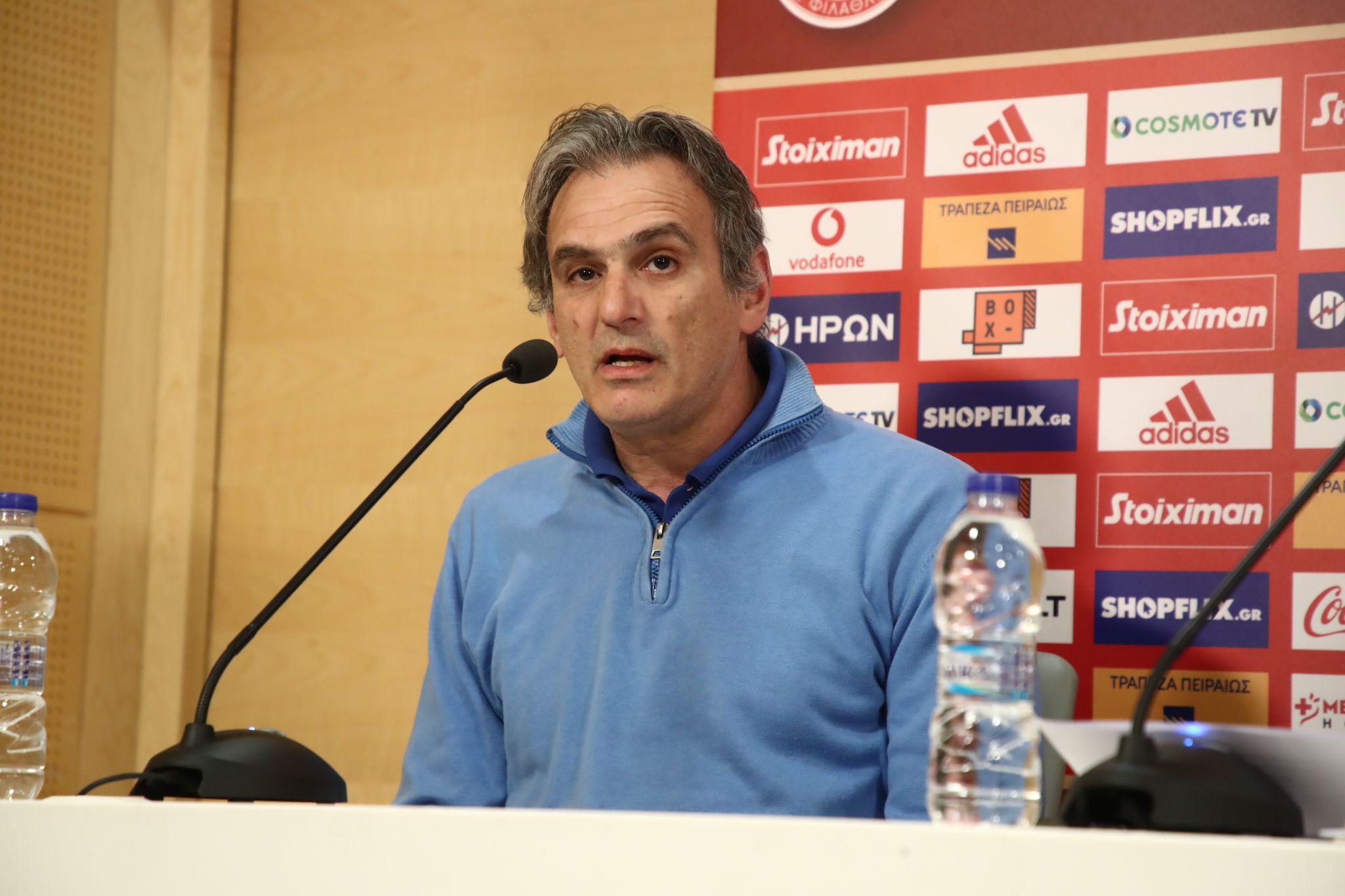 Initially, Vassilis Voutsinas underlined: "I would like to thank Olympiacos FC who allowed us access in the pitch. We want to take steps forward, to evolve and use this give space to this opportunity to emerge. Our wish is for more similar partnerships to arise". Vangelis Valavanis said: "Famous Director Pier Paolo Pasolini had once said that football is the very last sacred ritual of our times μας. By means of their initiative today, Olympiacos proves they remain an initiate of said sacred ritual and is close to celebrating their 100th anniversary". Nikos Naoum added: "We faced some technical challenges but, now, we are proud of pulling through such a thing".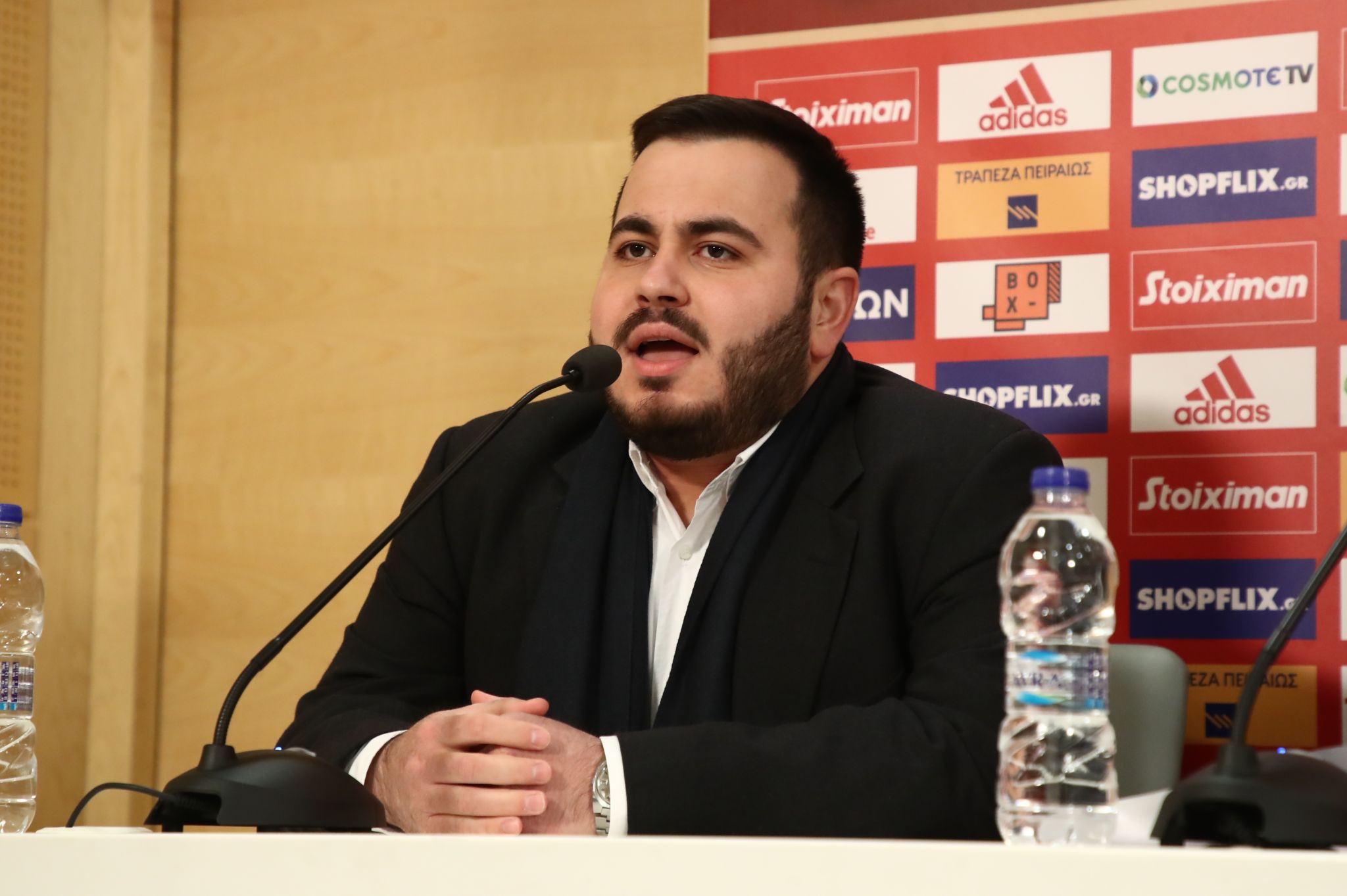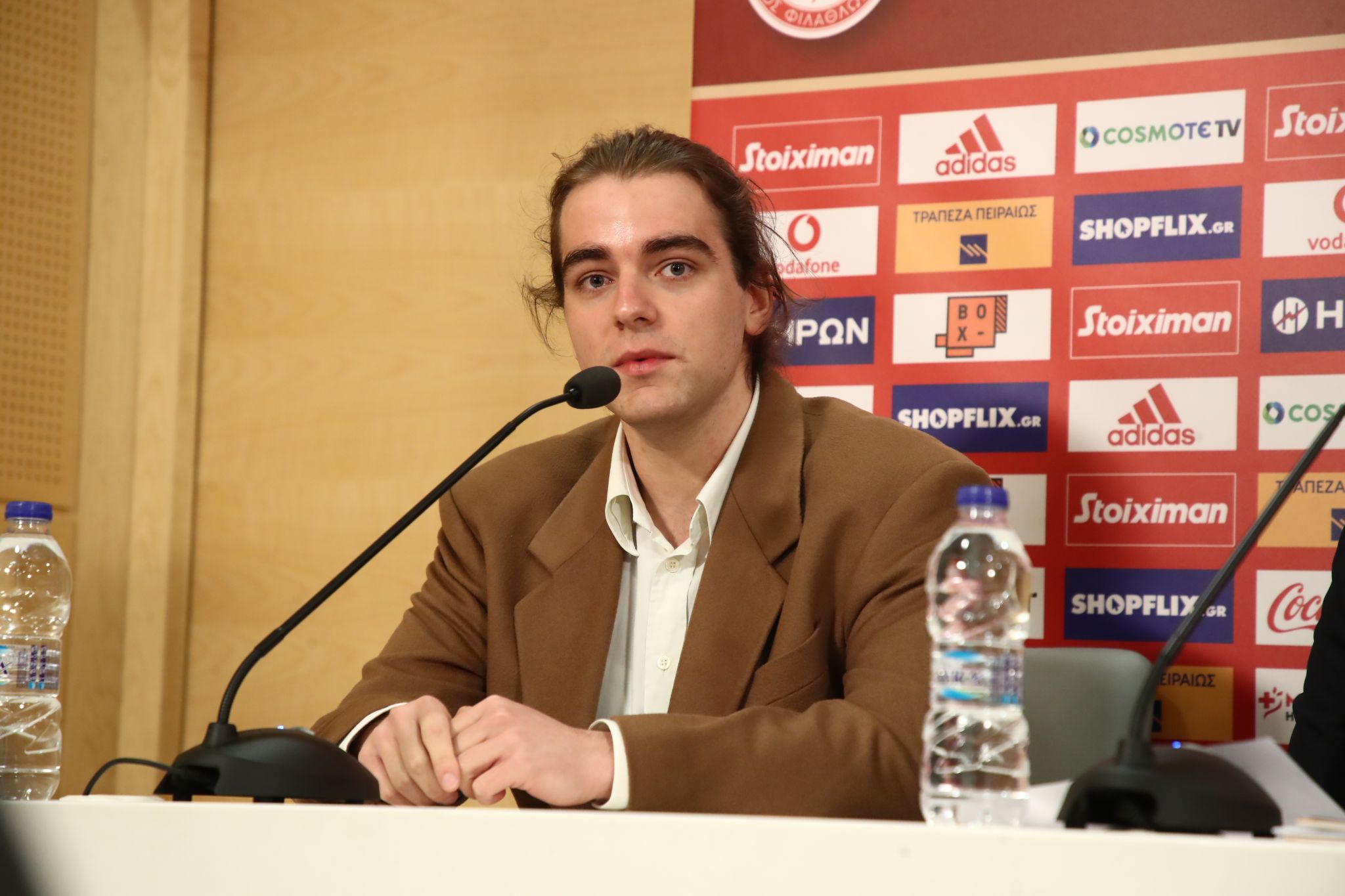 HOW CAN THE VISUALLY IMPRAIED MAY SECURE A SEAT
In every fixture, Olympiacos shall host 5 blind people and their escorts in the Media Tribune, who will use headsets to enjoy the audio commentary of Olympiacos home matches, as produced by students from Panteion University's Department of Media that have successfully completed their course.
Also, this commentary shall be uploaded on Panteion University's online radio station, the Radio Panteion Sports, and the broadcast hyper-link shall be shared to all communities of blind people both in Greece and abroad.
As it is the case with motor impaired people who use purpose-built wheelchairs, Olympiacos FC shall issue an announcement also for blind people a few days before matchday on how seats will be allocated and another one once the seats are sold out. Everyone interested will contact the Club's Call Center on a specific date and time as communicated in the announcement.
Entry of blind people and their escorts shall take place by the Media Entrance. Therefore, they will be able to also use the lifts to find their seats more easily.
We should clarify that the Olympiacos FC offer for blind people to purchase their season ticket shall also be valid for the coming season, since their escort will equally get their season ticket free of charge.