The family of Olympiacos as a token of its support and contribution to UNICEF's cause and the effort to provide the children of the world with a better future, was present also in this year's edition of the UNICEF TV Marathon.
During a live broadcast from Piraeus Municipal Theatre where a municipal event celebrating the Legend's 90 years was taking place, our club's President, Mr. Vaggelis Marinakis, representing the players Kostas Fortounis and the City Mayor Mr. Giannis Moralis spoke about UNICEF's great work and our side's partnership with this global organization. In fact, Olympiacos donated under the TV Marathon the total amount of 30,000 euros; as announced by Mr. Marinakis, the club management gave 20,000 euros and another 10,000 euros was given by the players.
The President of the Piraeus outfit stressed: "We are happy to be once again standing next to UNICEF in order to help refugee-children this time. As you know our partnership started in 2013; until today, more than 1,000,000 children have been vaccinated both in Greece and abroad and this is a huge victory for us, a strong vindication of our active assistance to UNICEF in terms of their cause. We are standing next to them, once again, this time to help refugee children and Olympiacos makes an offer of 30,000 euro, 20,000 coming from the club management and 10,000 from the players, to this effort and wish you all the best; we are next to you".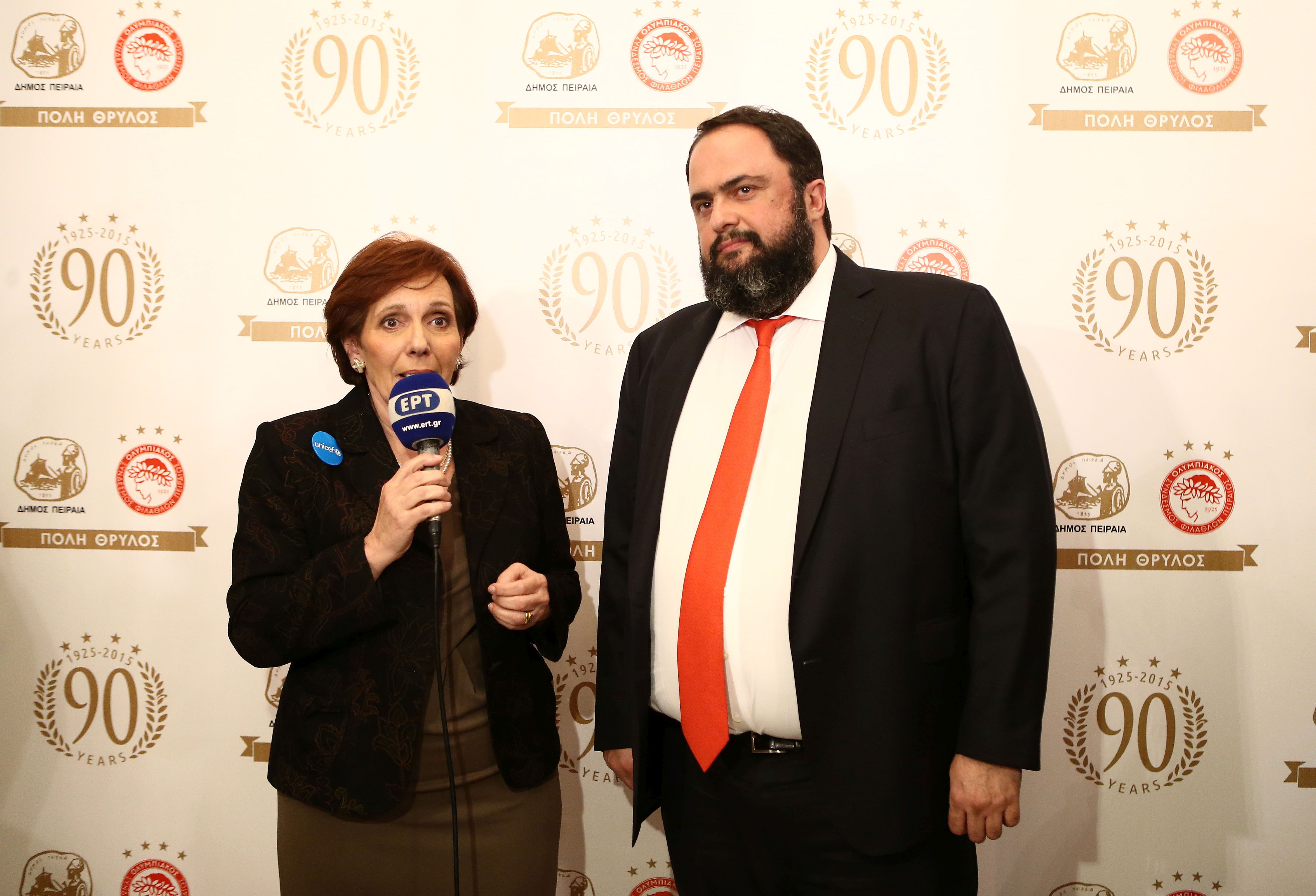 Then, representing the players, Kostas Fortounis took the word and said: "On behalf of all Olympiacos players, we do want to help and support the children. Children vaccination and assistance, this is our game. All united, we want to help the refugee children, who need us now the most. For this reason, we, the players of Olympiacos, raised and offer 10,000 euros in order to support the UNICEF's TV Marathon".
Next was the Mayor of Piraeus του Mr. Giannis Moralis, who said: "I want to generally congratulate UNICEF for all the efforts they have paid in these years. I came to experience UNICEF by means of this partnership with Olympiacos during recent years, as the Olympiacos Vice-President. Today, as Major of Piraeus, I am pleased-on the club's 90th birthday celebration- to honor the club and, at the same time, make it on the UNICEF TV Marathon.
Unfortunately, the municipality's financial standing is not that good as Olympiacos. So, what I could say, in my capacity as the city mayor, is that the Piraeus Municipal Theater will be open for the children of UNICEF. Entrance will be free for all UNICEF kids who want to attend some children's theatrical play or other. If UNICEF requires to use Piraeus for their actions, we can provide them the theatre free of charge and plan a common action in the months to follow, in order to foster the UNICEF cause. That's all I can say and allow me to congratulate UNICEF once again for the TV Marathon and Olympiacos, since I came to realize how much the President and Kostas Fortounis have contributed to the UNICEF cause.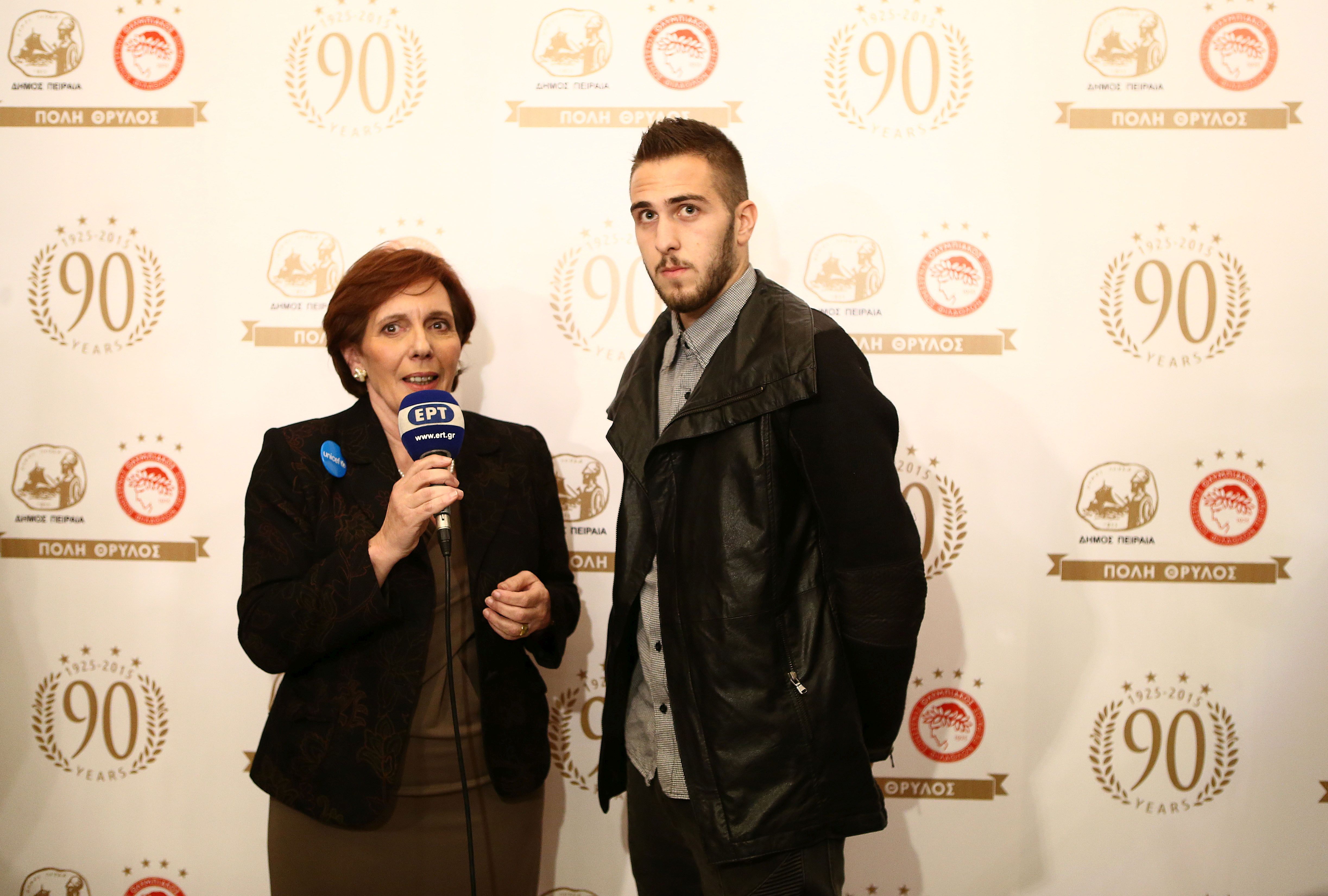 I know this event is dedicated to refugee-children. This is an issue that touches upon entire Europe, the entire world I would say, and specially our country and islands. Piraeus is also sensitive to this since we are the city receiving refuges coming from the islands. I hope you can help and I am certain that UNICEF will help refugee children and we will be present whenever asked, to the extent that each and all of us may help".
This year's TV Marathon is dedicated to refugee children, who have been uprooted from their homelands, in order to find a better life, away from misery and wars!
It is, certainly, our and Olympiacos' duty to actively support this wonderful initiative, as we did in the past and will keep on doing! Noone should stand idle before the challenges tormenting our planet. Driven by our will to support our fellow-people and with the aim to ensure this world's future, that is the children, we must all rise to the occasion. Olympiacos is always there!
If you want to support the TV Marathon:
Type ΠΑΙΔΙ and send a text message at 19059. Valid between December 10-16 (1,23 €/SMS incl. VAT)