Olympiacos FC, in its ongoing activities as a UNICEF partner, will get actively involved this year as well in the effort to promote the organization's actions to protect children at risk! So, the club, following the respective TV Marathon, will participate in the Radio Marathon to be held on April 19th in collaboration with ERT and with the contribution of tens of radio stations across Greece!
Olympiacos star goalkeeper Stefanos Kapino was present, Thursday afternoon, at the ERT HQs for the presentation of the study "Children status in Greece 2016 – Children at risk" and UNICEF's Radio Marathon. Everyone stressed how much important it is to show due care to children in Greece and all over the world. The efforts by UNICEF and its partners have received praise, whereas Stefanos Kapino took the floor and said: "We, the people of Olympiacos, are really happy to be part, this year also, of UNICEF's Radio Marathon. Having said that, it is always important for us to help children. We do know, like everybody else, that Olympiacos FC is a major donor in UNICEF's "100% Campaign" that support vaccination programs all over the world and, to date, we have together secured vaccination for more than 1 million babies!
Thanks to an initiative by our President Mr Vaggelis Marinakis, we renewed our partnership with UNICEF with the aim to vaccine another 2 million children in the coming 2 years! Of course, this does not suffice for Olympiacos. From the early moments of the economic and refugee crisis, they do everything possible to relief both minors and adults by offering them food, clothing, toys and many more, whereas many players of us went to see these people.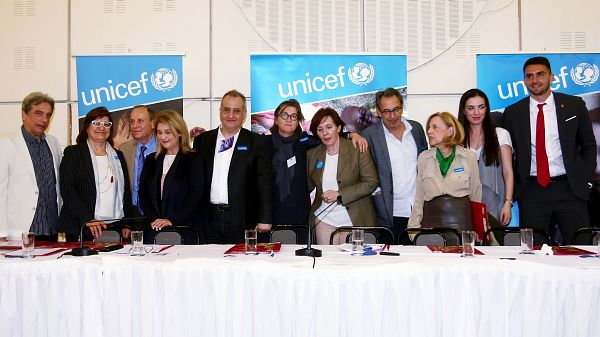 I repeat it is really an honor for us, the players, to be part of this great effort and to lead by our example via football other young people around us. It is important to protect the rights and lives of children at risk".
The Legend's star was accompanied by Mrs Veruska Georganti, Head of the Olympiacos FC-UNICEF partnership, and Mr Konstantinos Kardiasmenos, Corporate Communication & CSR Director of Olympiacos FC.
For her part, Mr Georganti mentioned the following: "Everyone at Olympiacos FC feels happy and proud for attending, this year as well, the annual UNICEF's Radio Marathon, in order to help these children at risk with all our strength. In Olympiacos, throughout the year, we help as much as we can and with everything we got; be it in the form of vaccinations together with UNICEF, or soup kitchens, or by handing out clothes, toys and sports gear, or by way of team and players visits to various foundations and accommodation centers across Greece.
We do all these, not just to tangibly assist our fellow people in need of our help, but, first and foremost, in order to send a message: In this hard times we all go through, it is good for anyone to give a helping hand, where and to the extent that one can, mainly to the benefit of children at risk. We are talking about innocent children who truly deserve a better luck and a brighter future".