Olympiacos is included amongst Europe's top clubs; this is proven daily by the club's ranking, standings and results on the pitch. UEFA's ranking, the progress of the club's Academy… On top of above developments comes the enhancement of our club's ties with other European top clubs and ECA. The organisation's General Assembly, held in our country, is another token of the above ascertainment!
Olympiacos has been constantly supporting bringing top European delegates in Greece and thus assisted in all possible ways to organise ECA's General Assembly; moreover, the club reinforced its relations with other clubs, Federations and, all in all, with elite stakeholders of European and world football. Olympiacos FC and its President Evangelos Marinakis, Monday night, hosted ECA's plenary in Hilton's Galaxy!
Top football figures were there. Club presidents, General Directors of major organisations and clubs, Heads of top European Academies, ECA's legal advisors, they ll attended this particular football meeting organized by Olympiacos FC.
The Chairman of the European Club Association (ECA) Mr Rummenigge , Juventus President Mr Agnelli, Lyon President Mr Aulas, executive vice-chairman of Manchester United F.C Mr Woodward, Paris Saint-Germain General Manager Mr Blanc, and other top football executives, in the likes of FIFA's Mr Boban, UEFA's Deputy General Secretary Mr Marchetti, UEFA's Head of Club Competitions Mr Heselschwerdt, as well as Euroleague's Sports Director Mr Scott attendee the event in Hilton's Galaxy. Various football legends also were present, amongst whom Marco Van Basten on behalf of FIFA, Ajax' Edwin Van der Sar from ECA or Benfica's Nuno Gomez.
All attendants elaborated on various football-related issues, in a relaxed atmosphere, while Olympiacos FC executives had the opportunity to exchange insights about the present and future of football both with regard to Greece and abroad; clubs, transfers, players, team qualifications in future World Cups, media and other topics were the order of the day. The President of Olympiacos also met some of his peers from most important European clubs and engaged into friendly chats with them on various interesting issues.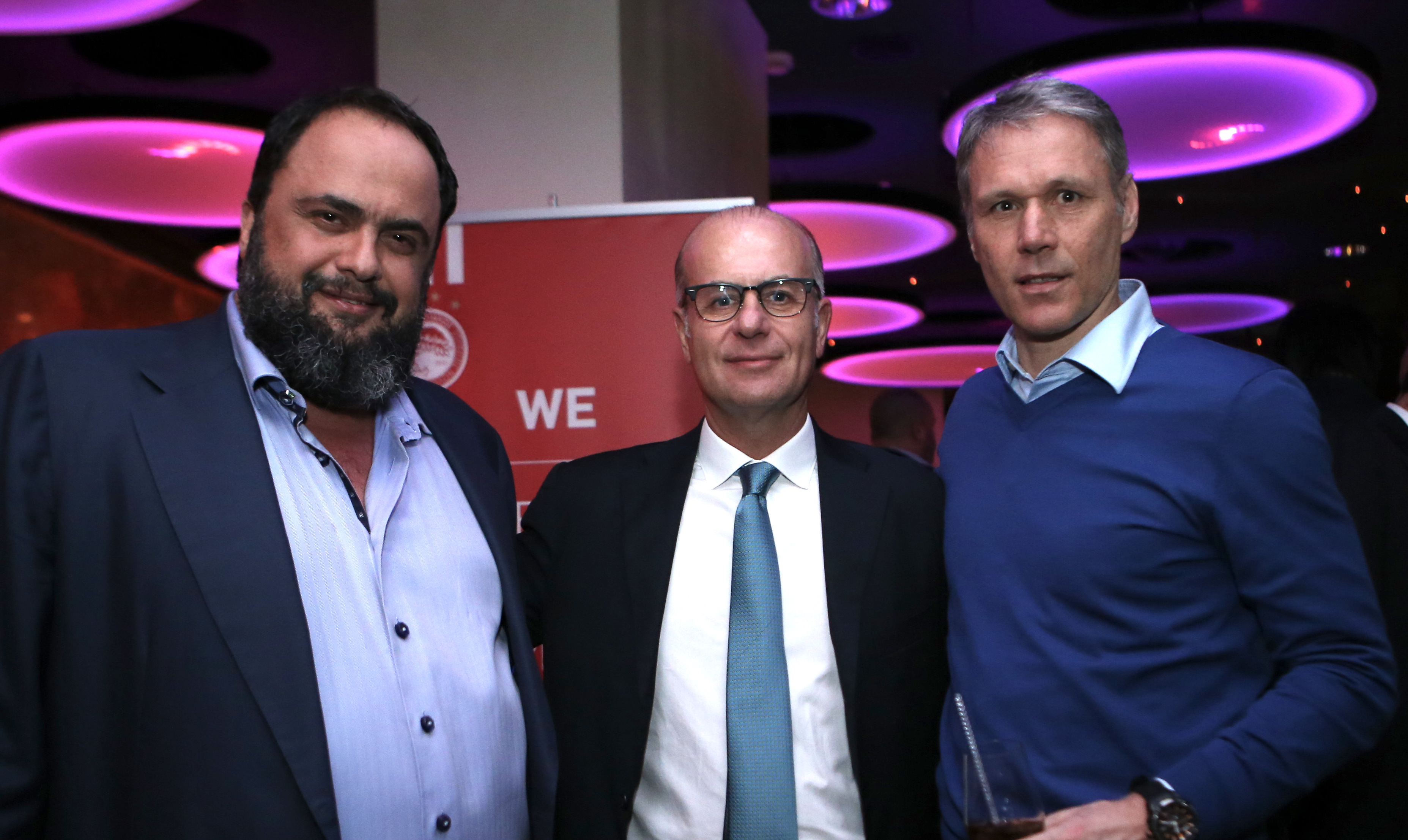 In his address during ECA's General Assembly meeting, on the following day, its President Mr Rumenigge did not omit to comment on previous night's reception as the most important and beautiful in ECA's 10-year lifetime. The General Assembly is made in total of 150 club representatives from 48 countries and Olympiacos turned out the ideal host for football's elite!