From the very first moment that Mandra was devastated by the deadly floods, Olympiacos was there! From the very first day, the largest multidimensional sports club of Greece hastened to help alleviate the affected residents of the area. From the very first day, Mr. Evangelos Marinakis, the leader of Olympiacos, instructed this organization, in all its parts (Olympiacos FC, "Karaiskakis SA", the staff of Rentis Training Center, "Thrylos AE" and the Board of the Academy, the WHOLE family of the Legend) to address the problem and to HELP! In all possible ways! And not with words, but with works!
Mr Evangelos Marinakis himself, who led the aiding effort, offering his hand to all those fellowmen who saw the murderous floods wipe out their goods, was present on Saturday morning in Mandra, Attica. He was there in person, at the heart of the problem, to declare once again that Olympiacos "IS HERE FOR YOU"! To emphasize in every way that words… are not what's needed. That now, in time of need, we must speak with actions! And that the Legend of the Hellenic Sports will continue to be PRESENT with actions!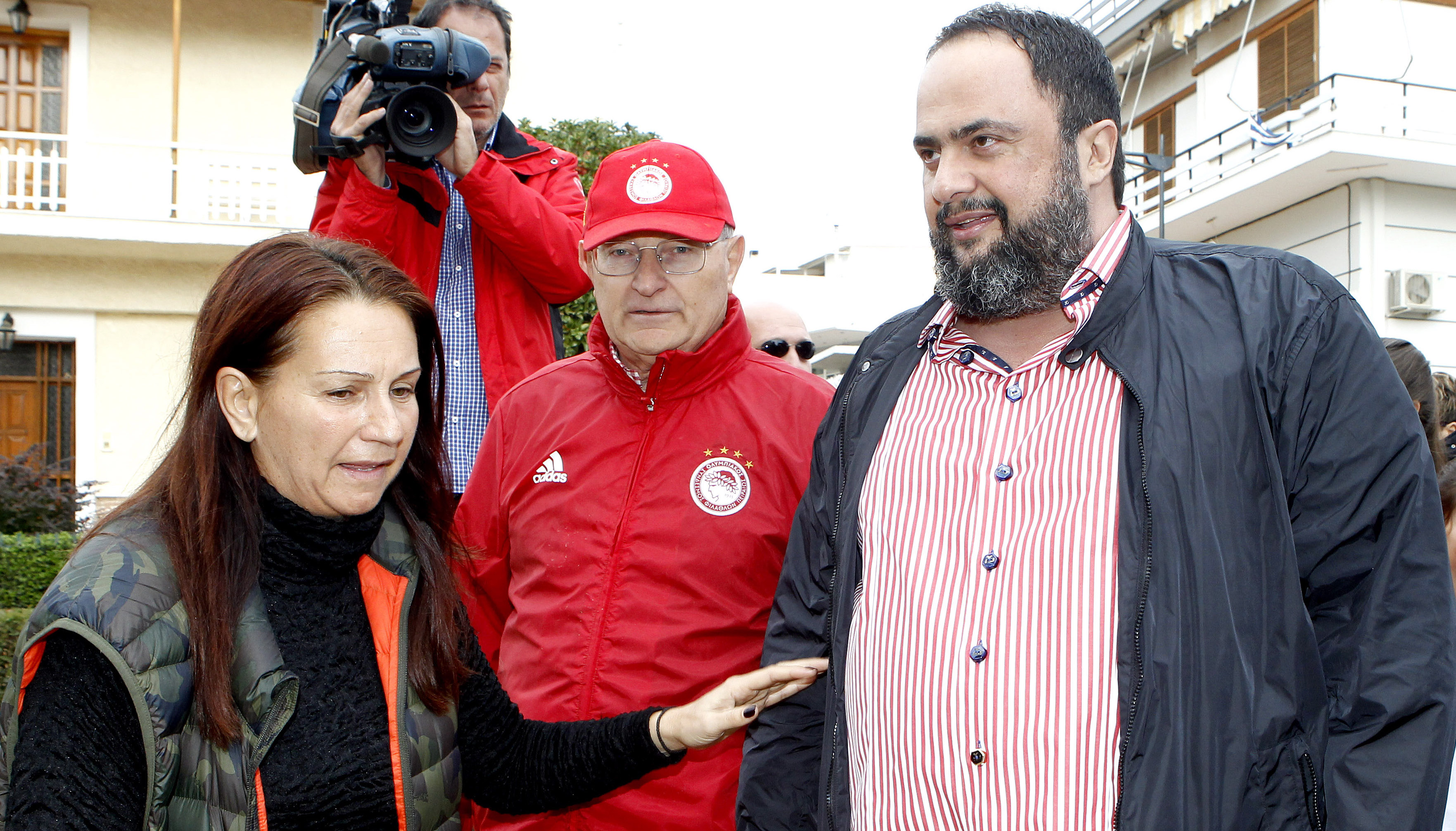 Shortly after 10:00am, Mr. Evangelos Marinakis went to Mandra, Attica, accompanied by the President and CEO of "Karaiskakis SA", Mr. Vassilis Vassiliadis (who anyway is there EVERY DAY and personally coordinates the efforts made by our Club to help), the CEO of Olympiacos FC, Mr. George Pavlou, the Director of Communication of Olympiacos, Mr. Konstantinos Karapapas, the CSR Director Mr. Domenicos Masoulas, the Team Manager, Kyriakos Dourekas, and also two young stars of our team, Thanasis Androutsos and Dimitris Nikolaou. Also present were the Legend's Academy, with Kyriakos Karataidis, Tassos Pantos, Tassos Theos and Academy players, who also helped by transporting basic necessities.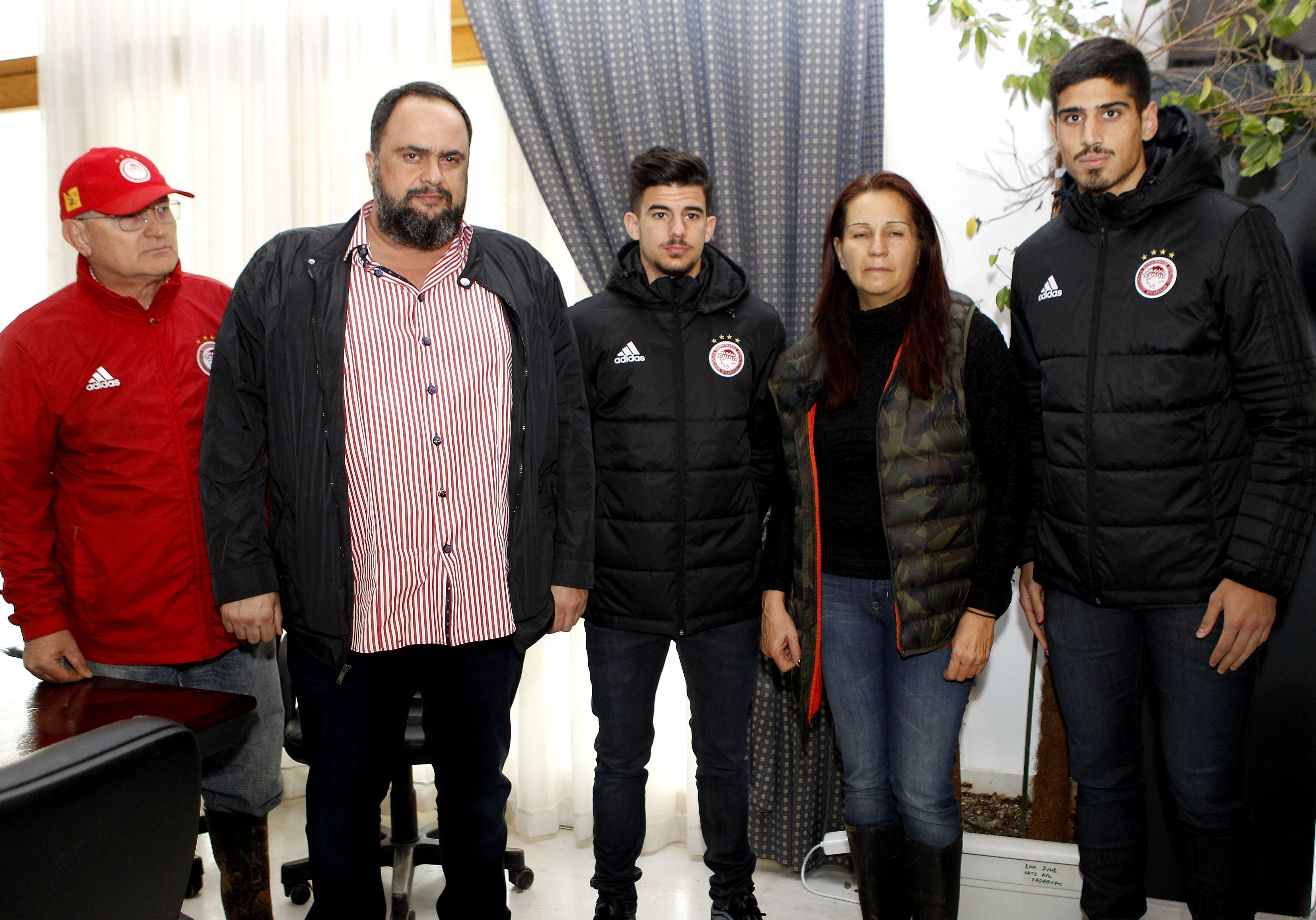 There, in the Town Hall of the zone, Mr. Marinakis was welcomed by the Mayor of Mandra-Idylia, Mrs. Ioanna Kriekouki. "You were the first to help us! The first to step forward and respond to our call. And that's why we thank you", were the first words by Ms. Kriekouki's, who was very moved, for all the help our Club has provided, following Mr. Marinakis' instructions. The leader of Olympiacos and Ms. Kriekouki sat at the same table and talked for a while. Few words but substantial. On the one side, gratitude, sincere recognition of the effort and a great "thank you". On the other side, the assurance that the effort WILL CONTINUE FOR HOW LONG IT'S NEEDED, that it's being made neither for the visibility nor to show off. After all, when Olympiacos started helping, no one knew, except the Municipal Authority of Madras-Idyllia itself.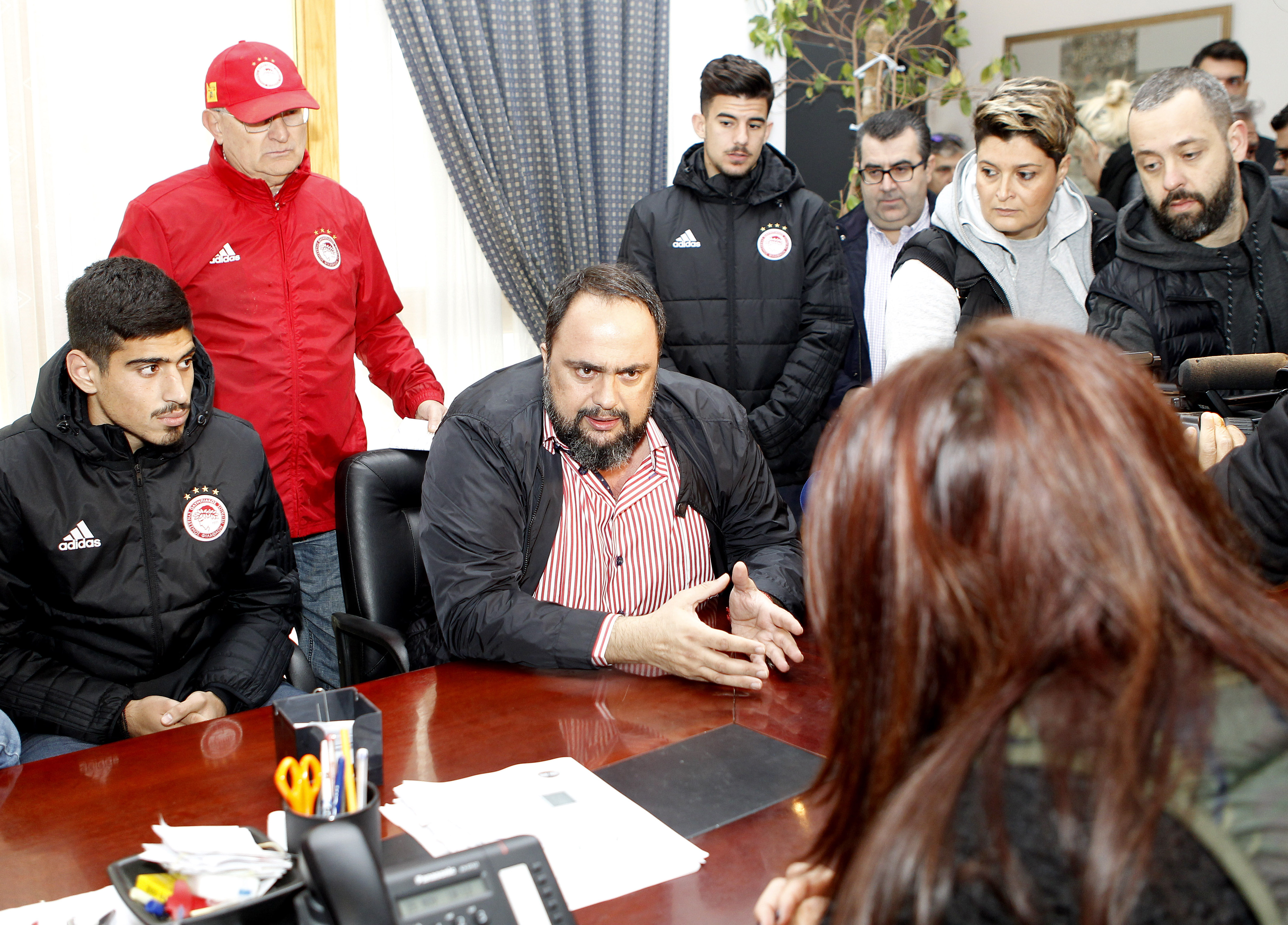 "Mr President Marinakis, you were the first to appear here and we will never forget it, I and all the people of Mandra. Because with your machines, with your equipment, with your people, you really gave us strength and I am glad you are right now here with us because you are a man who has built many things in your life for this country. I want to ask you to do whatever you can do for this city, a city of homely people that have given our lives, our whole existence and at this moment everything's lost, both in our households and in our municipality. You've done so much in your life, you've created a great legacy. I want you to take care of us at this moment when the state is powerless, as you see", were the words of the Mayor.
On his side, Mr Marinakis stressed: "What I want to assure you from our side is that we will do everything possible. Regardless if that's school, houses, cleanliness or clothes, whatever you need. My own instructions to all our people are to give their best and then tell us concretely what's needed, and, mark my words, I promise we'll do it. And, I'm saying this with all my heart, we didn't come here either for publicity or for anything else but because we feel it. You know very well that when we started this no one knew absolutely nothing and we did it from our heart and without you asking for it."
"We didn't even call you, nor did we even have the time to think when this disaster happened who could help us and you were already here", declared Ms Kriekouki, receiving again the assurance of Mr. Marinakis that Olympiacos will be next to them: "The priority is that the city can work and that your find your normal pace. Tell us concrete things and we'll be here doing much more. The important thing is to prevent a tragedy like this from happening again. For this purpose we can also do more, because it's unacceptable to see these occurrences in Athens. And tell us, from your side, what the priorities are. That's what matters. But I'm telling you again, besides what we've done, we can do ten times more. We don't need more words, the point is to do five works."
Describing the magnitude of the disaster, Ms. Kriekouki pointed out: "As you said, we're 20 kilometres away from Athens. It's the fourth time we've had floods, but this was the worst one. Nothing was left of the 1,200 households registered presently and of the 700 stores. There is no commerce left here. Some pharmacies were put up on the same day just to be able to make medicines available. The city's infrastructures are all destroyed. Apart from the Town Hall here, which is open due to its location, all the other places, namely kindergartens, the municipal theatre, the open-air cinema, gyms, the stadium, everything you can imagine is ruined. Everything this city has. The Electricity Network. The entire underground network, where the main internal arteries had underground power are destroyed. Apparently both the over the ground and the underground networks are gone. In the water supply network we have terrible problems. In other words, our city needs to be rebuilt. Because we saw your great heart, you will get to know the problems and you will choose what you want to do and we will be grateful to you. I'm telling you again, I and all my fellow citizens: only the fact that you came here, that's everything to us. Stay well. Thank you very much"!
After the brief conversation with Ms. Kriekouki, Mr. Evangelos Marinakis wanted to see the problem on the location, to walk through the narrow streets of Mandra and to see, not through the cameras and photographic lenses, but with his own eyes, the magnitude of the disaster, which, even now, so many days after, is enormous. Accompanied by his associates, the leader of Olympiacos did exactly that: he walked through the narrow streets of the city of Mandra, stopping at homes and talking to the people.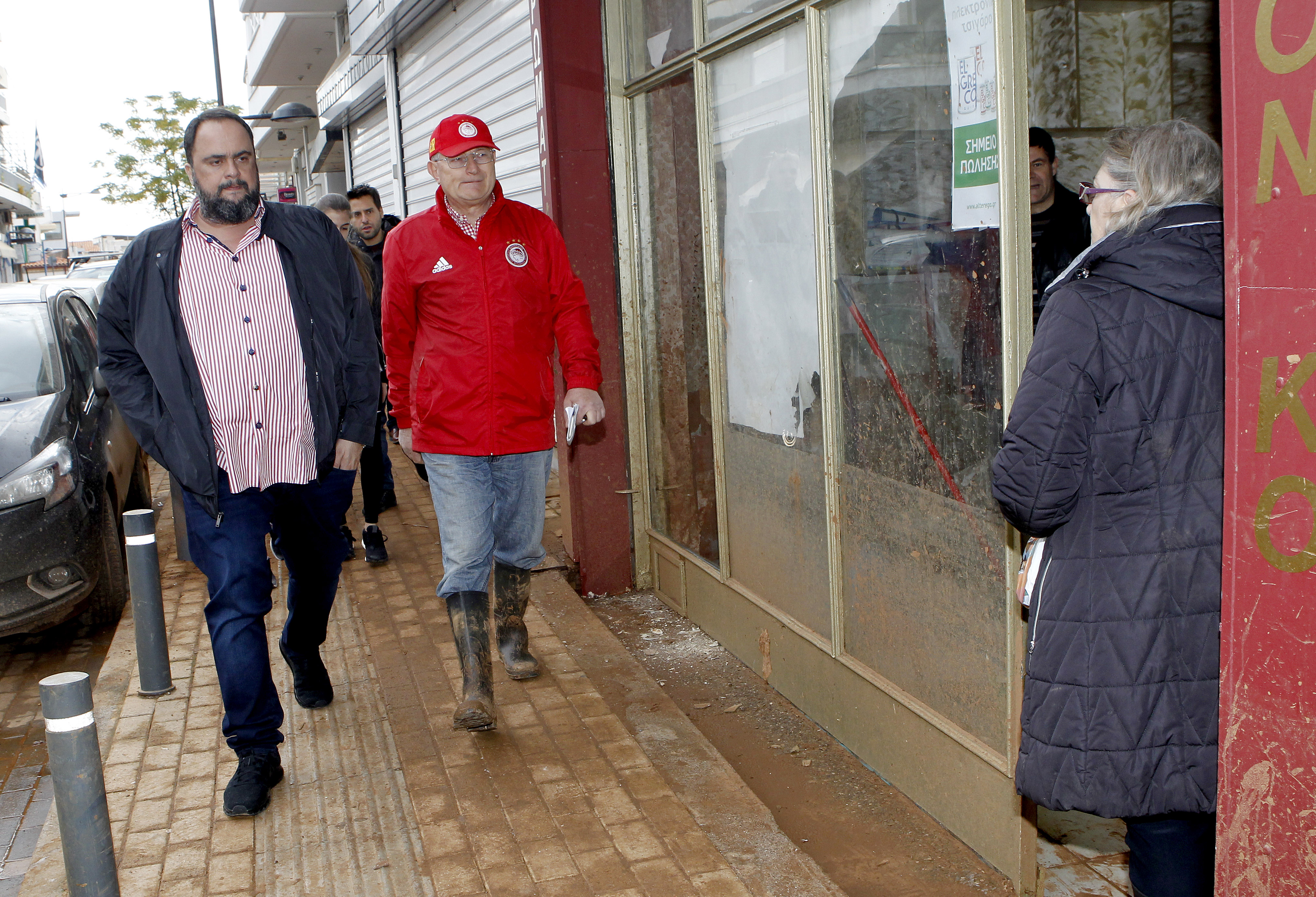 "I don't want to talk much, and we didn't come here to take advantage of the disaster that has occurred in the city to promote us. What matters to us, and we said it from the start, without notifying anyone, is to help. What I have discussed with the Mayor was that the needs are much more. The instructions given to our people are for them to try to do the best possible, and not only those who are here, but also with crews that we'll bring here to do their job. We don't need to say it. The point is to make works and the people to stop suffering. Everything else are details that there's no need to discuss. The question is what we can do. So, I'm telling you that we will once again do that. Whatever we discuss and whatever we promise, we do it. Nothing else", commented Mr Marinakis, to representatives of the media, who were present.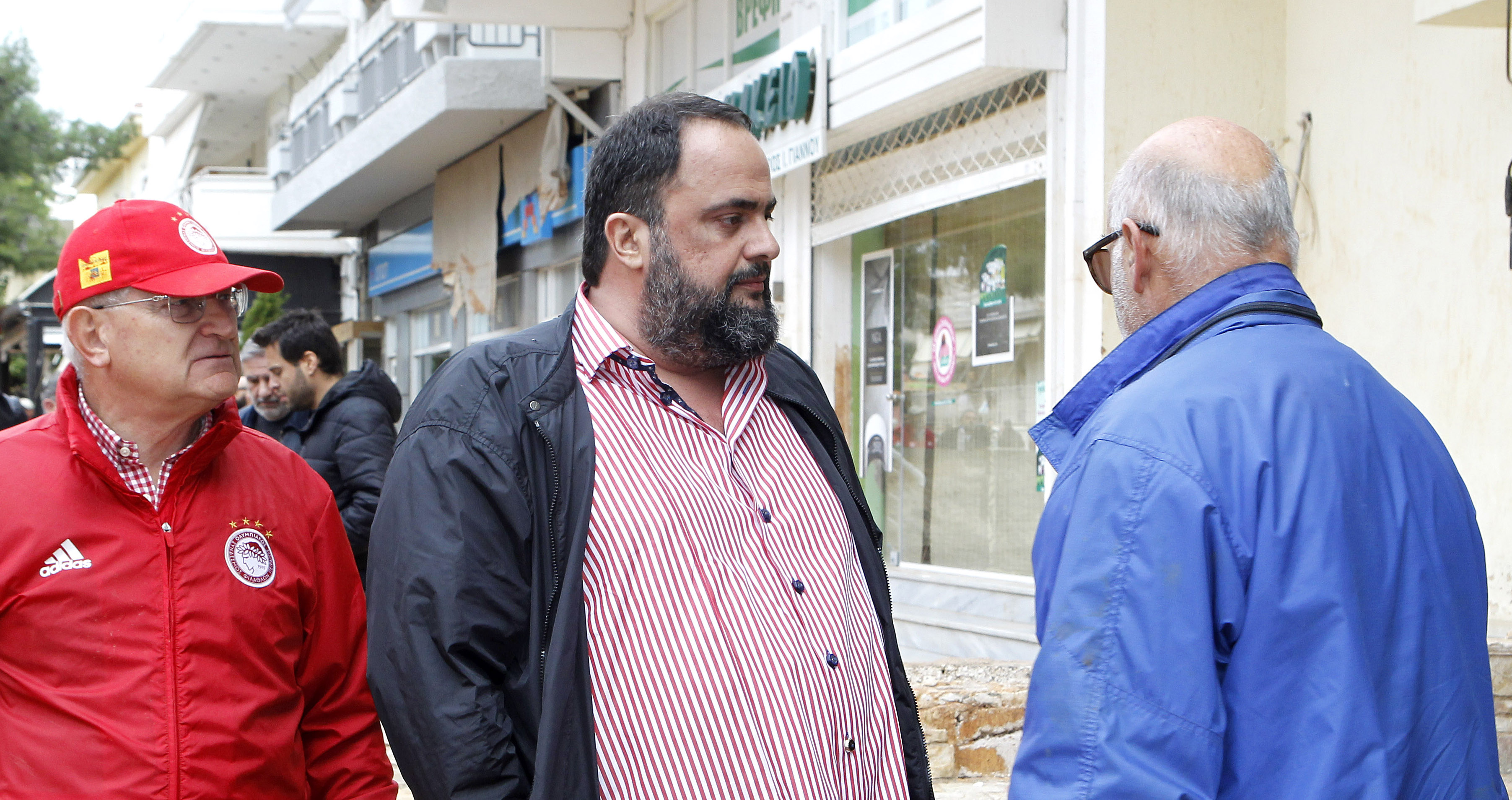 The people who at the same time struggled to clean their yards and their homes smiled, seeing Mr. Marinakis standing on their side. They felt from the first moment and feel every day that the Mayor, Ms. Kriekouki, is not alone in the struggle to help her fellow citizens. That she has an ally capable of offering ACTIVELY rather than with words and promises. An ally, who chose from the very first moment to be present and to put himself at the disposal of those who are suffering. Without thinking of cost or time. They feel and will continue to feel that they are not alone. That Olympiacos doesn't see the responsibility towards society just as a "motto", but has as a guide to action, to works!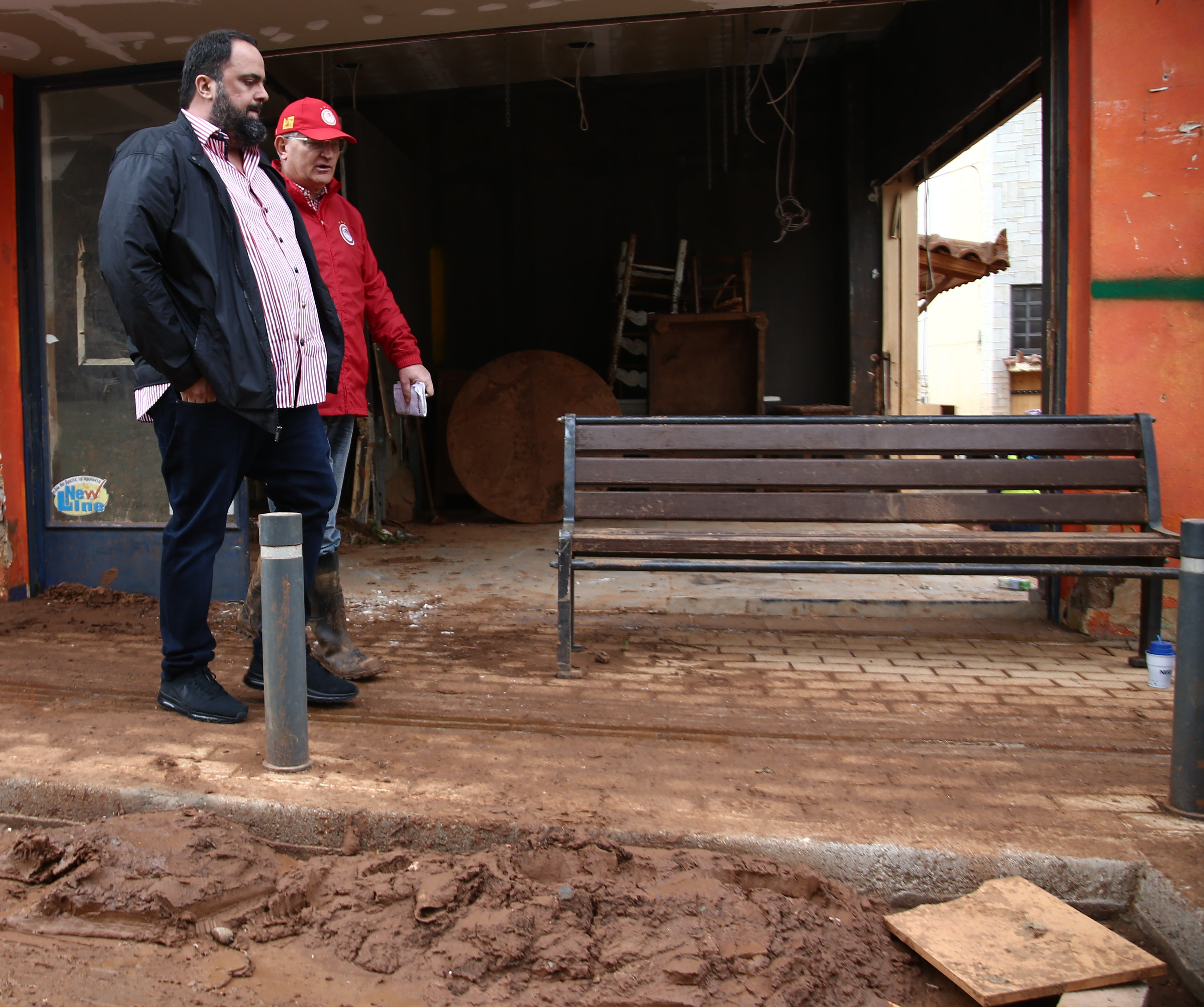 Feverish works all around the city
Meanwhile, work on the ground continues. The machines that Olympiacos has brought continue daily (like today, Saturday) to clean the city. Yards, sidewalks, streets and courtyards, schools, churches, wherever there's mud (and there is still a large amount!), which has covered everything… Mr. Vassilis Vassiliadis also coordinated efforts on the ground today, distributing basic necessities, tools and everything useful in the hands of people, who were trying at the same time to clean their houses.
"It's really a tragedy what happened to people here. Olympiacos have been here and will continue to be", said Thanasis Androutsos, while Dimitris Nikolaou added: "Helping these people is Mr Marinakis' mandate and we will continue to do so because they need us".
In many different places, the excavating machines of Olympiacos were working also today. Trucks transported away the mud, while water trucks continued to wash, in an effort to slowly get things back at a regular pace. Olympiacos' aid doesn't stop here and will continue, as has been stressed, for as long as it's needed. The relief of the people who are suffering in these difficult times is a priority of the largest sports club in the country!
Pictures' source: ΙΝΤΙΜΕ Photo Agency & Eurokinissi