On Thursday May 31st,it was the opening day for a truly interesting conference entitled"Participation, Inclusion and Social Responsibility in Global Sports". This is a congress organized by Harvard University, in cooperation withSimmons College, and sponsored byOlympiacos! Our Club has been supporting since day one this huge effort via which football and sports may contribute to society. As well as bring peoples closer, abolish borders and build a better future!
The opening event was held at theLoeb House, one of the most historic Harvard University's buildings. More often than not, it was the names ofOlympiacosand Mr.Evangelos Marinakisthat were brought up, so one could easily understand that our Club and the Legend's leader constitute main pillars of theWeatherheadinitiative on Global History, a Research Cluster on Global Transformations, by Harvard University and Simmons College. The event was attended, amongst others, byBarcelona, Real Madrid, Seattle Sounders, Boston Red Sox, as well as many academics and journalists.
First spoke Mr.Steve Ortega, from Harvard University and Simons College, who pointed out:"I have many people to make a reference about. First and foremost, I would like to thank our sponsor, Olympiacos and his President, Mr. Evangelos Marinakis, who made this conference possible. It is the work of the Olympiacos people, like Kostas Vernikos, Kyriakos Dourekas, and Maria Spalaraki that made this event so unique. This will be our 3rdconference on sports and globalization; Olympiacos offered their assistance by sponsoring the first conference, and also supported our last meeting that took place in Athens last September, as well as the one we have this week.
It is rare for people to have the opportunity to confirm that everything goes wrong; and we truly appreciate our sponsor's vision and their generosity. Mr. Evangelos Marinakis and Olympiacos are worthy of particular praise for their work with refugees and their commitment to support victims of floods and earthquakes across Greece and elsewhere on the planet".
He also thanked individuals attending the conference from Harvard, sporting organizations, journalists, athletes, and academics who travelled from around the world. Amongst them, it was Nick Mitropoulos, a key person for all communications and organizational arrangements since the beginning; he actually said that "if it wasn't for him, we wouldn't have achieved many things".
He continued by stressing:"This conference complements the Athens Principle on the Right to Participate in Sports. An initiative by Harvard's Weatherhead Center and Olympiacos. The Principle was first signed by Mr. Marinakis and then by Barcelona, Real Madrid, Fenerbahce, Sporting Lisbon, the Euroleague and AIPS. Tonight it was Nottingham, Forest that joined. As we speak, there are clubs from China, India, and Chile expressing their will to join us as well"..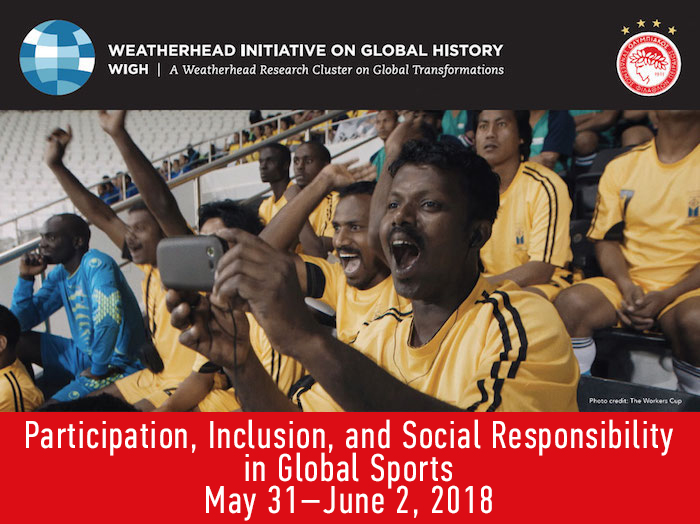 The floor was then given to Mr. Kostas Vernikos, who, amongst others, mentioned: "It is with great honor that I address on behalf of the President of Olympiacos, Mr. Evangelos Marinakis, and the "red-and-white" family as a whole to all participants of the international conference "Participation, Inclusion and Social Responsibility in Global Sports", that is held for the 3rd consecutive time. The first one was held in 2016 in Harvard; the second in Athens, the cradle of civilization and the Olympics, under the Acropolis and in the G. Karaiskakis Stadium. So now, for the third time, we have the opportunity to gather here in the magnificent facilities of Harvard University".
Then, he pointed out: "The Olympiacos family and President Mr. Evangelos Marinakis are familiar with being pioneers when talking about actions of social contribution and solidarity to our fellow people. With its vision to change the world, Olympiacos is one of the biggest supporters of UNICEF, on the way paved by Barcelona, saving thus thousands of children lives by securing vaccination
At another front, Olympiacos stood next to refugees reaching the port of Piraeus and offered to them thousands of portions of food and clothing items, in really difficult times both for them and the city. Olympiacos was also the first football-related organization to take the initiative and organize the 8th Match against Poverty, under the auspices of the UN, and raise funds for the millions affected by the Haiti earthquake and floods in Pakistan.
Moreover, Olympiacos was there to support the people of the beautiful island of Cephalonia that was leveled by an earthquake and the residents in Mandra that was hit by destructive floods last winter; it was once again the leader of Olympiacos who gave a simple, yet so important, order: the entire Olympiacos apparatus should address the problem and offer relief in any way; deeds, not words".
Before the speech by Barcelona's President Mr. Bartomeu, Nicholas Randall, on behalf of Nottingham Forest, signed "The Athens Principle"! "One must be cautious when a lawyer signs a document (laughter). I apologies for having a hard time… since I was not trained in Harvard (laughter again). It is my great pleasure… For those of you wondering what Nottingham Forest is, let me tell you that 40 years ago we were English champions and 38 and 39 years ago, we won twice the European Cup! So, back then, we had more European titles than Barcelona (laughter again)! The days of glory shall return under guidance by Mr. Marinakis; I am absolutely certain of this.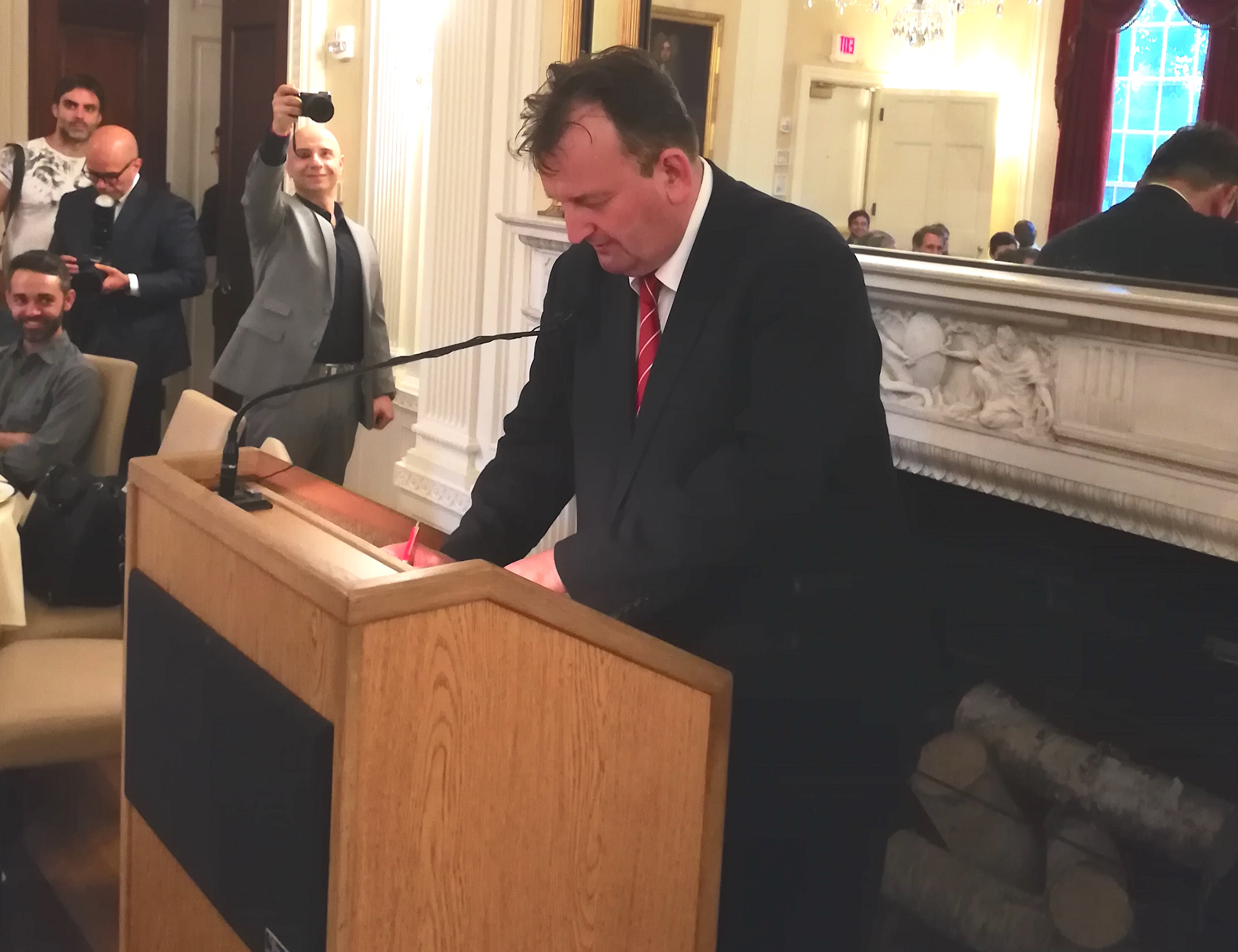 It is my great pleasure to be here with you, tonight. Someone really smarter than me had said that "The only thing necessary for the triumph of evil is for good men to do nothing". And this is what's amazing about this conjuncture: good men come together and show solidarity by agreeing on the Athens Principle, all of them recognizing thus how splendidly strong sports are". These were his words while signing this significant and historic document, which the leader of Olympiacos had been the first to endorse. He also added that he is certain that more UK clubs will follow and that if each one convinces one additional club or organization to sign the Athens Principle, then even greater results may be attained.
The event was concluded, just before the official dinner, with the speech by Mr. Bartomeu, who spoke about his club, one of the biggest in the planet, its structure and organization, and the ways in which it contributes to society. Before that, screening of the documentary "The Workers Cup" was scheduled with main hosts being the Dean of Simmons College. Mrs. Leanne Doherty, director Adam Sobel, and The Guardian's journalists Lilian Thurman and David Conn as the main speakers.