They bear many common features. They do come from different countries, with diverse culture and backgrounds in time each, however they both sustained experiences and shared past struggles, plus a port that remains their point of reference and a tragedy that haunts their individual path in both clubs' long history. Two clubs so dissimilar, yet identical at the same time because of an event that was meant to "scar" them and make clear that a club is not made great only be means of its achievements in the pitch, but also by the way it honors those who have departed as a result of a fatal mistake, having their hearts filled with love for their club until the very last moment.
Olympiacos and Liverpool stand both as two clubs-"legends", two great football teams, which in the course of time became "one" as a result of two tragedies that left lasting marks on both; and since "Those who forget the past are doomed to repeat it", both clubs will never forget it. They will always honor that past and move forward bearing that in mind as an integral part of their history.
This Saturday's encounter (3/8) in Anfield to honor great Steven Gerrard has a particular importance and the fact that the English team selected Olympiacos to feature this friendly is by no means accidental. Fans of both sides have been essentially twinned and their relation is special, unique and to a large extent distinct, since they have both experienced what a man should not wish even for one's worst enemy, that is a human loss!
The "Gate 7" tragedy in 8/2/81 is undoubtedly the most symbolic date in the history of Greece's most popular football club. It was the time when 21 people unjustly left their last breath because of a fatal mistake. That astounding 6-0 home win against AEK was destined to be painted in blood and represents the direst moment in Greek sports. Olympiacos honors its history every year and Liverpool contributes to that act of homage.
"Reds" fans originally visited "G. Karaiskakis" stadium back in 2007 and laid a wreath at the "Gate 7" memorial. So it happened this year, six years later, via their supporter website ("Empire of the KOP"); in memory of that dark Olympiacos and Greek football anniversary, they published a text entitled "Remembering the Gate 7 disaster". Even in 2005, during our clubs' Champions League encounter in Anfield, the famous ΚΟΡ featured a huge coreo saying "96+21 YNWA".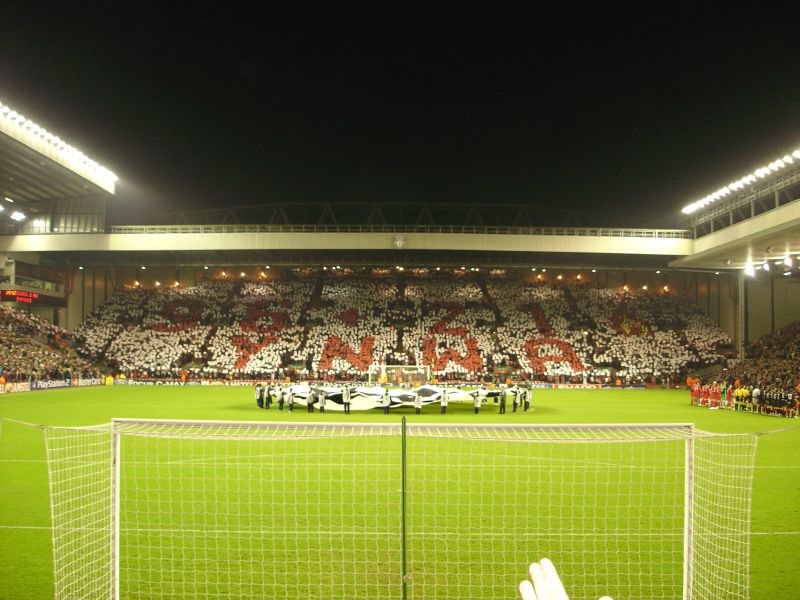 On the other hand, Olympiacos fans honored Liverpool and those 96 souls that were lost in Hillsborough on April 15th 1989. It took no less than 24 years for them to find some peace and lead the very prime minister of the country, David Cameron, to publicly apologise.
For the history, on that ominous date and in the context of FA Cup semi-final match with Nottingham Forest, a series of sever mistakes (wrong distribution of fans, hastiness, poor contingency management, careless calls by the head of the police force) led to overcrowding of Liverpool fans in the "Leppings Lane" stand, that is the northern stadium stand. As a result, those fans that entered first have been crushed. Some were quick to jump in the pitch; but some were not. The toll was 96 Liverpool fans dead and 776 injured.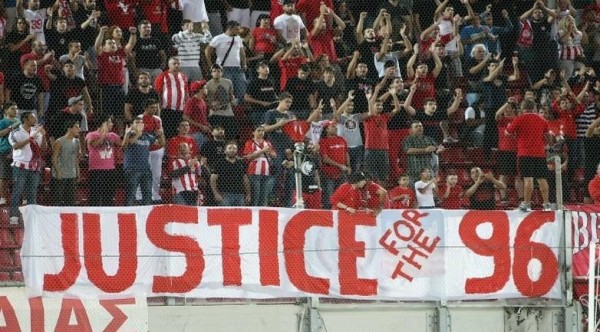 Olympiacos supporters have hung a big banner on Gate 7 that wrote "Justice for the 96" and created another one saying "Brothers, you show us the way – 21+96- You'll Never Walk Alone" bearing both clubs' emblems on each side.
Ties become even stronger and the relationship between both clubs and their fans grows bigger more and more as time goes by. Olympiacos and Liverpool pay tribute to their history, never forget and have those ineradicable memories lighting the way for future moments of greatness and glory.