Stoiximan.gr is now Olympiacos' Grand Sponsor. This top Greek online betting company will now feature proudly on the jersey of the top Greek FC!
This partnership was presented today during a Press Conference held at V' ammos in "Georgios Karaiskakis", hosted by Mr Ioannis Vrentzos, Olympiacos FC CEO, Mr. Grigoris Georgatos, Olympiacos FC Sports Director, Mr. Ioannis Spanoudakis, Stoiximan.gr BoD member and Mr. Panos Konstantopoulos, Stoiximan.gr Marketing and Communications Director.
Also, all 3 editions of our side's jerseys bearing the Stoiximan.gr made their debut appearance, while the Olympiacos FC representatives presented the betting company delegates with a Legend's "red-and-white" jersey in order to symbolically seal this partnership.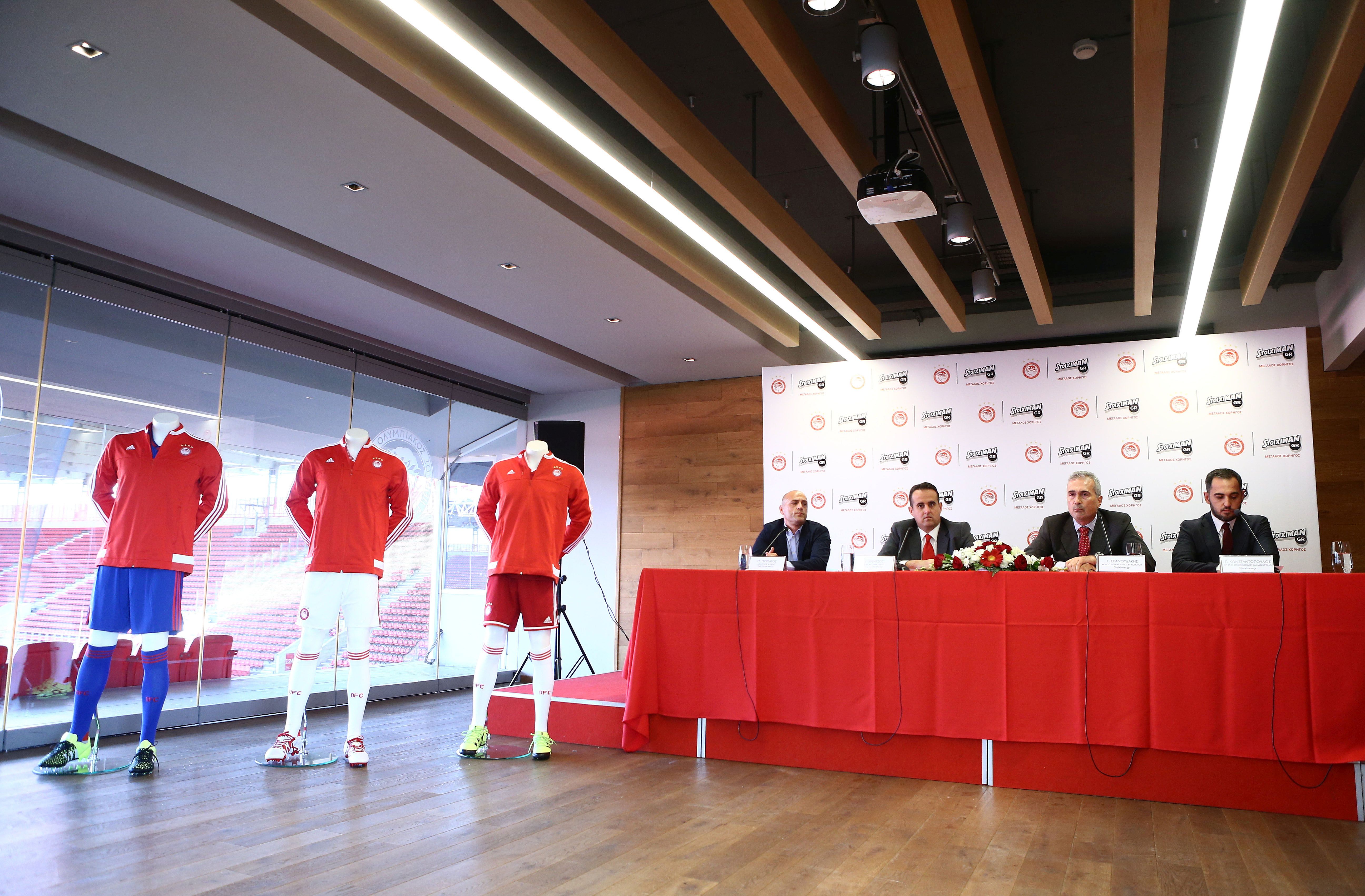 The floor was initially given to Mr. Ioannis Vrentzos who said: "Good afternoon everyone. On behalf of Olympiacos FC, I would like to welcome you in this presentation of a sponsoring partnership between Stoiximan and Olympiacos FC. Firstly, I would like to welcome Mr. Spanoudakis, Stoiximan.gr BoD member, and Mr. Konstantopoulos, the company's Marketing and Communications Director. Of course, we have here with us Mr Grigoris Georgatos, Olympiacos FC Sports Director, representing the Football Department.
I would like to officially bid welcome to Stoiximan in Olympiacos family of sponsors. This is an important agreement for Greek football as a whole, since striking this deal between Olympiacos and Stoiximan formally represents the end of monopolies and coercing dilemmas for Greek football. Clubs can now select the sponsor meeting their requirements and thus not bow to strategies that may incorporate other parameters. Greek betting companies are being fostered, benefited and supported by Greek football and their investments on this sports; it is our belief that they ought to return part of these benefits back to Greek football. For us, it is a highly significant factor that we share with Stoiximan our will to help our society and, in the context of this partnership, we have pledged to deploy a set of common actions. I would like to pass the microphone to Grigoris Georgatos for a short welcome on behalf of our Football Department, before our partners from Stoiximan".
Mr. Grigoris Georgatos then mentioned: "Good afternoon from our part. All Olympiacos' squads welcome Stoiximan and look forward to this great partnership. Stoiximan is a top company joining forces with Olympiacos, a top club not only in Greece, but also in Europe. I think that this partnership between both leaders is destined to bring successes, to let our full potential put forward and help each other move even higher. I wish this partnership will be a lucky one for Olympiacos, and I do believe that this will be the case, since, as I said before, the potential to be developed as a result of this agreement will be absolutely positive".
Mr. Ioannis Spanoudakis said: "We thank you very much for this warm welcome. On behalf of Stoiximan, I would like also to express our happiness for striking this great sponsoring agreement between Olympiacos FC and Stoiximan.gr. For Stoiximan, the largest online betting company of our country, there could be no better club to signal our entering the world of Greek football than the biggest and most successful football club of our country: Olympiacos, winner of 42 championships, 27 Cup titles and a club of a robust European standing. This sponsoring deal became possible because both sides, each one on its own area of operation, share common features in their respective DNA. Hard work in order to keep one's leading place, ongoing effort for wider recognition and a fighting spirit to remain at the top. All these traits demonstrate a certain philosophy and way of operating, proper only to those that own the top. This is why we believe that this partnership will be a long-standing and a particularly positive one. It will unleash our potential –in Mr Georgatos words- and be highly productive for both sides, since it relies on sound foundations. As Mr. Vrentzos said it is equally important for us that we aim our forces beyond our commercial and sponsoring focus, and become active in a context of social responsibility initiatives and actions.
The great family of Olympiacos holds a legacy of decades in societal awareness and we will enhance this furthermore by means of targeted actions to the benefit of our suffering society. At the same time, there will be a series of common actions promoting extroversion and our country's image in collaboration with the International Olympic Academy amongst others, of which both Stoiximan and Olympiacos FC are both sponsors and valuable partners.
Last, I would like to stress that our partnership with Olympiacos FC falls fully into Stoiximan's strategic targeting at the level of football clubs, national teams and individual Greek athletes. Our intention is to contribute in all our forces to all disciplines, at a time that such help is needed more than ever.
Ending, I wish to our Olympiacos to keep walking on the path of European recognition and success in all competitions, both in Greece and abroad".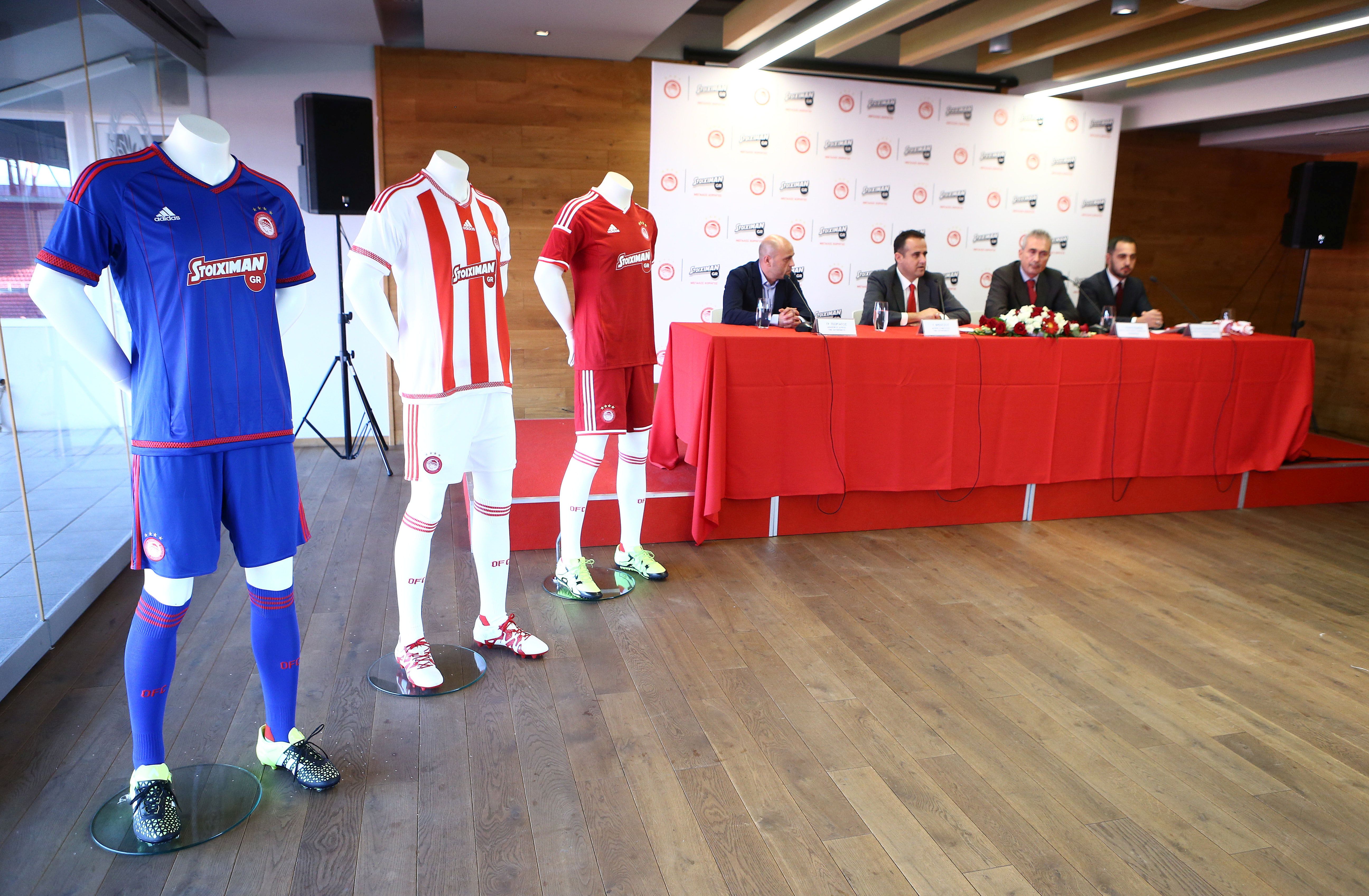 Mr. Panos Konstantopoulos stressed the following: "Good afternoon. Firstly, I would like to thank on behalf of the Stoiximan crew, everyone at the Olympiacos FC for our impeccable collaboration until now at all levels, which led to the conclusion of this agreement. I am certain that this partnership will be equally successful in the future as well. Stoiximan's entering Greek football, via sponsoring the undisputedly top Greek club, Olympiacos, is for us nothing but the natural evolution of our sponsoring and strategic plan, as we have being consistently doing over the past 2 years. We aspire as Olympiacos FC Grand Sponsor to lead by example by means of actions that will enhance the experiences of club's fans, both inside and outside the pitch.
Also, our objective is to jointly move along a targeted plan of social responsibility-related actions, so as to help vulnerable social groups and bring them back in society. This is an integral part of our partnership, which gladly shows that we share the same viewpoint with Olympiacos FC. Stoiximan launched, last year, its sponsoring deals in Greek sports. Throughout the year, we realized our strategy by supporting clubs, national teams (for instance, the volley ball and water polo ones) and athletes, in their efforts to excel during the Rio Olympic Games.
We shall energetically go on this year as week. I consider this support to Greek sports to be our duty since we are a purely Greek company. Thank you very much".
Then, after all three jerseys were unveiled and the «red-and-white" jersey was handed over to the Stoiximan.gr delegation, we had a Q&A session with the Greek Press.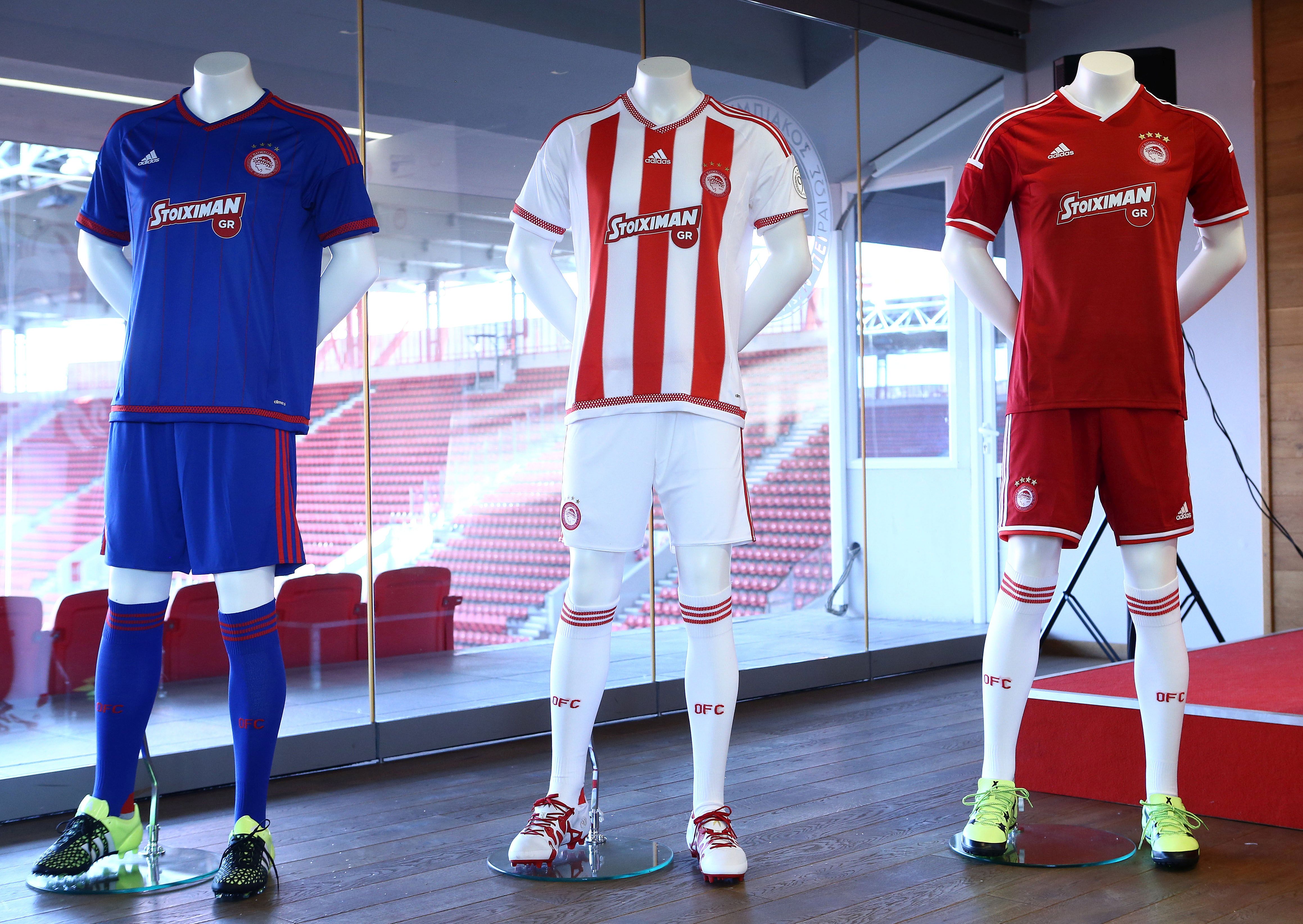 Please tell us the timeframe of this partnership with Stoiximan and whether Olympiacos remains a contributor in UNICEF's cause?
Mr. Vrentzos: "The agreement with Stoiximan.gr will be valid for next 2 campaigns. As per our agreement with UNICEF, they represent one of our strategic partners. We have already concluded 2 successful years and we will go on for another two. The UNICEF logo will honor Olympiacos' jerseys for the 2 coming years. We feel certain that, day by day, this relationship will become even stronger and Olympiacos gains more strength, in order to support their work".
In a question asked about the relations between OPAP, Melissanidis and AEK, the following comments were made:
Mr. Spanoudakis: "As for the EEA decision, this has to do with AEK and it is prohibited to include their matches in OPAP SA's coupon; this decision has to be respected. It does not apply to us. I assume that this is due to the alleged shareholder relationship of Mr Melissanidis with AEK and OPAP Co. This is the reason. It does not affect us, we can use AEK matches with no problem. Second, you mentioned us and our partnership with Olympiacos and Greek football. We always see and try to bring something positive in our partnerships; this reflects us totally. I made reference to those characteristics that connect us, and I believe that this partnership, thanks to our and Olympiacos' endeavors, will add prestige to Greek football. It will help people return to stadiums and makes Greek football more popular and exciting. Now, there are too many speculations that I will not comment upon, it's not part of our job. We chose to work with Olympiacos and we chose to work with the biggest football club in the country; we also aim to highlight our own particularities, namely our belief that Stoiximan.gr is currently the best and most powerful betting company in Greece".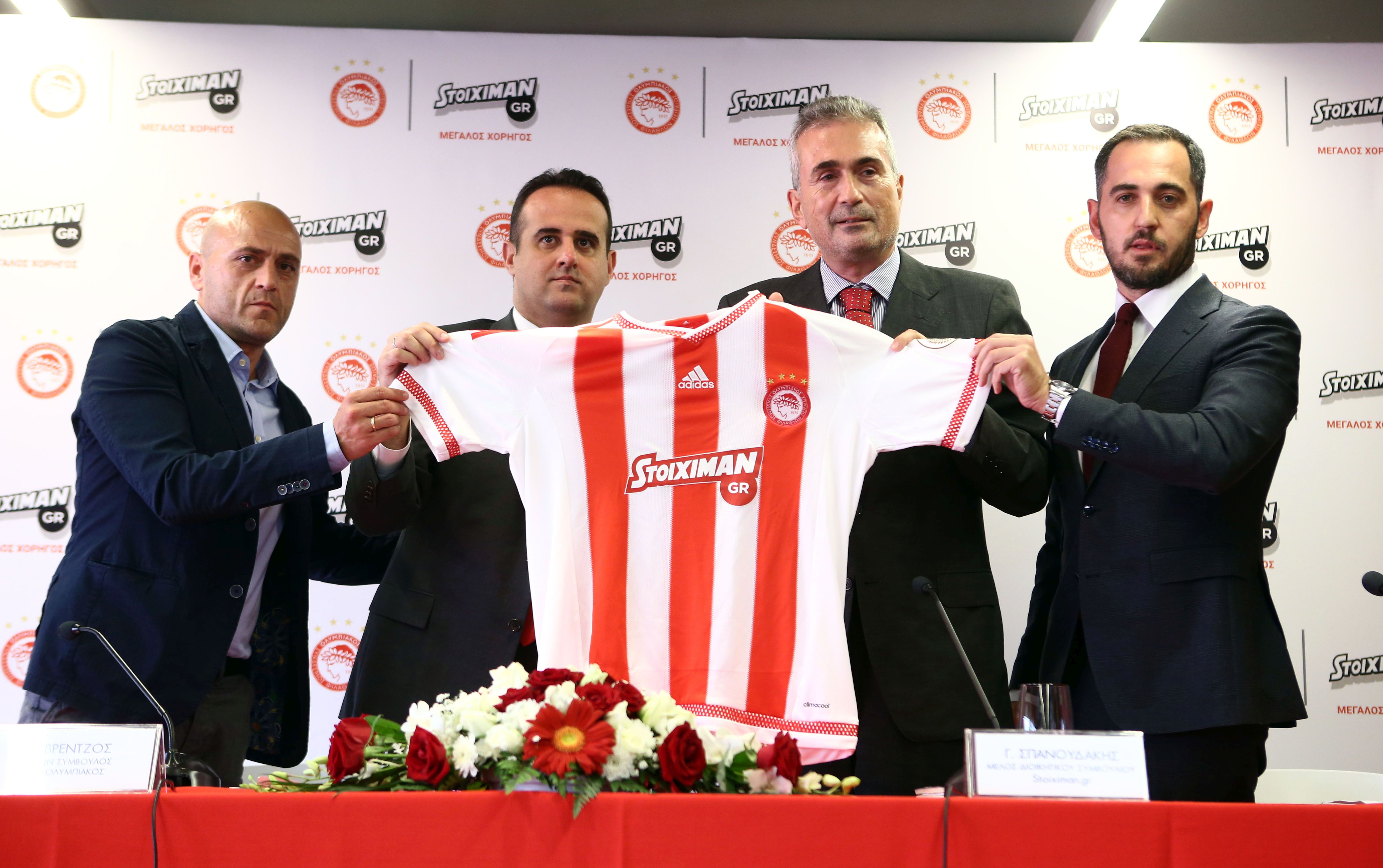 The floor was then given to Mr Vrentzos, who said that: "Allow me to add something about some of the comments you made and the alleged discussions, as you rightly put it, in cafeterias or specific media. We have said more than often that we stand and defend Olympiacos where we should, namely before official bodies. Until now, the verdict of official bodies and court has been really precise. It was said bodies that identified the problem with AEK Fc, not some cafeterias or TV-shows. As it was the case with accusations for violations of penal justice, the verdict until now vindicates the stance of Olympiacos FC and let the truth shine on. This is the road we should also follow and the result is that numerous media and competitive agents have been sentenced for defamation and other infringements. No formal body has ever sentenced anything that has to do with Olympiacos. This is the truth and no media extravaganaza may change it".
What is the overall framework for these actions, so that there are some privileges for members or Olympiacos fans by way of these collaboration?
Mr Spanoudakis: "Our partnership refer mainly to the relationships between Olympiacos and Stoiximan.gr. Apparently, in the context of this sponsoring partnership, there will be some privileges for company's players attending the Olympiacos fixtures. However, what we have actually stressed is that via collaboration, we let emerge the dynamics of Greek football, Olympiacos and our company and that a big part of social actions return their love back to the public. This is the goal of partnership".
Watch the Press Conference video:
See the photostory here.