The 1st Greek-Chinese Cities Forum came to completion, Friday night (11/11/2016), in the most successful and ceremonious way. The "G. Karaiskakis" was turned once again, Friday night (11/11), into the hosting point of major events; both football-related, since it's our domestic Legend's home ground, and others such as the closing ceremony of this extremely important Forum, sponsored by Olympiacos and Capital Maritime. A total of 350 visitors from China had the opportunity to stress, together with Greek attendants, their common will to launch new and most promising joint ventures to promote Piraeus and Greece as a while. Besides, during the conference that preceded at Zappeion, both sides co-signed a friendship agreement.
In his speech, the President of Olympiacos (note: he addressed the floor in his capacity as Capital Maritime President and 1st Member of Piraeus City Council) Mr Evangelos Marinakis welcomed all visitors from the distant, yet so beautiful country of China and expressed his optimism and certainty that this Forum will give rise to amazing future endeavors for both sides. The event was also attended by the Chinese Ambassador Zou Xiaoli, as well as the Chinese People's Association for Friendship with Foreign Countries Vice-president, Mr Song Jingwu, and the BoD President of KaiXinRongGroup, Co Ltd, Mr Jacky Hu.
Major of Marathon, Mr Ilias Psinakis, also addressed the floor and declared the Forum open (at Zappeion). In fact, it is worth mentioning that Mr Psinakis is the person who envisioned the revival of Ancient Amphictyony and is currently the President of the Amphictyony of Ancient Greek Cities. The event was also attended by the Mayor of Piraeus, Mr Giannis Moralis.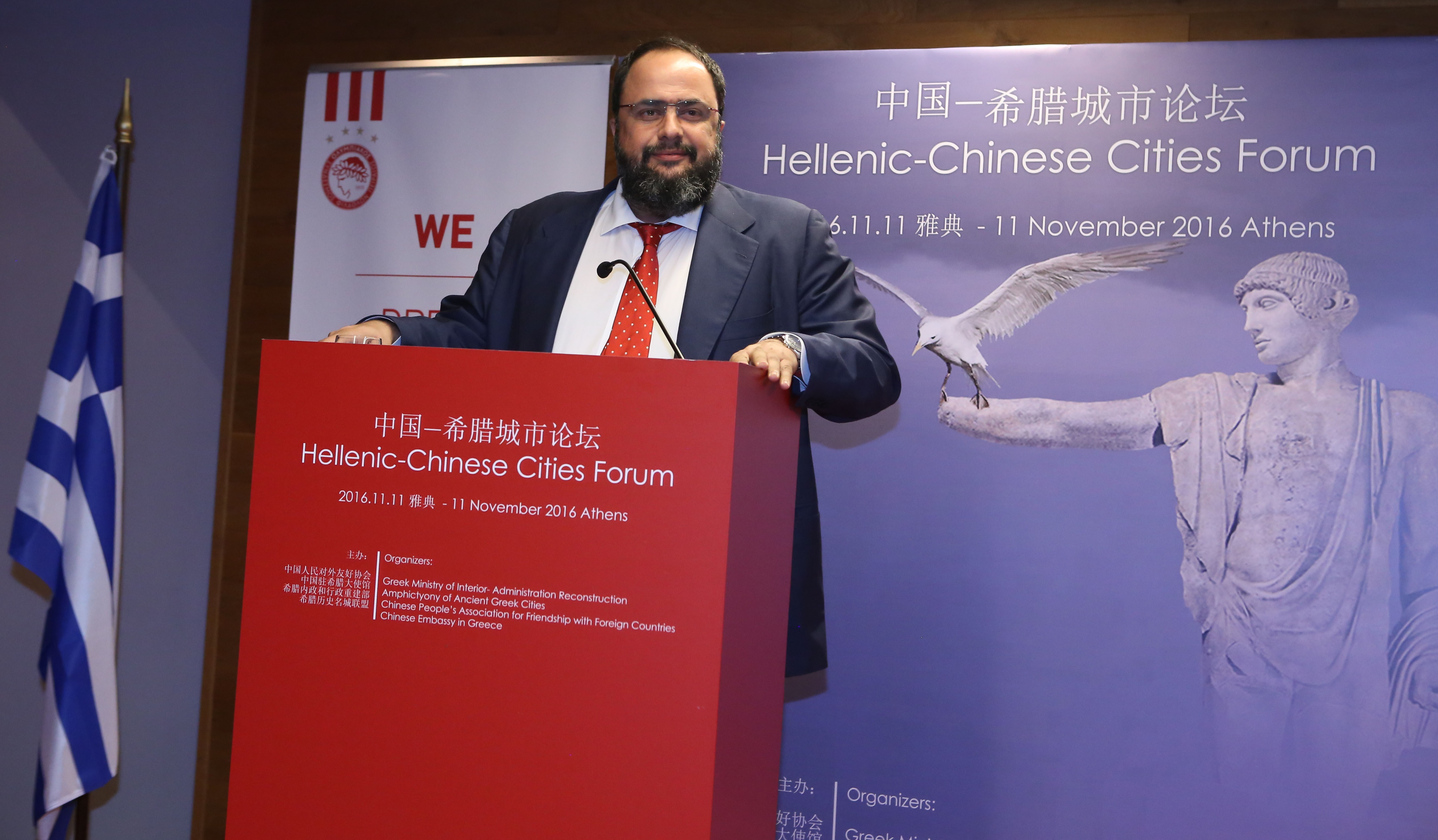 *Mr Marinakis during his address.
Below follows Mr Evangelos Marinakis speech in full: "I welcome you to our home. In Greece. In Piraeus, the port of our heart. At the Stadium Georgios Karaiskakis, which is the home of the Olympiacos family; a place that hosted the first ever Olympic Games in 1896 as a cycling stadium (velodrome) and the 2004 Athens Olympic Games for football matches. Of course, we have fully refurbished it in recent years and created a state-of-the-art football arena!!!
China and Greece! Both nations have raised science, philosophy and art to unprecedented heights some thousands of years ago! Both nations have spread culture and civilization across the world. 2 peoples that have been exceling for years as traders and seafarers, from ancient times to date.
Many of you have taken this long trip to be here with us today. It is a great pleasure and honor for us to be hosting you since great things happen when great minds come together. We are all here to celebrate to closing of the 1st Greek-Chinese Cities Forum.
*Mr Marinakis with Major of Piraeus Mr Giannis Moralis (left) and Major of Marathon Mr . I. Psinakis.
We can make history together, because we carry on our shoulders the hopes and aspirations of both Greeks and Chinese alike; our nations' history and civilization; our peoples' customs and tradition; the beauties of both homelands; our economies' prospects and the spirit of our people.
The world changes fast. In the past decade, we witnessed changes no one has ever imagined. China is pioneering in the delivery of such change. Greece is also changing for the better, in a creative and productive way
Greece and China have survived through the centuries. They have both outlived economic or political crises, and even falls of civilizations. They had withstood long and harsh periods of occupation, that have failed to destroy our civilization or tame our spirit. Greeks and Chinese move along parallel paths. We share perennial values that always remain strong.
In shipping, we have really close ties with China for many years. My company Capital Maritime, one of the biggest shipping companies around the world, has been transferring oil, dry cargo and containers from and to China all these years.
Moreover, we hold a long-lasting collaboration with Chinese shipyards, in the past 25 years, both for repair works and building new ships. We operate globally but I have chosen to live in Piraeus, to work in Piraeus, to invest in Greece. In fact, in 2014, we won the municipal elections for the City of Piraeus with Giannis Moralis, and I currently discharge the duties of the City Council's 1st Member.
* Mr Marinakis with Mr Jacky Hu, BoD President of KaiXinRongGroup, Co Ltd.
Piraeus is famous worldwide for its port; the ancient port of Athens. One of the most historic places of human history, standing next to the place with Greeks, under the command of Themistocles, subdued the Persians under Xerxes in the historic naval battle of Salamis. The second largest port in the Mediterranean connecting people from all over the world; a trading and cultural port for centuries.
Piraeus is a gateway to the beautiful Greek islands servicing more than 10 million tourists, and the center of Greek shipping industry, the mightiest shipping community of the world. Piraeus is a particularly unique place. A place for WINNERS in life, work and sports.
It is a unique place that makes you want everything:
To love; to be creative; to dream; to fight; to survive.
And, ultimately, to always WIN
And it seems that you, people from China, share this same belief.
You have chosen the port of Piraeus as your products' gateway to European markets.
We are ready to work with you and invest in order to turn Piraeus into the most sophisticated shipping hub in Europe.
Piraeus is also the birthplace of Olympiacos and its home. The club was established in 1925 and remains currently the most successful sports club of Greece and one of the largest in the world. It is a club that stands for the universal Olympic values. Olympiacos is not just a sports club, it stands for something more than the mere game, something more than the enthusiasm and victory.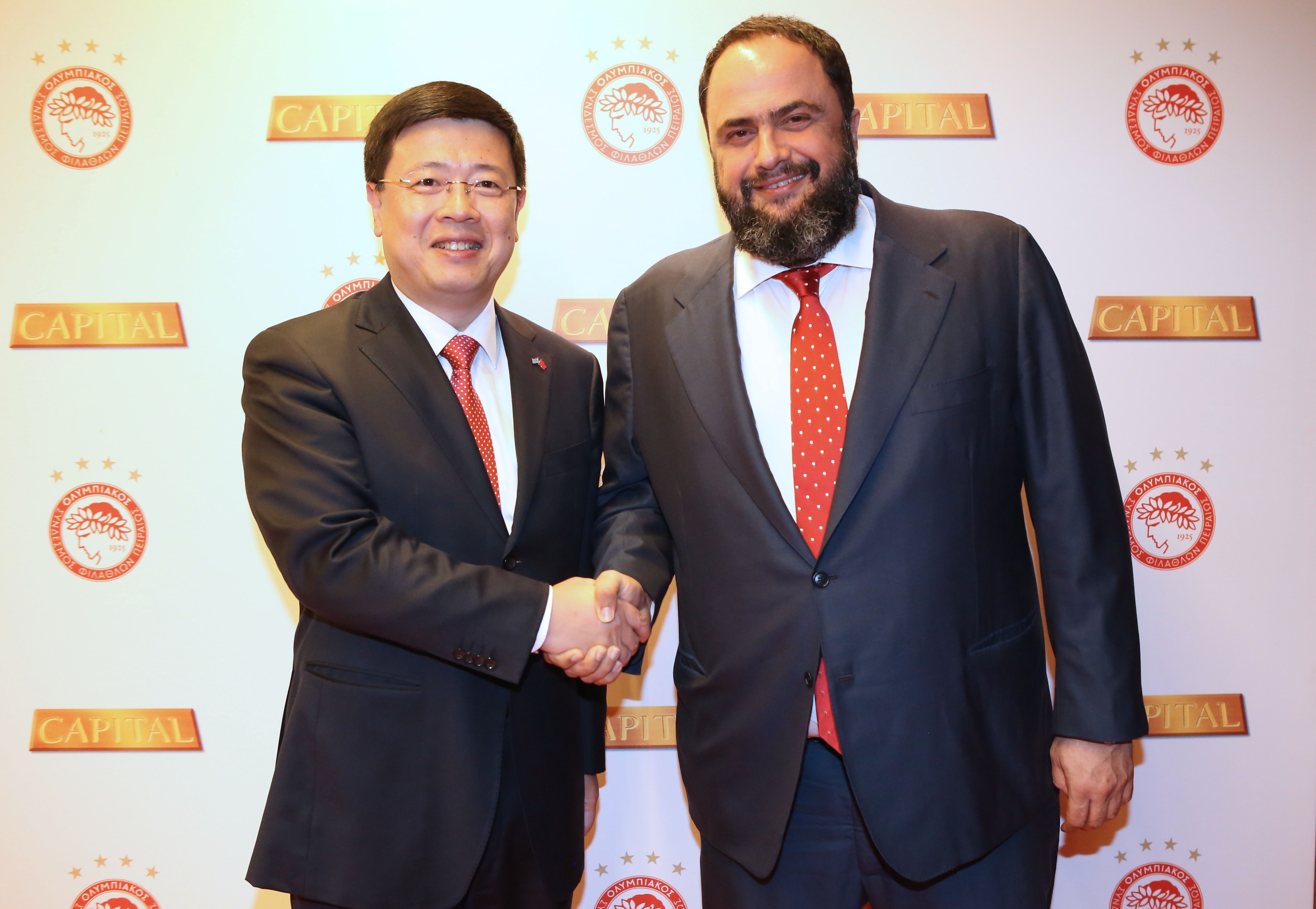 *Mr Marinakis with the Chinese Ambassador Mr. ZOU XIAOLI.
Olympiacos is Greece, is Piraeus; it represents an ideal. Olympiacos is a way of living, a genuine Legend. Our aim is to inspire people, the global sporting community and instil the Olympic Spirit. Our emblem is the adolescent Olympic winner; an emblem of victory and evidence of charismatic people. Our mission is to pursue victory through excellence. In order for someone to become champion, talent and achievements on the pitch do not suffice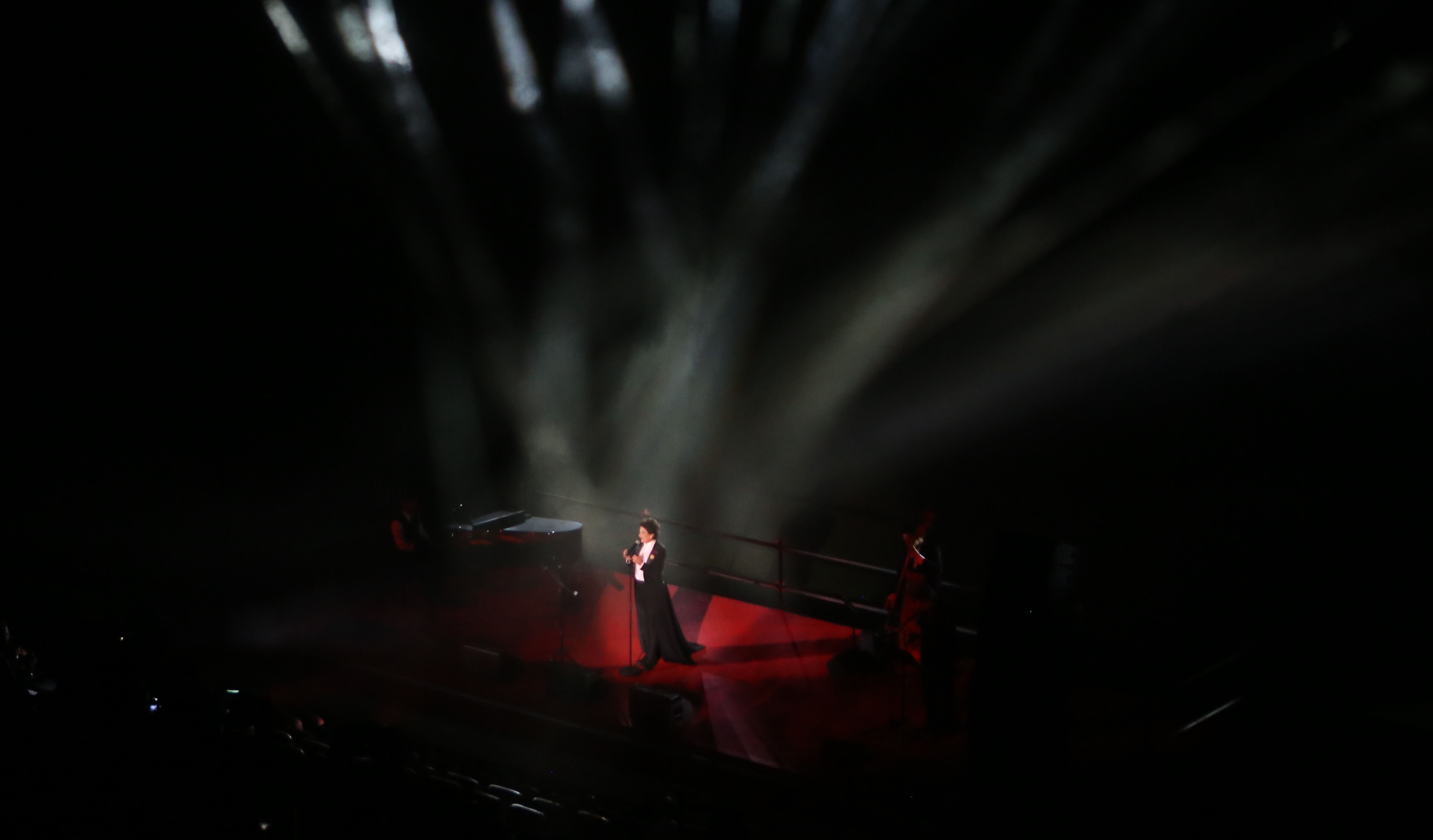 *Alkists Protopsaltis' beautiful melodies get the Forum closing ceremony under way.
In our times, champions need a vision and a professionally organized sporting pathway. Champions invest on new talents, the next generation of children, the future stars. Olympiacos is the keeper of unique values, since it proudly carries forward, through its rich history, all Olympic ideals and values of sportsmanship. This is a legacy directly linked to the values of fair competition and ethics in victory.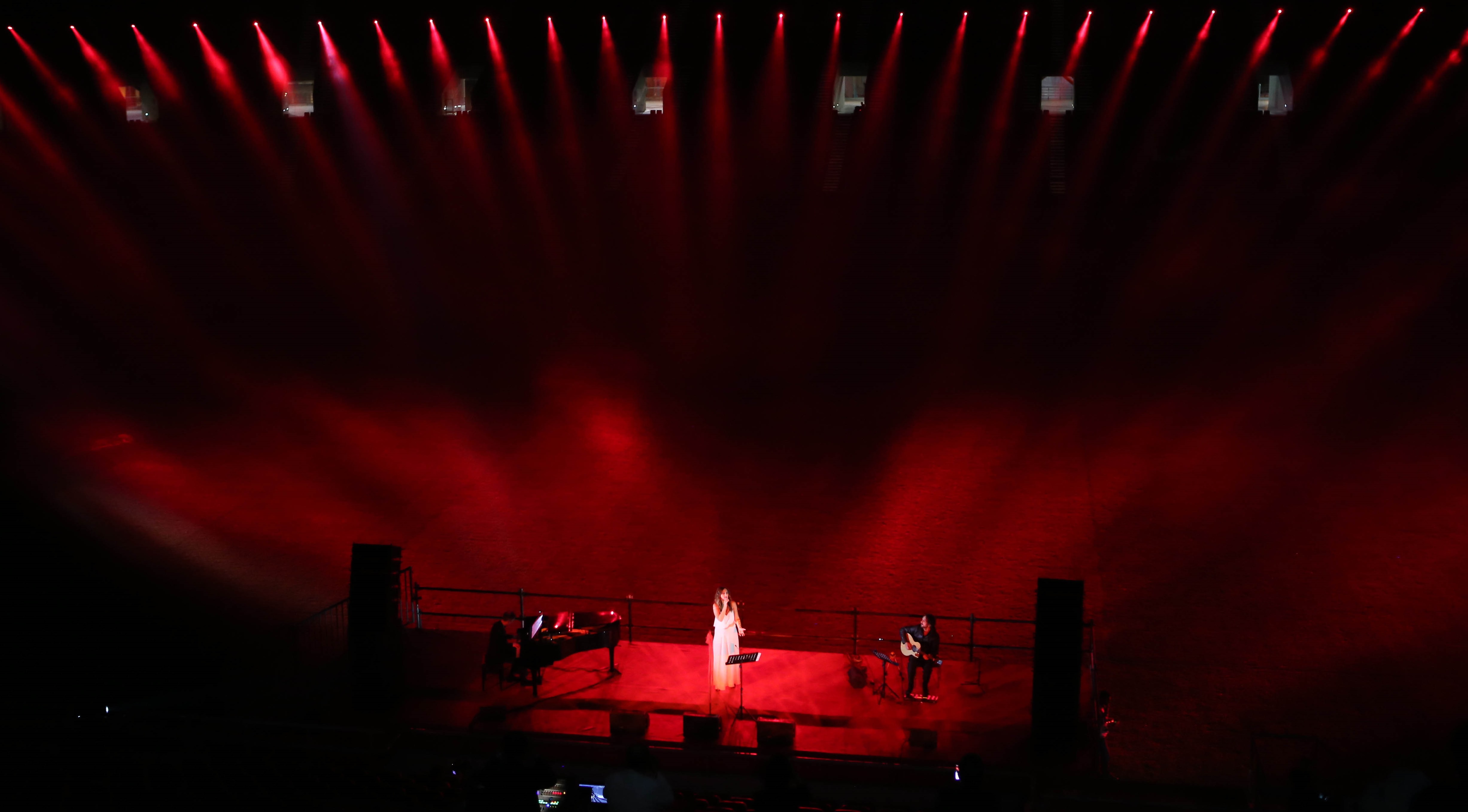 *Anastasia Zannis' magnificent singing talents enchanted the crowd.
43 domestic titles in a total of 80 championships. 18 attendances in the UEFA Champions League group stage in the last 20 years. One of Europe's top 20 clubs – UEFA Ranking. One of 15 most popular football clubs. A unique success story. At the same time, Olympiacos operates as a multi-sport club, covering 15 Olympic disciplines, with a community of athletes representing Greece abroad. A team of Olympic winners. However, the most important thing is that Olympiacos' values are identified with the expectations of the Greek society. How else could it be since 40% of Greek population and no less than 10 million Greeks around the world are fans of Olympiacos.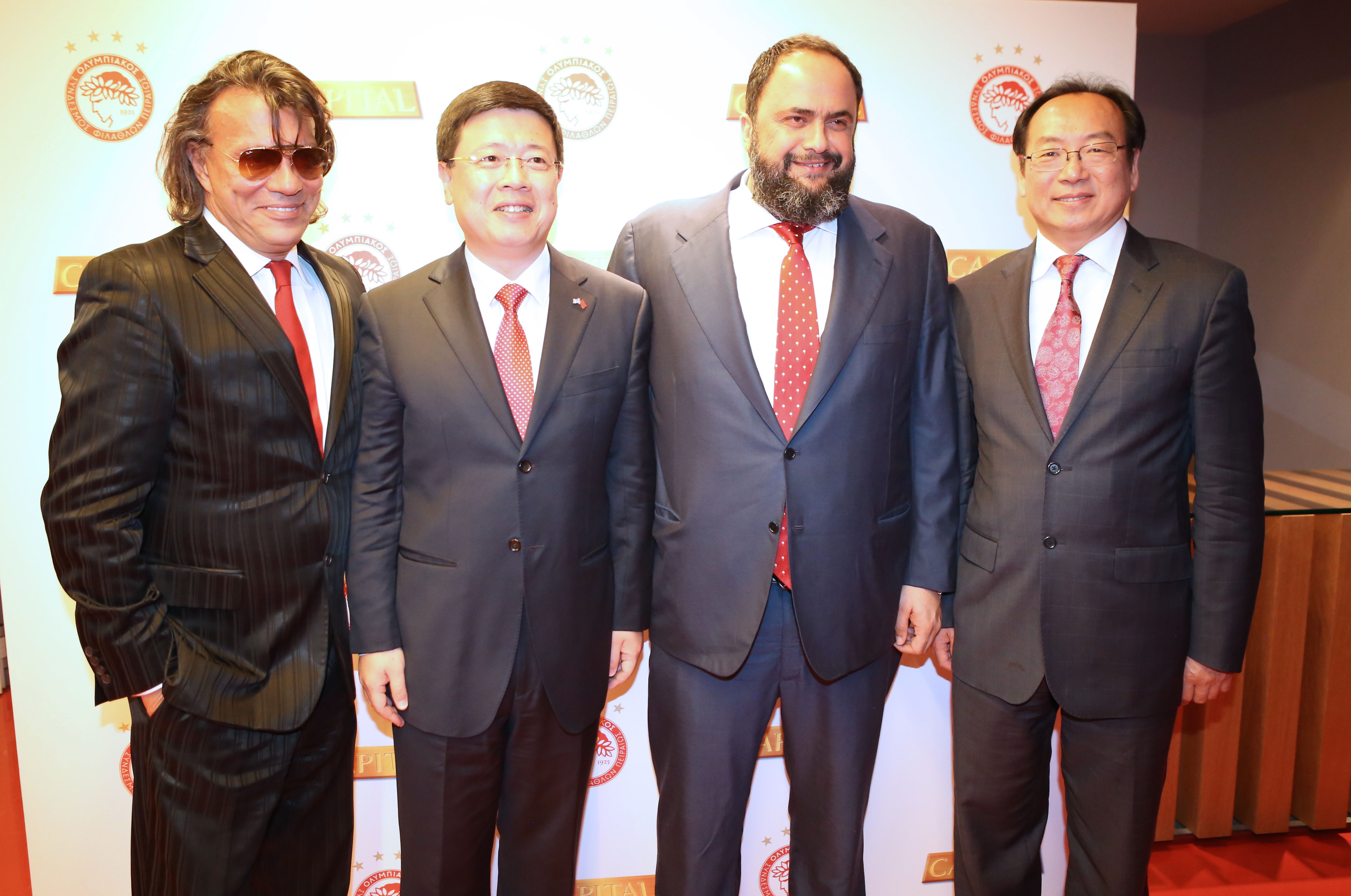 *Mr. Marinakis with the Chinese People's Association for Friendship with Foreign Countries Vice-president, Mr SONG JINGWU. On the left, Major of Marathon Mr Ilias Psinakis and, left to the President of Olympiacos, the Chinese Ambassador ZOU XIAOLI.
Tonight, we find ourselves in the heart of Piraeus. Gathered in this historic stadium where we have celebrated some amazing successes in European campaigns, together with fantastic individuals who share the same values, we feel strong, active and creative; we feel like WINNERS.
It is impossible not to consider the vision of the Chinese President Xi Jinping to turn China into a football superpower; the potential for stronger ties between Piraeus and China. Piraeus and Olympiacos may serve as the gateway of Chinese football in Europe's football elite.
Imagine limitless possibilities! What a great opening for both governments and organizations to enter new markets and create new business opportunities!
As of today, we can start making history. We solidly believe that yes, we all together can do it.
Besides, history proves that we can be WINNERS!"
The event started with Alkistis Protopsalti's beautiful singing, who also performed songs in Chinese, and ended with equally amazing Anastasia Zanni who also sung Manos Hatzidaki's famous song, "Children of Piraeus".