Olympiacos stands once again this year on the side of Ms. Marianna V. Vardinoyannis, of "ELPIDA" (hope) and of the "ELPIDA Association", aiming to offer help to children in need of support, of care and of medical treatment. "ELPIDA" is there for them, and it's a family, just like Olympiacos. Families rely on mutual support and help towards one another. Olympiacos' leader, Mr. Evangelos Marinakis, is always present, wherever there's need. And he does it also here, for the children. Leaded by Mr. Marinakis, the family of Olympiacos FC was present this morning in Goudi, in the Pediatric Oncology Unit Marianna B. Vardinoyiannis – ELPIDA, in order to support, both morally and actively, the Unit and the Association of Friends of Children with Cancer – Elpida.
Members of Olympiacos' Board and executives escorted our team's footballers and coaching staff. Oscar Garcia was present in this special moment for Olympiacos, the visit to ELPIDA! The Spanish coach didn't hide his emotion when watching the children he and the Legend's players were visiting. Present were, of course, the Strategic Advisor to the Administration, Mr. Christian Karembeu, the President of Olympiacos FC and Mayor of Piraeus, Mr. Giannis M. Moralis, the Vice President Mr. Savvas Theodoridis, the CEO of Olympiacos FC, Mr. George Pavlou, the team Manager Mr. Kyriakos Dourekas, Communications Director Mr. Kostas Karapapas, our Club's CSR Director Mr. Domenikos Masoulas, Olympiacos' Branding Director Ms. Penny Laga, Olympiacos FC International Relations Director Mr. Kostas Vernikos, Olympiacos' interpreter Ms. Marina Tsali, Ms. Efi Giannakara from Olympiacos FC, as well as members of the Legend's staff, who contributed the most in carrying to the hospital and the guest house the gifts that the footballers distributed to the children!
Ms. Marianna V. Vardinoyannis welcomed first Mr. Marinakis and the Legend's delegation, and, after wishing them a good year, they all sat together in the amphitheater to watch a short film, a historical record from 1990 (!), when Ms. Vardinoyannis put forward this huge work named "ELPIDA"!
Ms. Vardinoyannis took the floor first and, using kind words, declared: "Dear Mr. Marinakis, dear Mayor, dear Giannis, our dearest children, players who are here and friends, we are delighted to welcome you to the facility where there's a big fight to save hundreds of children. Your visit is, every year, a special moment for the whole family of "ELPIDA". It gives us strength and reflects the deep sensibility of Olympiacos FC. I would like to thank you with all my heart for your precious support to the children, the gifts that you bring them and that will thrill them, but, above all, for your presence on their side, giving them the strength and courage to continue and for us to continue our difficult task. The support of Olympiacos FC and Mr. Evangelos Marinakis both to the "ELPIDA" Association and to the Association "Orama Elpidas" (Vision of Hope) is touching and we consider you our great allies and beloved friends in our effort.
The team's star, already on the star wall of our hospital, the plaque in recognition of the donations on the wall of "Orama Elpidas ", the team's jerseys on the walls of the departments, all these are just a few of the commemorative and symbolic signs of your great multi-faceted aid to our children. For this reason, for your continued presence on our side and on the side of our children, our Association decided to honor Olympiacos' football team, awarding it the title "Champion of HOPE" again in 2018-2020.
The title "Champion of HOPE" is being established this year in our association on the basis of international standards. It will be awarded during this year and in the following years to top sporting teams and athletes that stand by ELPIDA and contribute to its work both with their presence next to children and with the dissemination of our messages through their great work in Greece and abroad. Our cause this year completes 28 years of sustained effort, major goals and steps forward and we strive for all the health issues that play a leading role in our country.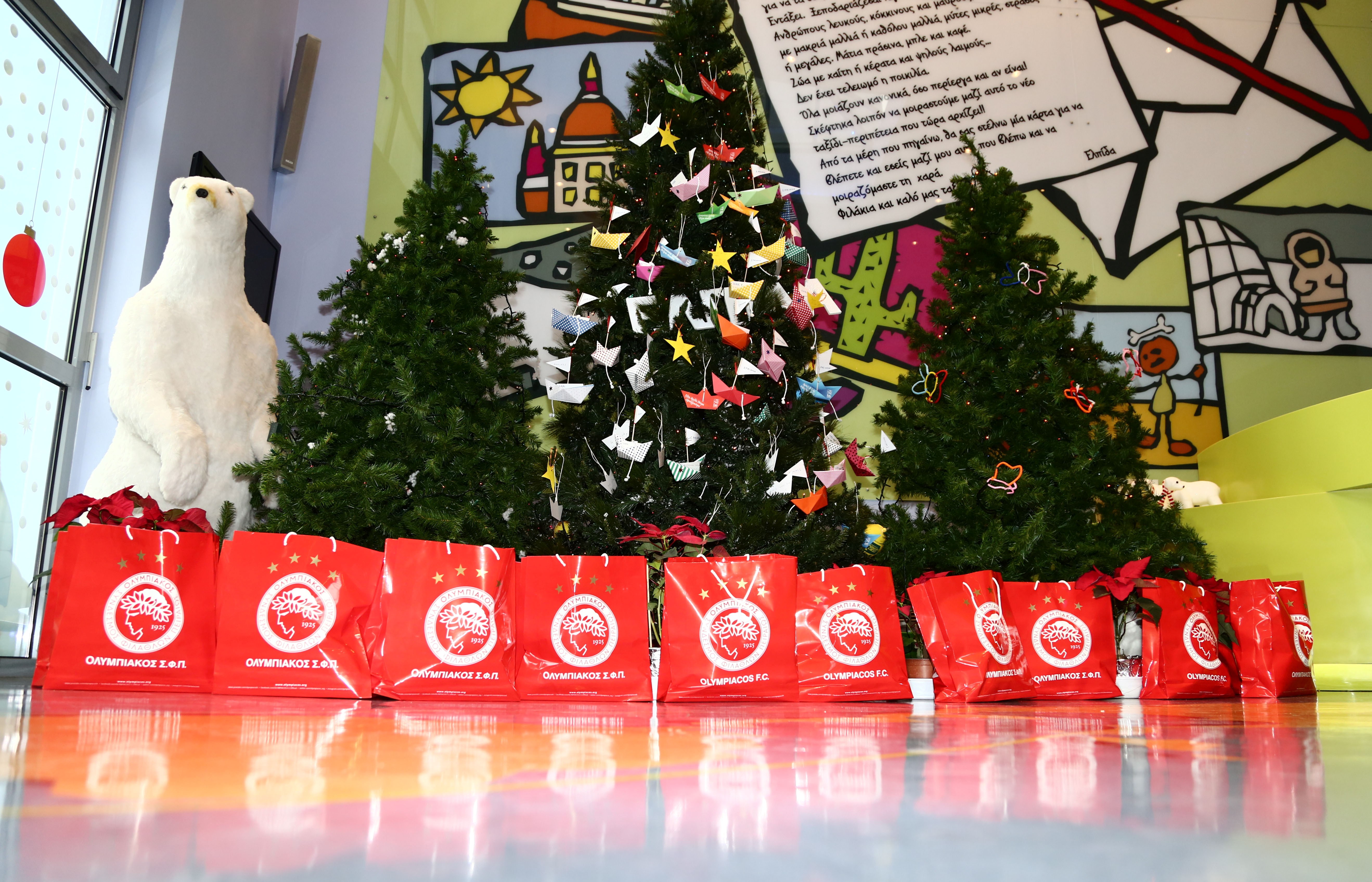 Every year, the hospital's figures show how important is the effort that is being made here. To date, 1,000 children have had bone marrow transplant in our unit, close to their loved ones, near their homes, and they have been granted an opportunity to live. I have told you before because most of you have come here so many times, first of all Mr. Marinakis, who is on our side. Before, and even now, for a child to go abroad it's needed $500,000. It's an amount that the Greek families find difficult to gather. So, through our hospital, we gave the opportunity to so many children to recover their health, which is the most precious thing a parent can ask for his child. The parents who are here, in general, when they see their child getting sick, it's the worst possible experience for them. To find out that their child is suddenly so seriously sick. It's huge the number of children who have passed through here and of course these children who are so severely sick and that need transplant, up till now we are fortunate that 3 out of 4 children are completely cured. Panayiotis is the first child that came to "ELPIDA" and I am moved to have him here today. He was the first baby I took in my arms with Mr. Grafafos, our professor, who has done over 800 transplants. In fact, I and Mr. Grafafos used to go together to the place where the transplants were done to support one another. Then, we were pretty insecure about whether this would work out well, but thankfully, with your help and support, it will go even better.
Whenever I come here, I do not think about the children who are sick, but I think that they will get well, as Panayiotis did. I want to tell you something: every year we have here 280-300 sick children who need a transplant. It's a very large number when you think of it and they're not only children from Greece. We also accept children from the Balkans, from Palestine, Egypt, Ukraine and Albania, from all across the Mediterranean in general. The state allows us to accept 20%.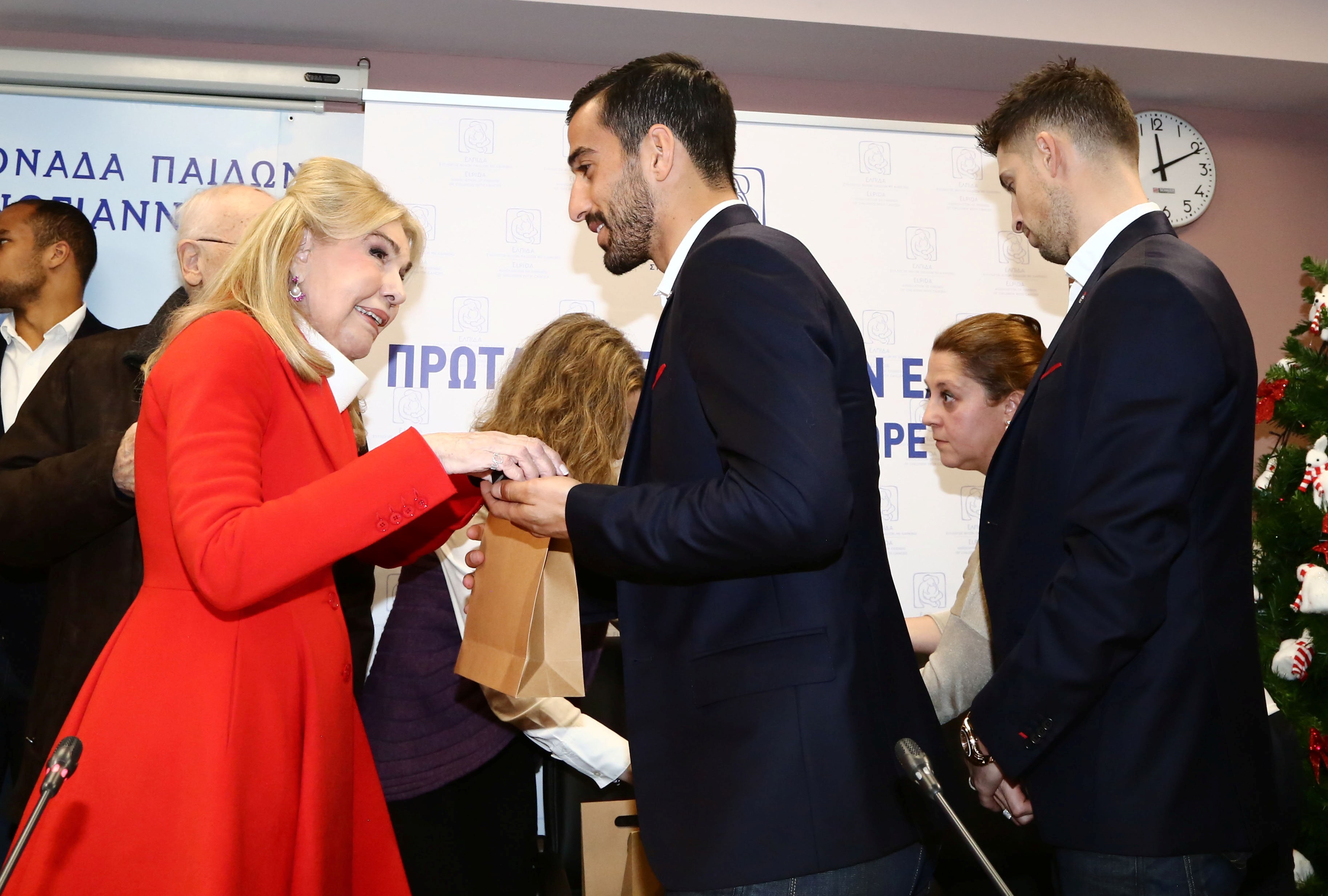 The other important thing is that our hospital is among the 20 largest hospitals in the world, and, when children go abroad, they ask them, "Why did you come here? Why don't you go to the hospital you have in your country?" The fact is that this here is not like a hospital. We are a family. Just think that a kid a few days ago was crying at the entrance and, when we went to see why, we realized he was crying because he didn't want to leave. That's because everyone here is a good person. The parents' and children's morale is important. They must feel at home.
At the same time we have the "Orama ELPIDAS". As you know, Mr. Evangelos Marinakis and Giannis Moralis were the first to donate marrow and I feel very moved for their donation. They became pioneers with this donation. We have found at least 16 compatible donors who gave the transplant to 16 other patients. Our first donor was a lady from Tinos with 3 babies. She came and saved a child. The second case was a father from Crete, who came to give a transplant while his wife was giving birth. So he came here and the woman made a statement, saying she didn't mind giving birth alone. She even said that she now has two children. There has been a great deal of effort to inform the public about what exactly means being a donor. It's not like the old times. You no longer need to get a transplant from the marrow, you can simply give blood. With the blood you give, you can save a child's life. We have many Olympiacos' players as our volunteers, and also Mr. Marinakis, who gave the example and became the link of this big chain, as well as Mr. Moralis, who also gave it on the same day.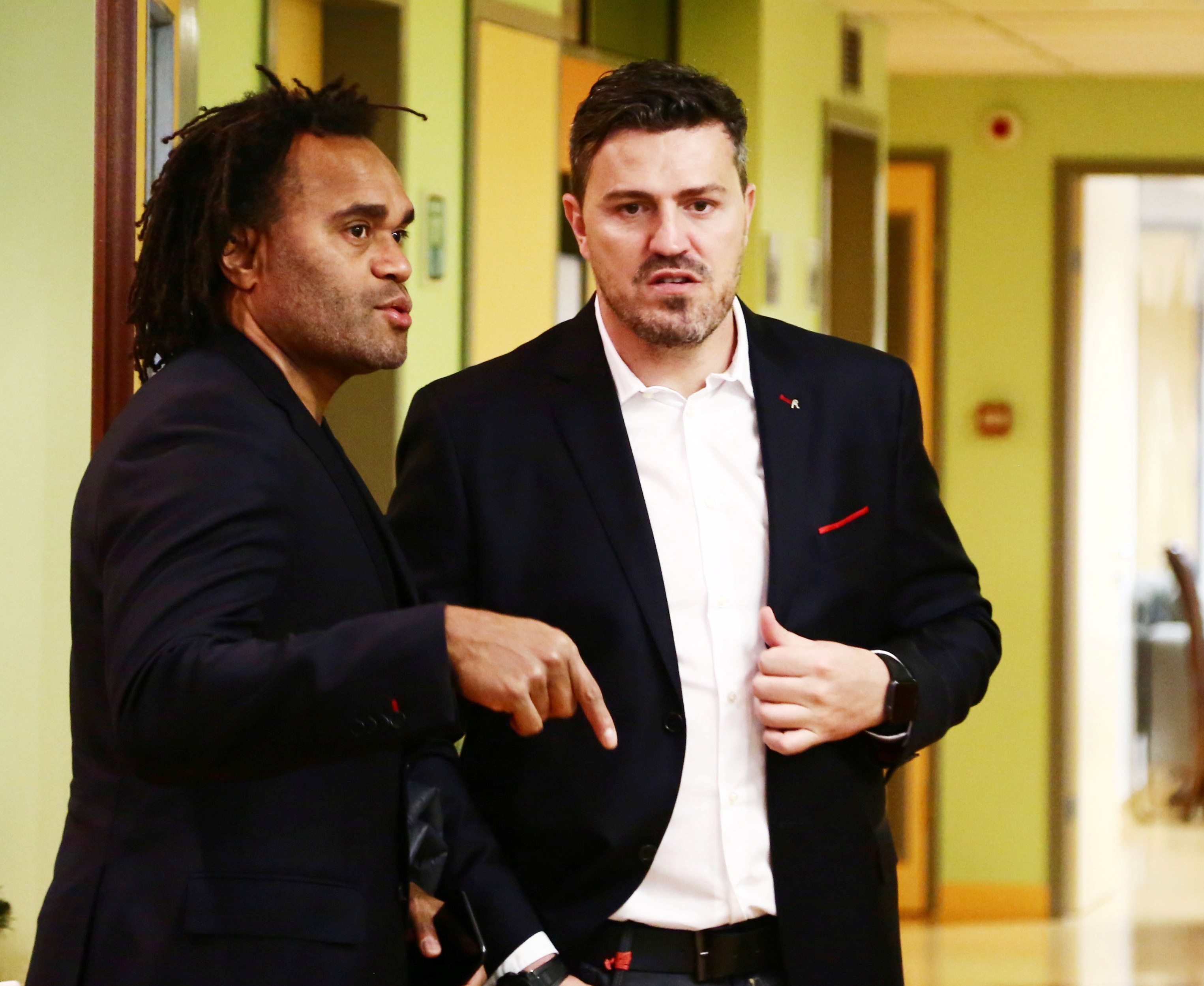 I want to thank him, as well as Mr. Marinakis, who has been with us for so many years, for his priceless support and great generosity. Also for the consistency with which Olympiacos stands by us in recent years and the flame of the combativeness and strength that the whole team transmits to our young patients to defeat cancer. I would like to thank particularly the Mayor of Piraeus and President of Olympiacos FC, Mr. Giannis Moralis for his presence today and for the continuous support to our work. I'm cooperating with the Mayor on the "Welcoming City" program for refugees. I appreciate the participation of the Municipality of Piraeus in our social actions. I would like to address a very big "thank you" to the new coach, Mr. Oscar Garcia, who is with us today, and whose mission begins with his visit to our hospital. I wish him every success, as well as to the whole team and to all the players, recognizing their valuable work with us. Our association is announcing today Olympiacos' football team "Champion of HOPE 2018-2020" and forever, because since it's next to us, we want to have it forever.
Olympiacos is a historic sporting Club that makes our people proud, with 92 years of great achievements, both at Greek and at international level, with a huge contribution to Greek sports and Greek society. With his initiatives, Olympiacos has shown its human face several times, and our cooperation in spreading the message of aid across Greece and abroad will be important for us. Therefore, I thank Olympiacos, because next to its own titles it will put our own little title of "Champion of HOPE".
Then, the leader of Olympiacos, Mr. Evangelos Marinakis, took the floor, thanked Ms. Vardinoyannis for her good words and stressed: "We are very happy to be with you for the 8th consecutive year and that we can, on our part, contribute to your mission, the work that you have done with great success all these years. We are once again very happy to be together for the 8th consecutive year. In our DNA, being champions is something common and we are especially happy to be, as you said, "The champions of HOPE". However, the thing that matters is that, with your actions, the children here in a few years will be champions in life, and that's what matters. Once again, Olympiacos will contribute as it has been contributing every year and, having said that, our door is open to anything else we can offer or to cooperate with you. We are doing it with all our heart, we are particularly happy and once again I would like to wish everyone for 2018 the best of health, joys, successes and I hope next year we'll all be together again with you".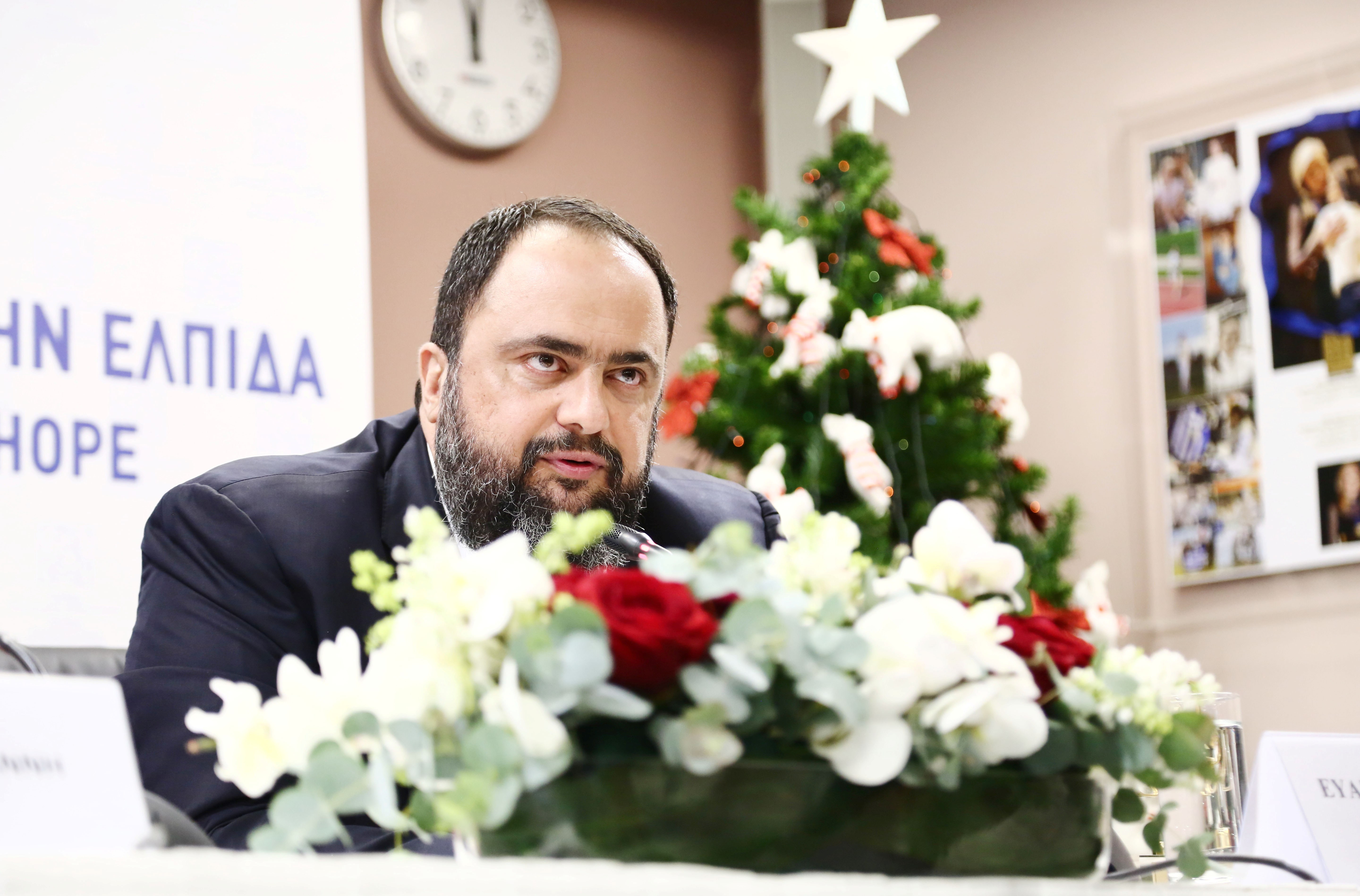 Then, Ms. Vardinoyannis thanked the leader of the Legend for his continued personal contribution, but also for Olympiacos', to the "ELPIDA" Foundation, saying: "Thank you for your great contribution. Besides, it's not necessary, you have been doing it for so many years. Your presence and the joy that all their favorite players here will give the children are enough. Again, I thank you for you really didn't have to. However, know that there are always the signs in the hospital that say "Olympiacos" to show everybody your great aid and the love you show towards our children. I thank you again with all my heart and I wish everyone success, health and, above all, everything you desire in your life."
After the speeches, Ms. Vardinoyannis honored Olympiacos and Mr. Marinakis, awarding them the title of "Champion for Hope" for 2018-2020 and pointed out that Olympiacos will be forever a champion in its aid to "ELPIDA"! A title of honor, a title of pride, among so many titles that our team has conquered in its huge and glorious history! At the same time, Ms. Vardinoyannis honored Mr. Giannis Moralis, with whom she also has a close collaboration (also through the Municipality of Piraeus), awarding him the Statue of Hope!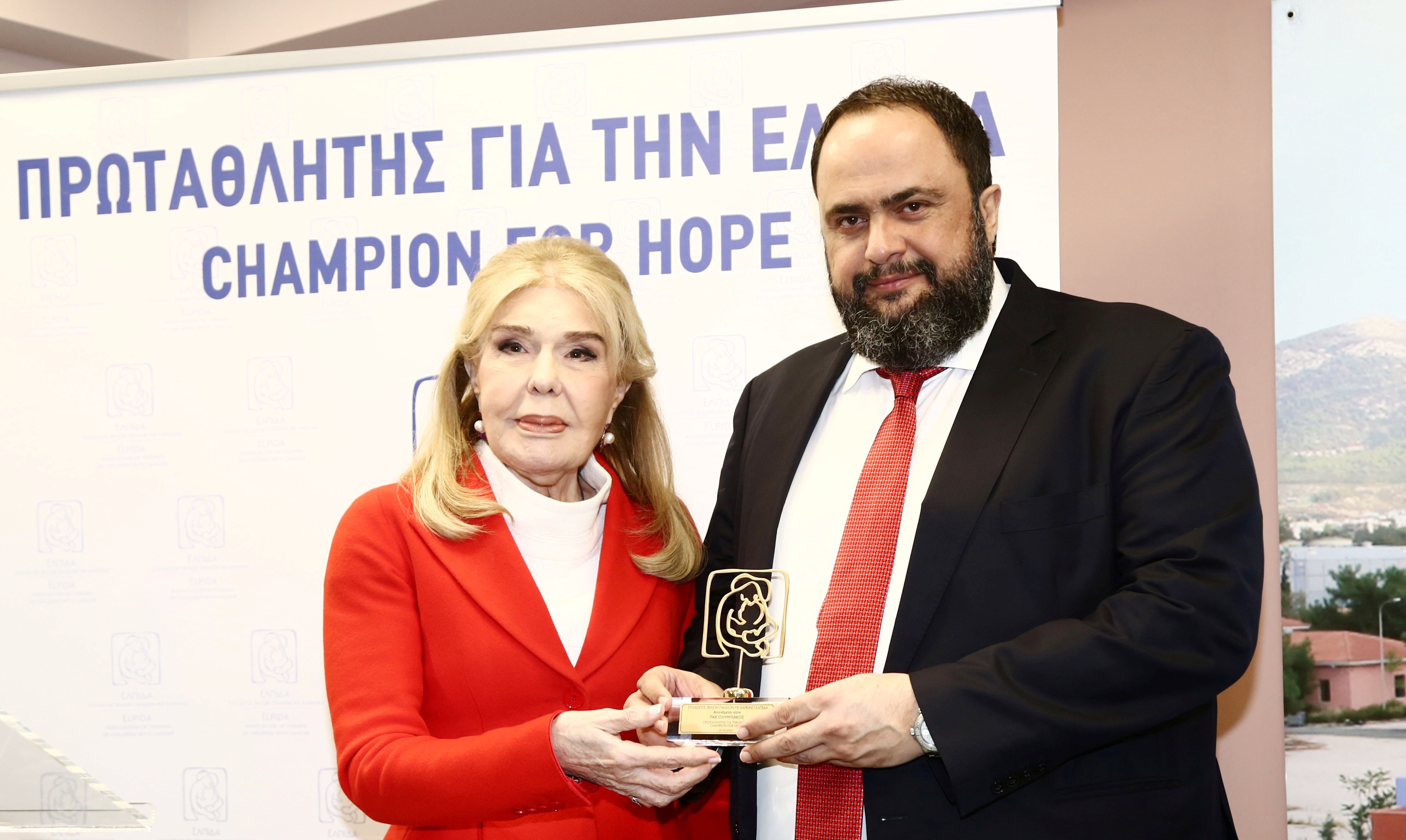 Mr. Moralis took the floor and briefly added: "I don't want to tire you after so many amazing things we have seen and heard about "ELPIDA". I won't talk about the cooperation of Olympiacos with "ELPIDA", which was started by Evangelos Marinakis eight years ago. We stand firmly by the Association. I will talk about the cooperation we have as Municipality of Piraeus. On the subject of the refugees in which the Municipality needed help, "ELPIDA" was present, Ms. Vardinoyannis was there. We have developed a good and productive cooperation in the aspects where it's needed. In my opinion, that's the role a Mayor and an association such as "ELPIDA" share: being close to those in need. We have a good cooperation and I want to believe that it can be expanded. Let's do other things together for the benefit of the people, I stress it, in need and they are many in our country. Thank you very much for everything".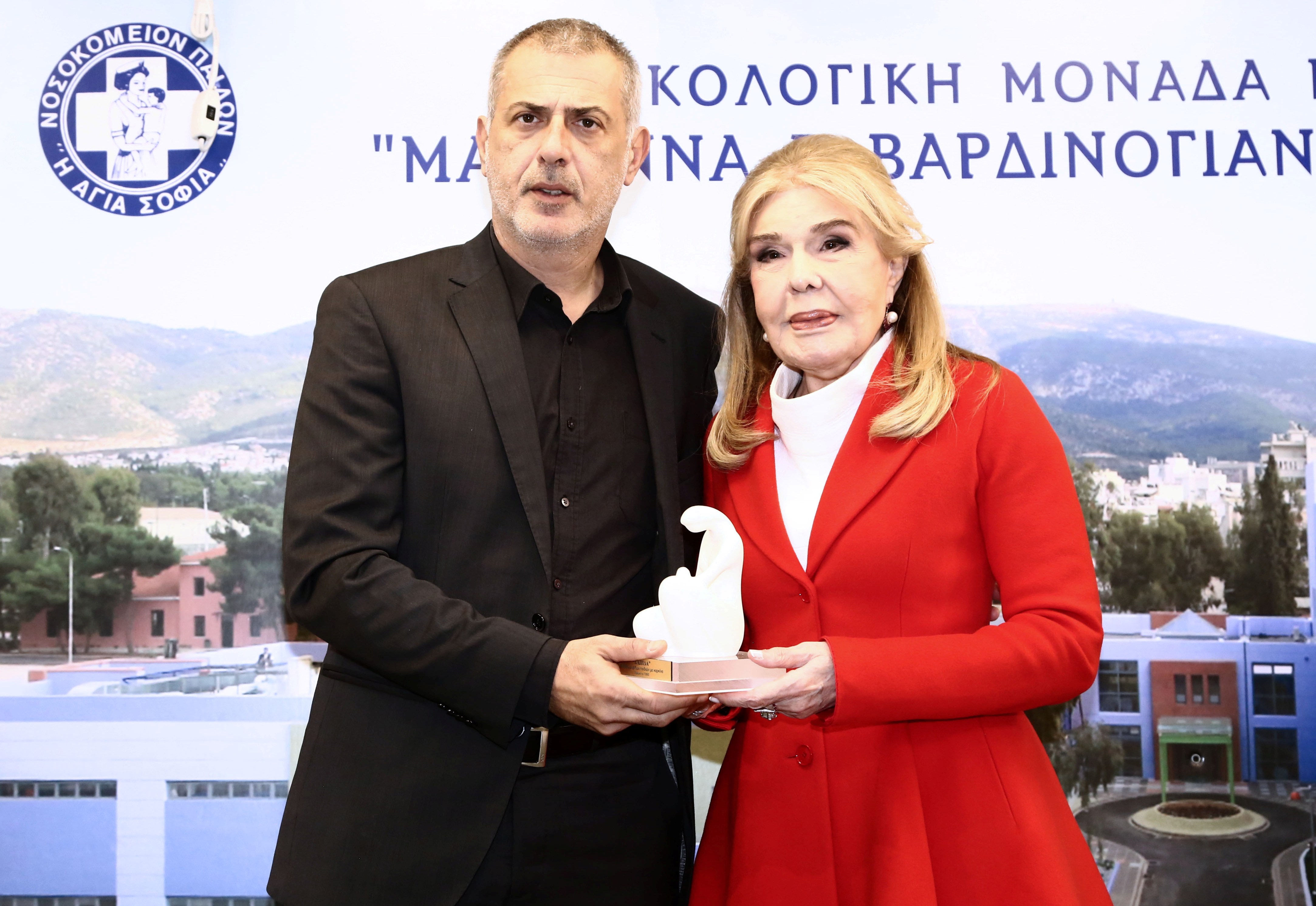 Later on, all the members of Olympiacos' delegation, the coach, the footballers, everybody, received their souvenirs and were honored by Ms. Vardinoyannis. The visit to the chambers of the hospital and the guest house, where the children's smiles, the hugs and the pure, infinite childhood happiness prevailed, came immediately afterwards. The children saw their idols close to them, giving them gifts, embracing them, and they were moved with joy! This was and will remain the main reason why our team visits the Oncology Unit "ELPIDA": smiles that we can put on children's faces! The Legend of Greek football will continue to be there wherever it's needed. It will continue to contribute, in every way, wherever it's necessary, but also wherever its aid isn't directly necessary, but supports and strengthens those who do real work, those who perform a mission, as does Ms. Marianna V. Vardinoyannis, for so many years now, through "ELPIDA"!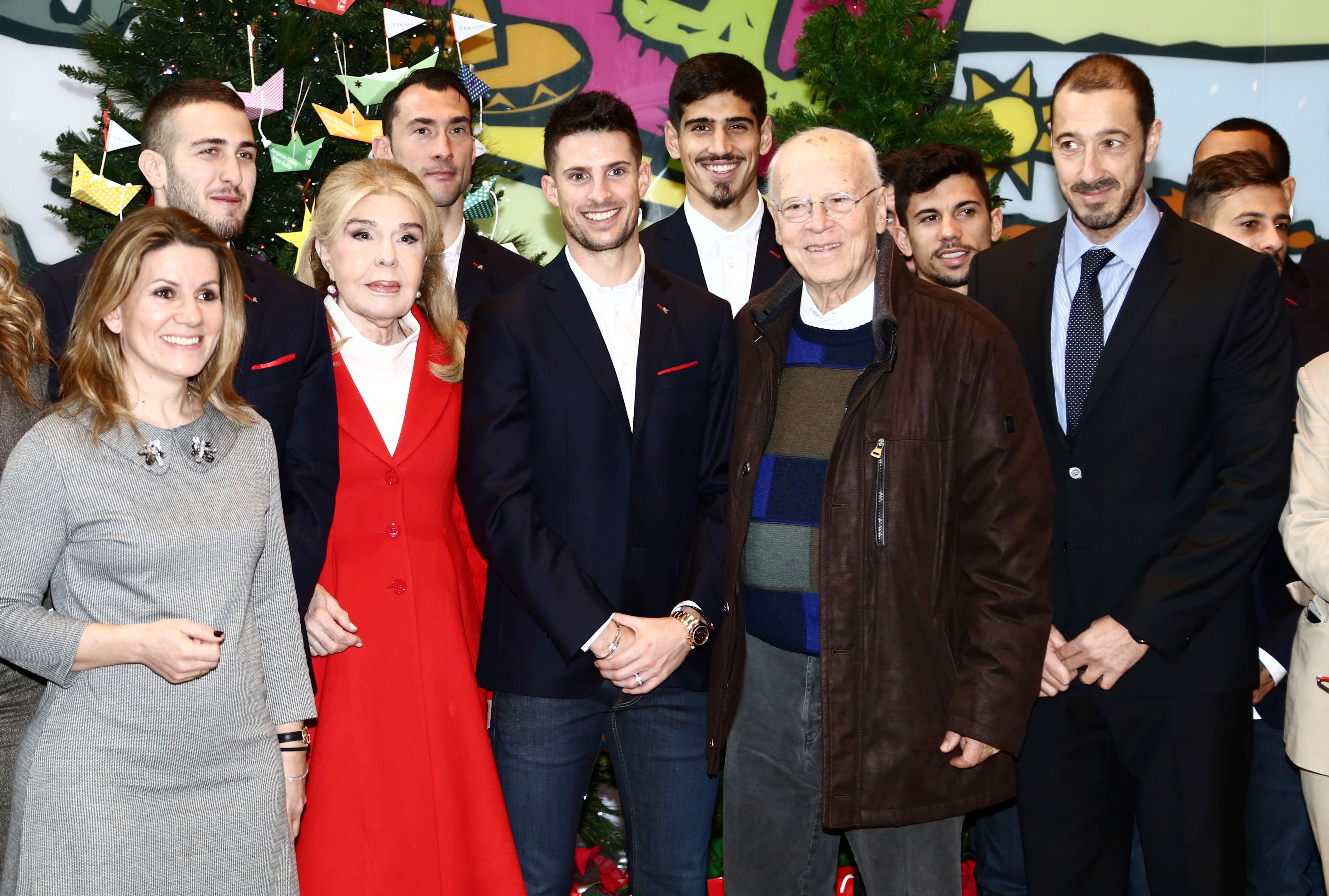 Click HERE for the photostory.