Carlos Corberan delivered his first press conference as the coach of Olympiacos, in which he outlined his plan for the Piraeus outfit.
Olympiacos FC Sporting Director Christian Karembeu was also in the press conference panel to welcome the club's new coach.
Words by Christian Karembeu:
«This is a brand-new chapter for the club. We parted ways with Mr. Martins, but we would like to thank him for what he offered to the club. Today, a brand-new chapter starts in the presence of Mr. Corberan. He is a young and talented coach, whos started his career at the age of 23, which means that he decided to follow this path some 16 years ago. He started his career in Villareal, then went to Cyprus and joined important clubs like Leeds and Huddersfield. He has also worked with top managers, in the likes of Ernesto Valverde and Marcelo Bielsa. He is here and enjoys full support by the Club's Management; we welcome him to the family of Olympiacos and we reiterate that he has the club's management and our fans' full support».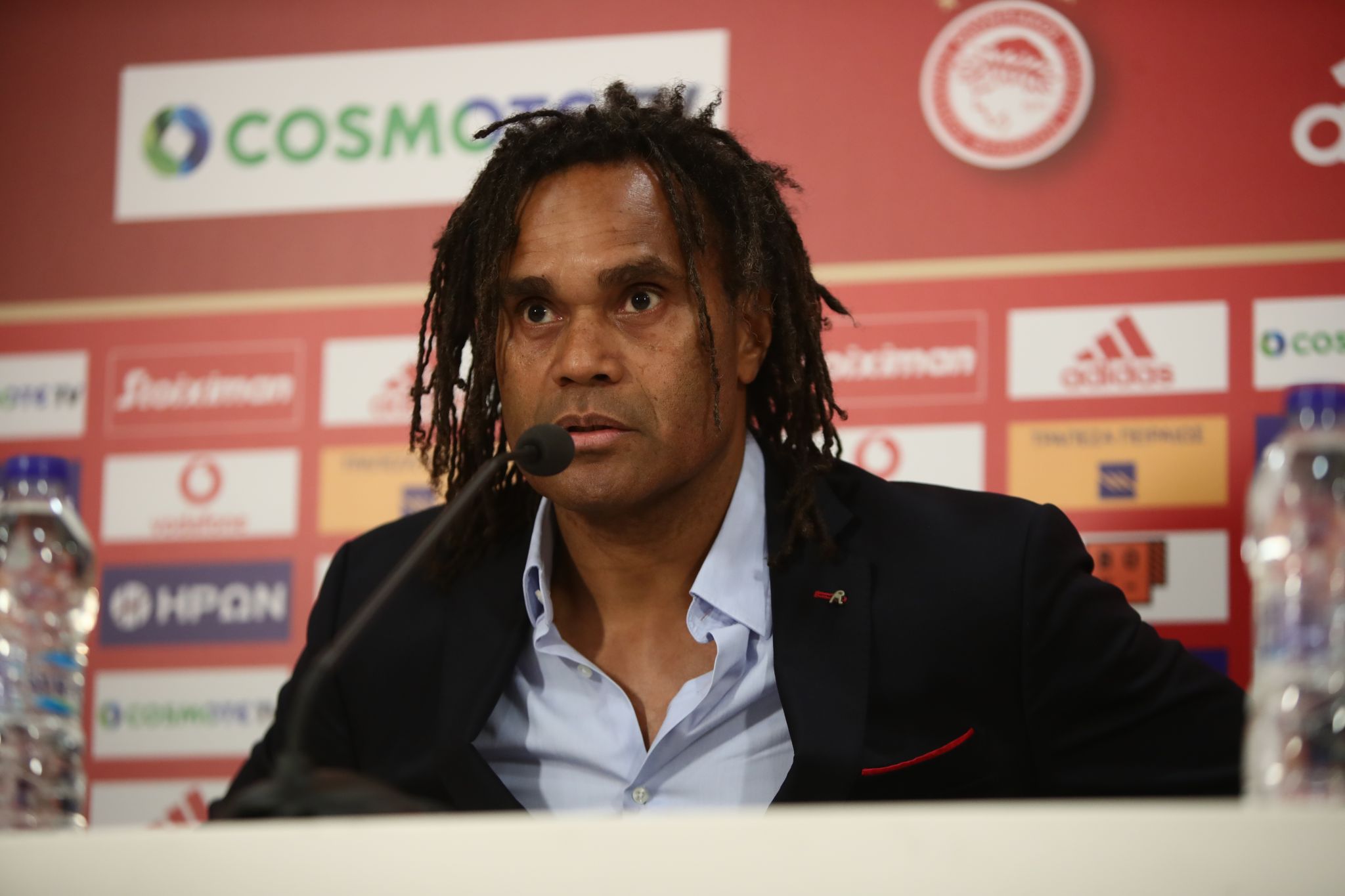 Then, coach Corberan took the floor to share his initial thoughts and reply to questions by the Press:
«Good afternoon, everyone!
Thank you for the warm welcome. I am bhonored to be here and long before I joined the club, I knew that Olympiacos is one of Europe's top clubs and the biggest one in Greece. I share the same feelings and values with the club. We set out with a tough and challenging tie, but evberyone who shares the same thoughts and emotions for football, enjoy playing such motivating matches. I would like to thank Christian for his kind words and the Club for the welcome. I am here in order to work on the same aspirations and objectives, starting tomorrow».
What is your objective in Olympiacos?
I want to bring Olympiacos back to the level we all know this club should be at. Top clubs have to have a winning philosophy and we have to do what Olympiacos always do, that is to dominate on the pitch. So, we have to be the team we are used to be, take initiative on the pitch and dominate the match and, given the great footballers in our roster, to show that our aim is always to win.
After watching past matches of your previous teams, opting for a 3-4-3 formation, will you stick to that? When in Huddersfield, you used to play with counter-attacks. Does this style match Olympiacos?
After one year in Huddersfield, I believe we demonstrated the best football we could have ever had as a team. In the second year, we managed to use 4 different formations in offense and 3 in defense, because when one has more alternatives in terms of gameplay, then one is stronger than the opponent. Here, we first have to establish thw foundations of our gameplay.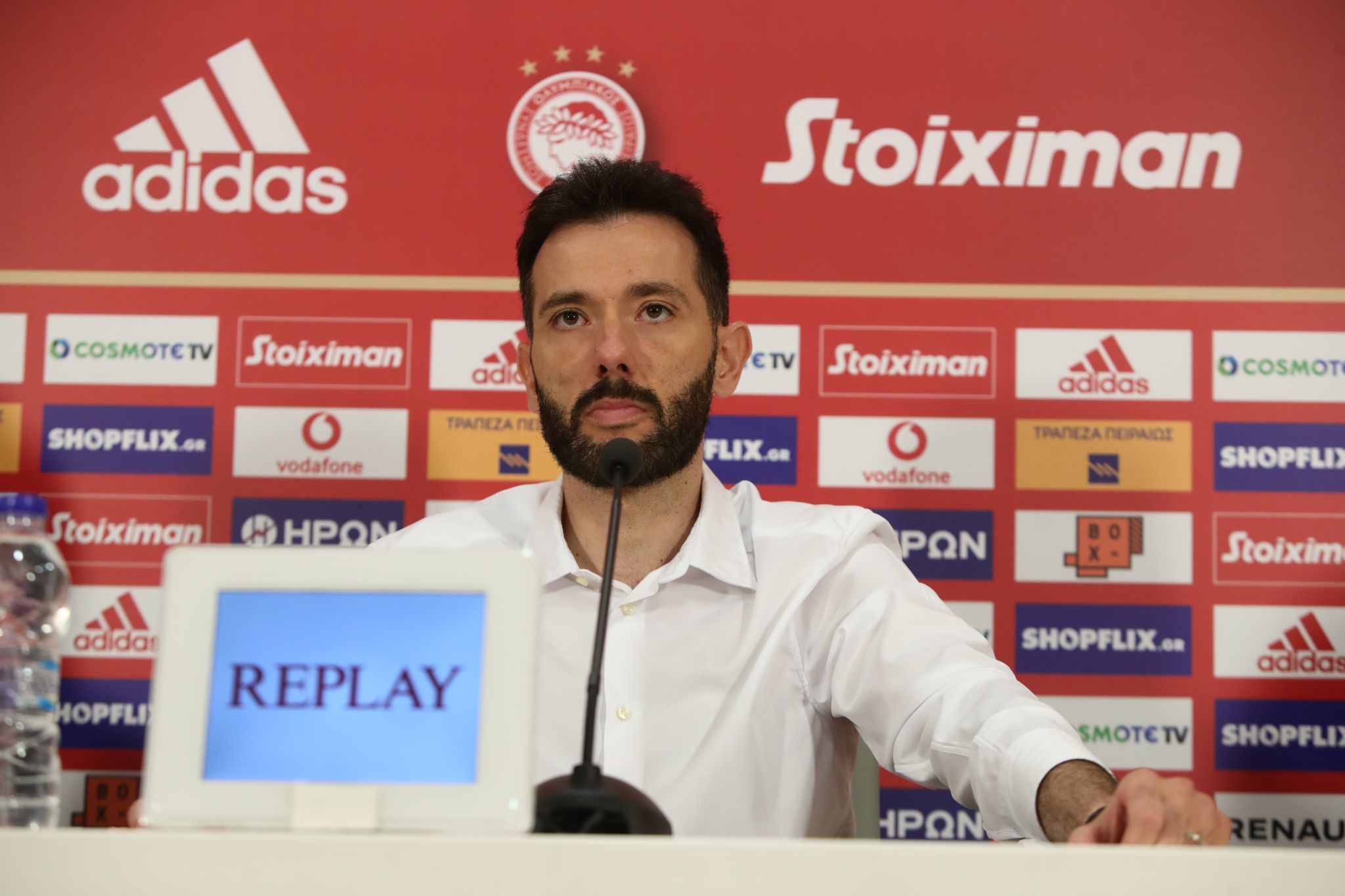 How will you infiuse your philosophy given that you come after a coach who spent 4,5 years with the team and you have a match to play right away?
The first thing I have in mind is to use all positive elements that Mr martins left after his spell here. I don't have enough time to change many things in terms of tactics; the key element for tomorrow witll be the emotional component.
What have you observed in your first days with Olympiacos and what will your moves me in terms of transfers?
As you may very well understand, I am focused on working for tomorrow's match with the players at my disposal. Many times, when one's focus is the future, he has to think about the future. Now, we have to focus on the present.
Since day one of your arrival, you showed Slovan's footage and talked about your philosophy. What have you known about Olympiacos before taking on and how much time do you need to show what you have in mind for Olympiacos?
Firstly, tomorrow we are to play against a competitive team; we also know it is important for the coming matches to demonstrate that we can respond to requirements. I have quite a number of players at my disposal and they do know what the Olympiacos mentality is and tomorrow it is our chance to show our value. Indeed, I had time to get to know the players as well as our opponent. This is a difficult moment for us, but we love challenges in football.
What kind of football do you stand for and what is the ideal match for you?
If I had to explain the kind of football I like, this is to watch my squad keeping possession for 90 minutes and creating chances. Sometimes, this is not easy because there are moments in a match when one has to play defense against strong teams. So, we have to find the right balance between attacking and defending and stay compact. If one plays compact defense for a long time, then one is not aggressive enough. We have to find the balance in keeping ball possession and building plays. Sometimes, one's mind is on the opponent and then you lose control, thus fail to create chances. However, I prefere watching my team playing with ball possession rather than without it.
What was your first impression after meeting Mr. Marinakis?
Let me explain that after 2 years in Huddersfield, I felt like having a break. But when you get a call from such a large club like Olympiacos, then you ust think about it twice and realize this is an opportunity that deserves dedicating your time to. The fact the club has a winning mentality made me see that it is the right place to work.
What do you think about the things that must change in Olympiacos given the team's display?
The first thing that has to change is the team's reaction with a winning mindset. We must always have this mindset and put it on display tomorrow. I think that, beyond tactics, the key for tomorrow is our motive and emotional composure.
How does it feel to set out for your coaching career at the age of 23? Who was the person that influenced you the most?
When I was 18 years old and a footballer, I have started feeling more kin to become a coach that be a footballer. I tried to combine them both and be a coach while still playing football. At the age of 23, I stopped being a professional footballer and started my coaching career in a big club, Villareal. I felt I was more motivated as a coach than as a footballer. And I had the opportunity of working in top clubs at that age of 23 until now in my 39th year. So, I was given the opportunity to work with great coaches like Pelegrini, Valverde and take things from them. It was the time when Guardiola joined Barcelona and revolutionized global football. Also, it was when the Spanish National Team made changes and started winning trophies worldwide. All those teams had one thing in common: ball possession. Then, I had the chance of working with great coaches, like Marcelo Bielsa. After spending 2 years with him, I consider him to be a point of reference in my career.