Olympiacos will face Slovan Bratislava on Thursday (11/8, 21.30, Cosmote TV, official TV partner of the "red-and-whites" FC), following the 1–1 score at "G. Karaiskakis" Stadium.
In light of the away match for the UEFA Europa League's third qualifying round, coach Carlos Corbéran and team goalkeeper Tomáš Vaclík spoke at the press conference.
The press conference of Tomáš Vaclík in detail:
 What did you notice in the analysis of the first match and what was the team missing in order to win?
We analysed the match, observed our mistakes and tried to correct them during the training sessions in view of the second match, in order to be ready.
Can you compare the situation to last year's? Do you believe that Slovan had improved in the first match or did Olympiacos not present its best self?
The matches are different from last season's, we made some mistakes during the previous match, which we will try to correct in this second upcoming match.
 Do you believe that Olympiacos has improved since last year?
During the past year, we won the championship, the coach changed and we are now trying to adapt to the new way of playing with our new head coach.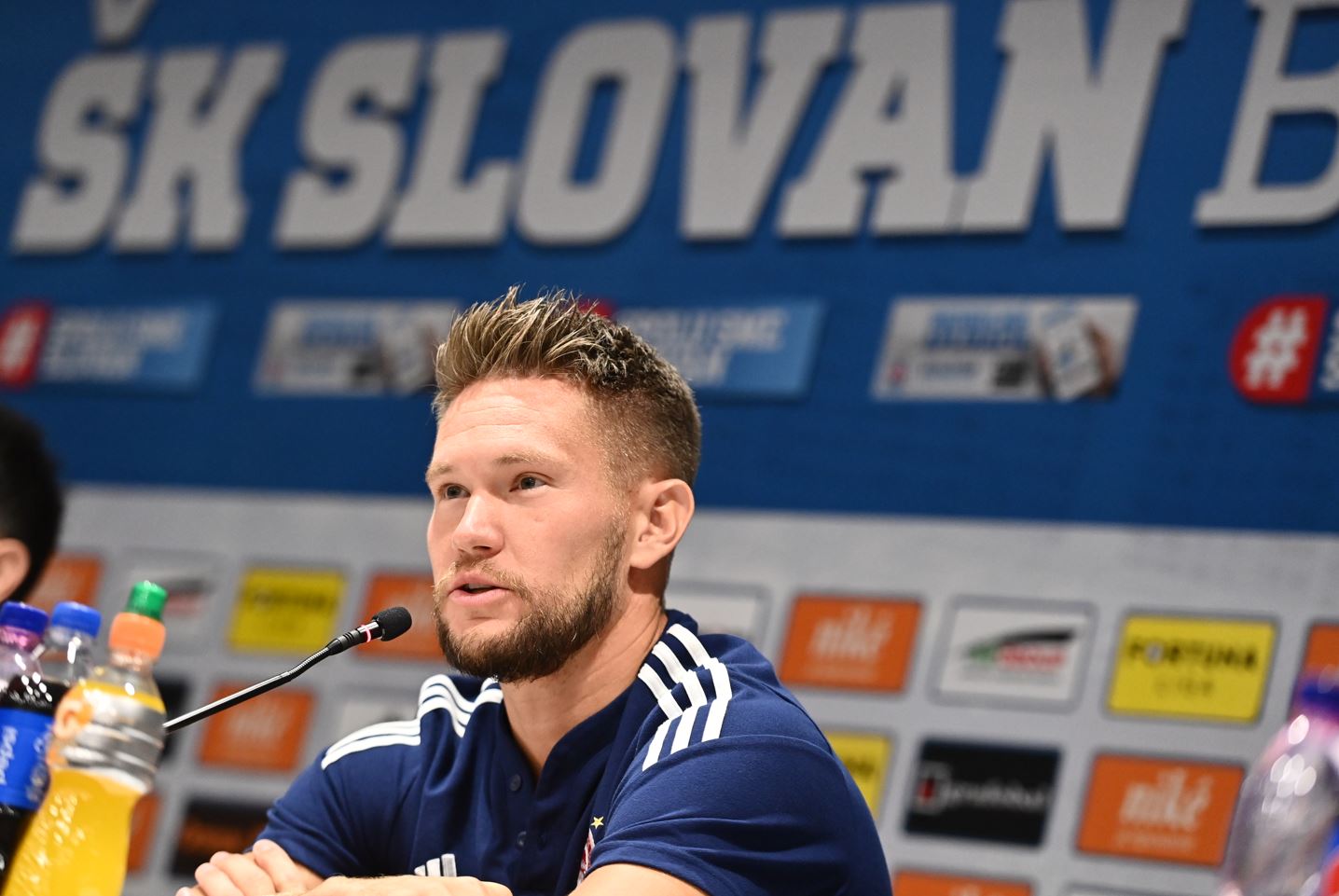 When the match ended, you had a talk with Slovan's Zmrhal – what did you discuss about?
We have known each other for some time, we discussed various issues. Naturally, I did not share our game approach or our plan for the next match – it was a purely friendly discussion.
It's been 10 days since you started with the new coach – have you adjusted to what he asks of you?
I think that 10 days is enough to learn our coach's approach and we will definitely make an improved appearance.
 A qualification is at stake. Are you, the players, and Olympiacos ready for this final?
I believe that we are ready for this match, we have experienced soccer players who have played several knockout matches of this type and I believe we are ready.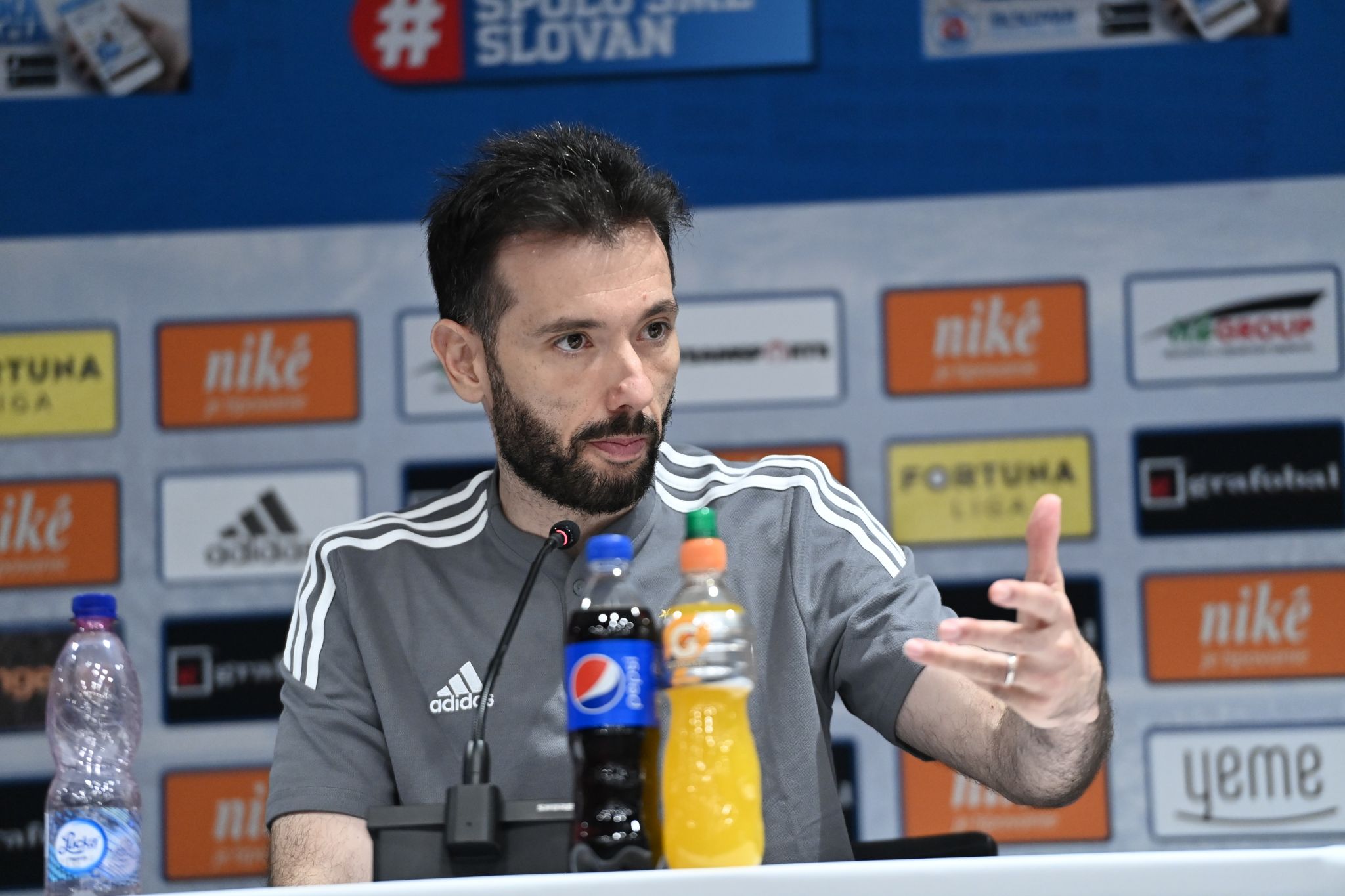 The press conference of Carlos Corbéran in detail:
This is the second game for you on the bench of Olympiacos – what have you prepared, what is your plan?
The plan is to use the most well-trained soccer players we have and to present our best team, in order to achieve our only objective, which is victory and the qualification. I want us to present a strong offense and defence and to be more careful with the details. What we need to do is present our strengths during the match.
Following the end of the first match, the coach of Slovan, Weiss, said that Olympiacos is stronger because of returning players. Do you agree?
Obviously, we all know that certain players were missing in the first match, who will be available for the upcoming match. I believe that this is a step forward to showing an improved team, but we need everyone here to be more focused and better than in the first match. However, even if the same players participated, we would not show a weak face – quite the opposite.
What is your impression of Slovan?
They are a competitive team, who treat European competitions the same way they play at home. But this is a final, because both teams are aiming to continue in Europe and this is why the emotional factor will be more important than any tactic. The emotional factor will be the most important for both teams.
Is the way that Olympiacos ended the first game a guide for you?
In a sense, yes and no. We thoroughly analysed the last minutes of the previous match and saw that the team focused in offense to score the goal of the tie. The truth is that we gave our opponent a lot of space, but did not concede a goal thanks to Tomáš Vaclík. We broke our balance in order to become offensive, but we have to be careful not to break our defence.
You said that the team should be mentally prepared – following your team's three unsuccessful results in Renti, are they ready?
I am pleased with my team's response during the previous game. I am satisfied because I saw the team responding after conceding a goal, which was not the case in the previous game, when the team did not respond after conceding a goal. However, as I said before, while I am satisfied with our behaviour and our offense for a tie, it should have been done without risking our defence and giving the opponent the opportunity to threaten us in a counterattack. Therefore, it is my responsibility to organise the team's emotional side well enough, so that we can be competitive without taking risks or being threatened by the opponent.
I don't remember a new coach having to deal with so many problems. How much do these problems affect the plans you have in mind?
I am very motivated for tomorrow's game – as a coach I always live intensely and try to reinforce the team's positive elements, and my goal is to lead Olympiacos to its best self in Europe for as long as I am the team's coach. Expectations are good, but in life you need to be organised and well prepared to achieve your expectations, and I believe that tomorrow my team will be prepared and make a successful appearance because we are courageous.