Olympiacos is entirely committed to helping our fellow-people. The need to act grows bigger and bigger, fay by day and our club is always there. Having quite recently renewed its partnership with UNICEF and in the context of its contribution to this global Organization, the Legend of Greek football attended the presentation of this year's TV Marathon. Our side's players, Tasos Avlonitis and Andreas Bouchalakis, as well as Olympiacos FC executives, Mr. Verouska Georganti (Head of Olympiacos FC-UNICEF partnership) and Mr. Kostas Kardiasmenos (Corporate Communication, Digital Media and Corporate Social Responsibility Director), attended the Press Conference, held in the ESIHEA building, with the aim of sending a message of hope, ahead of this year's ET TV Marathon to support UNICEF.
Out of approximately 1,000,000 refugees and immigrants reaching Europe by sea in 2015, more than one out of five are children! Until now, children account for one fourth of refugees and immigrants reaching Greece! The needs to help these children, these tormented human souls, grow day after day! The TV Marathon objective is to comfort these refugee/immigrant children and it will start Monday 14/12/2015 at 6 pm and will last until the early morning hours of Tuesday! Olympiacos will actively support, this year again, this effort, as it has always been the case!
The presentation panel included UNICEF Greece Vice President, Mr. Sofia Tzitzikou, UNICEF Greece Secretary General Mr. Ilias LIberis and distinguished guests. Olympiacos players also attended and, when given the floor, they stressed the importance of UNICEF's work and the support provided by our Legend!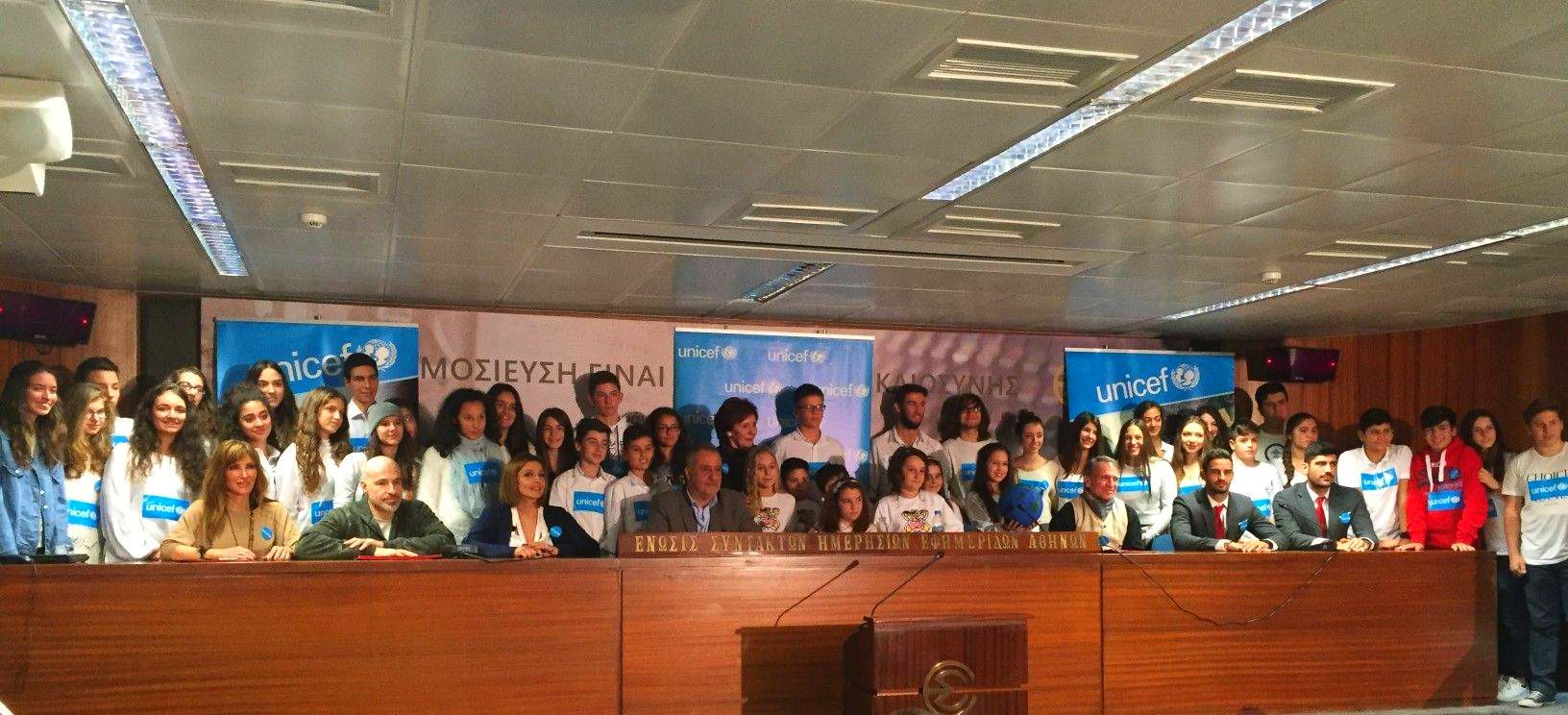 "I need to congratulate the previous speakers and UNICEF for their great struggle. Firstly, I would like to say that all we in Olympiacos, following an initiative by our President Mr. Vaggelis Marinakis, have joined forces with UNICEF, so that children do not lose their lives when a simple injection suffices for their protection.
Moreover, I would like to say that since 2013, Olympiacos and its fans have raised funds in order to protect almost 1 million babies across the world.
But we do not stop there! We have quite recently renewed our partnership with UNICEF, in order to protect an additional 2 million children for the next 2 years.
I would like to say that we are both happy and honored to attend this event, so that, both as a club and ordinary human beings and citizens, we may contribute in this great cause of UNICEF. We do that by helping this year's TV Marathon, whose aim is to comfort refugee children. The images of people leaving their homelands and forced to build their live elsewhere generate nothing but sorrow. It is equally sad to know their needs and do nothing for them. We all owe to offer as much help as we can, even just a little", said Tasos Avlonitis.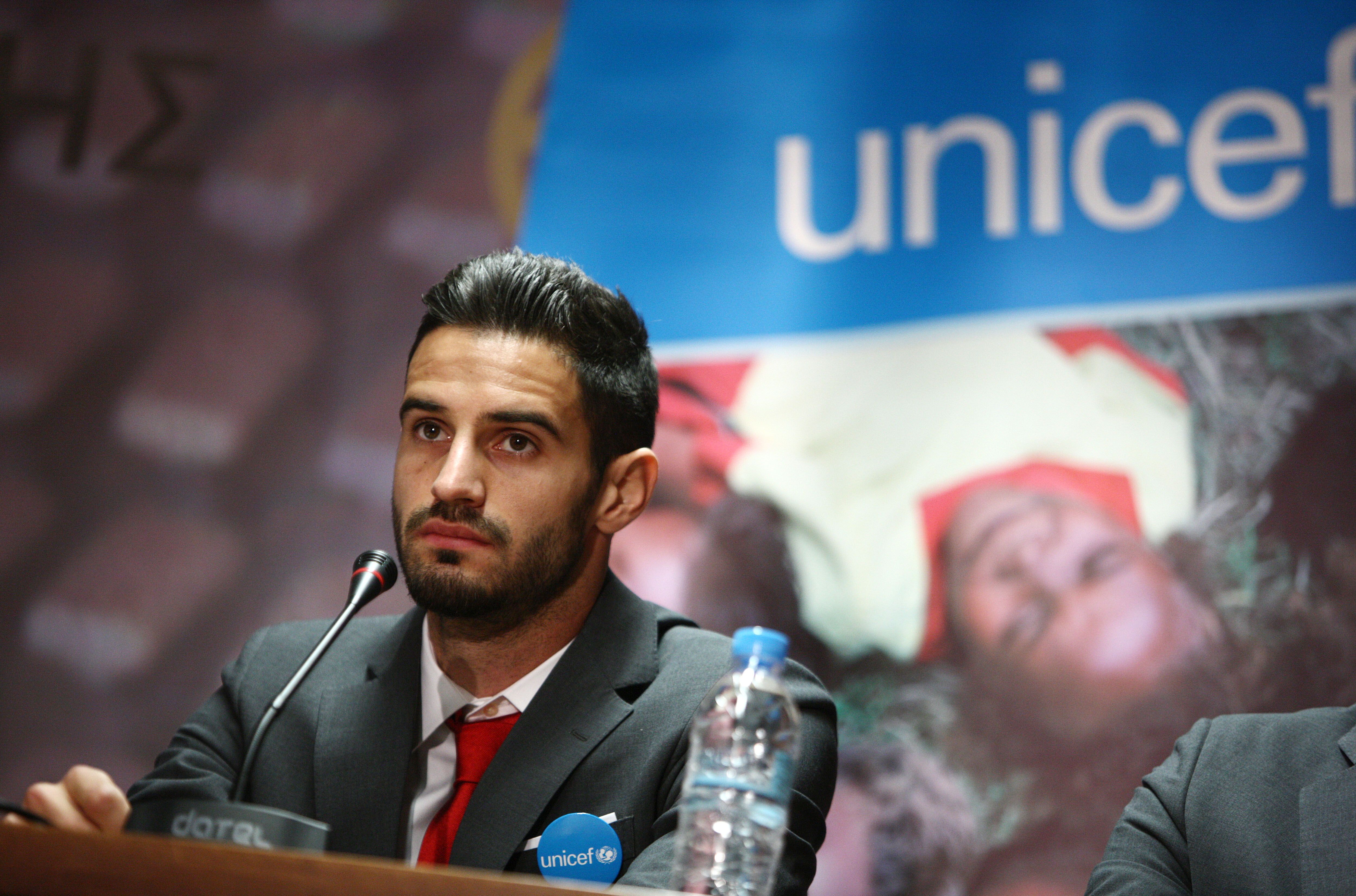 For his part, Andreas Bouchalakis pointed out: "As Tasos said, I would like to congratulate all people involved in this great effort made by UNICEF, for vaccinating lots of children all over the world. We, as Olympiacos, are helping UNICEF to vaccinate more than 2 million children across the world.
It is a great honor, we must be very proud; by means of this, we make an effort to help so many children and be the role model for others, mainly the young, to offer.
Certainly, our country is going through some really hard times, but we can all contribute to build a better future for these children. As said before, they are the future of this world. And their future lies in their homelands, in their homes and not far away from them. However, for as long faith drives them away from their home countries, we have an obligation to help them. Especially the children. By means of this year's ERT TV Marathon, we are given the opportunity to do so and we are really happy to be part of it".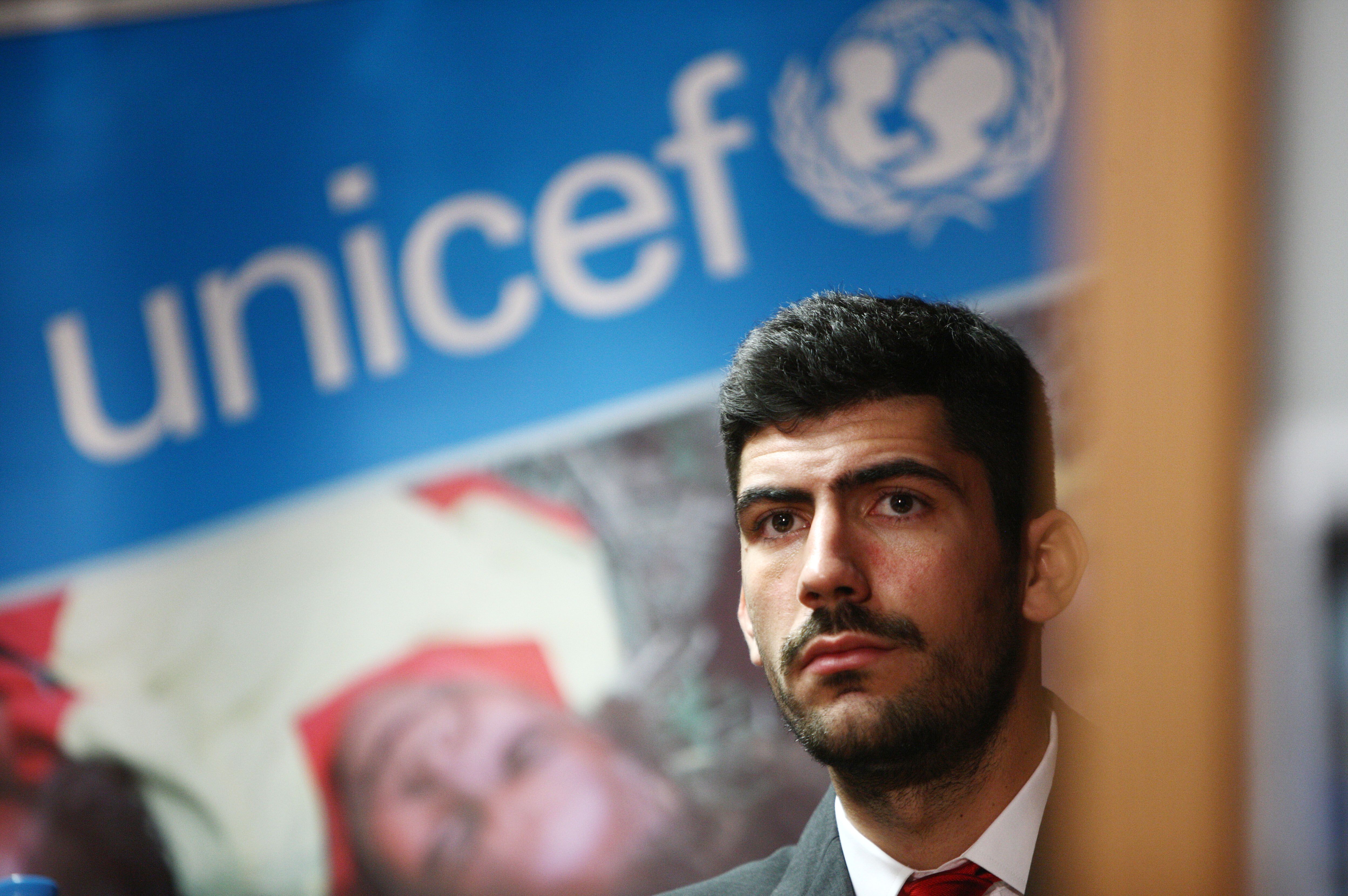 Before the end of the presentation, children coming from various private and public schools sent their own messages of help and hope in the form of poems, songs and drawings; messages of support to those children, refugees or not, who are in need. After all, as we all know very well in Olympiacos, to offer knows no boundaries.
Click HERE for the photostory.