The refugees seeking refuge in the gates of the port of Piraeus increase every day. However, the willingness of Olympiacos to support these suffering people, who reach their limits daily, also increases every day.
On Thursday, as is the case daily, the greatest Greek Club was once again there, present, next to the people in need. Next to the people stranded in a foreign country and who were happy and relieved to see the helping hand of Olympiacos. In fact, this particular afternoon was truly special for the refugee children.
Apart from the standard daily offer of Olympiacos in the form of portions of food and items of clothing, the refugee children were able to change passes with the Legend's players, Roberto Jimenez and Alejandro "Chori" Dominguez. Children will always be children, even when they are so far away from home and even when the future seems so insecure.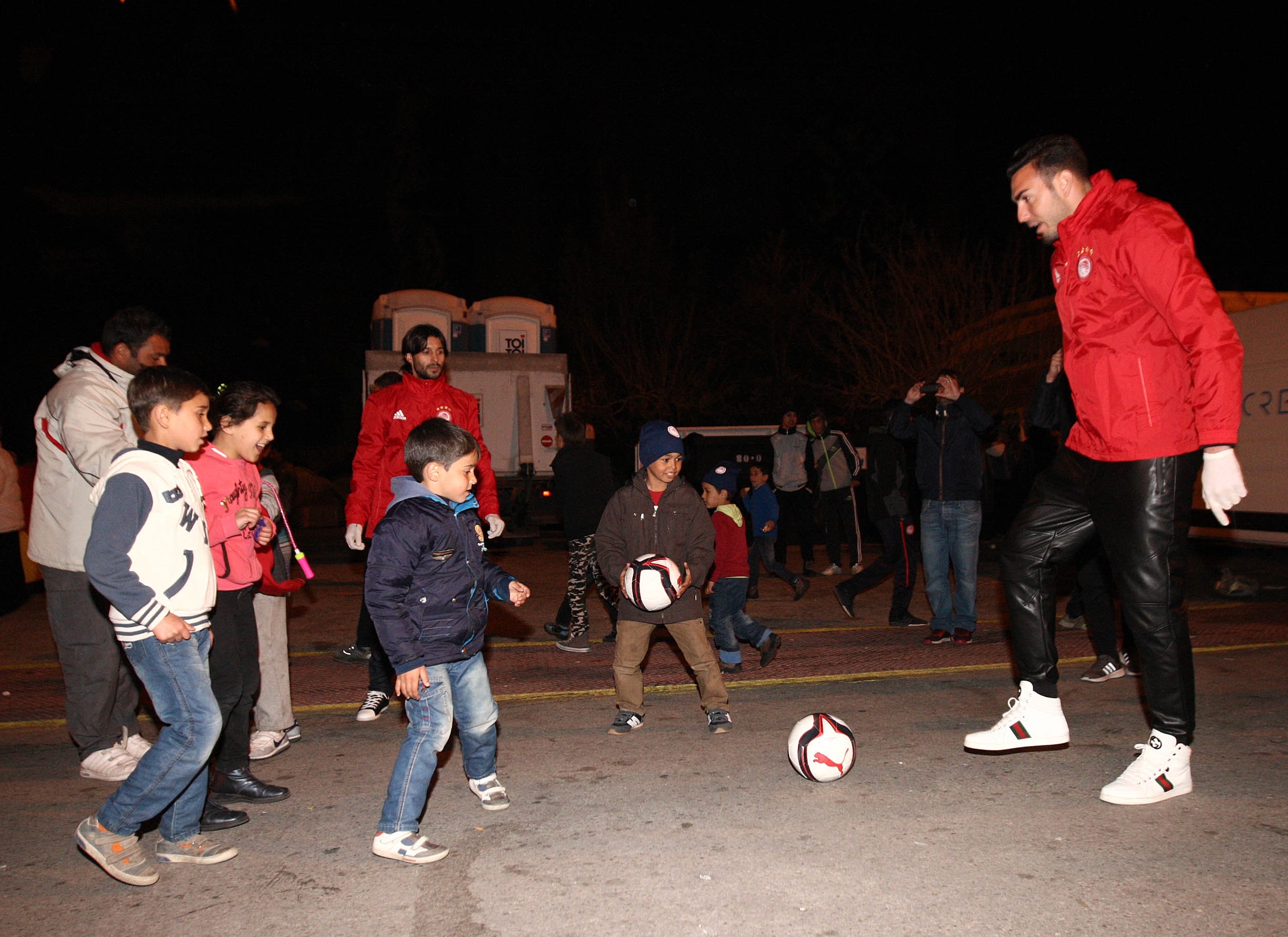 A football is enough to bring smiles to their faces and remind them what happy playing feels like. And football, the most beloved sports in the world, can, even for a few minutes, make refugee children feel that they are once again in the carefree and warm environment of the backyard in their homes.
The two captains went to gate E2 of the Piraeus port together with the red-and-white convoy of love. Mr Savvas Theodoris, First Vice President of the Club, as well as Kyriakos Dourekas from the football division were also present. The whole initiative was of course headed by the CEO of Karaiskakis SA, Mr Vasilis Vasiliadis.
Chori and Roberto stood next to all members of the red-and-white mission and gave out clothing (jackets, hats, windbreakers, tracksuits, etc.) and foodstuffs as well as footballs to refugee children and adults. They then played some football with the refugee children who are always smiling and ready to play.
Talking about this vital initiative undertaken by Olympiacos following the wish of its President Mr Vangelis Marinakis, the First Vice President of the Club, Mr Savvas Theodoridis, said: "It's nice to be here helping these people. Olympiacos is here every day helping the refugees by offering either meals or items of clothing, or even toys to little children. You saw how happy they were. We helped a bit and at the same time brought joy to children. Just kicking the football and playing with our players was something nice that made them happy. They enjoyed it and we are happy we achieved that. What is happening here is tragic and all Greeks should see that. People suffer and we should all offer whatever we can. In Olympiacos, we do everything we can. We are here every day to bring some joy to these people who have suffered so much."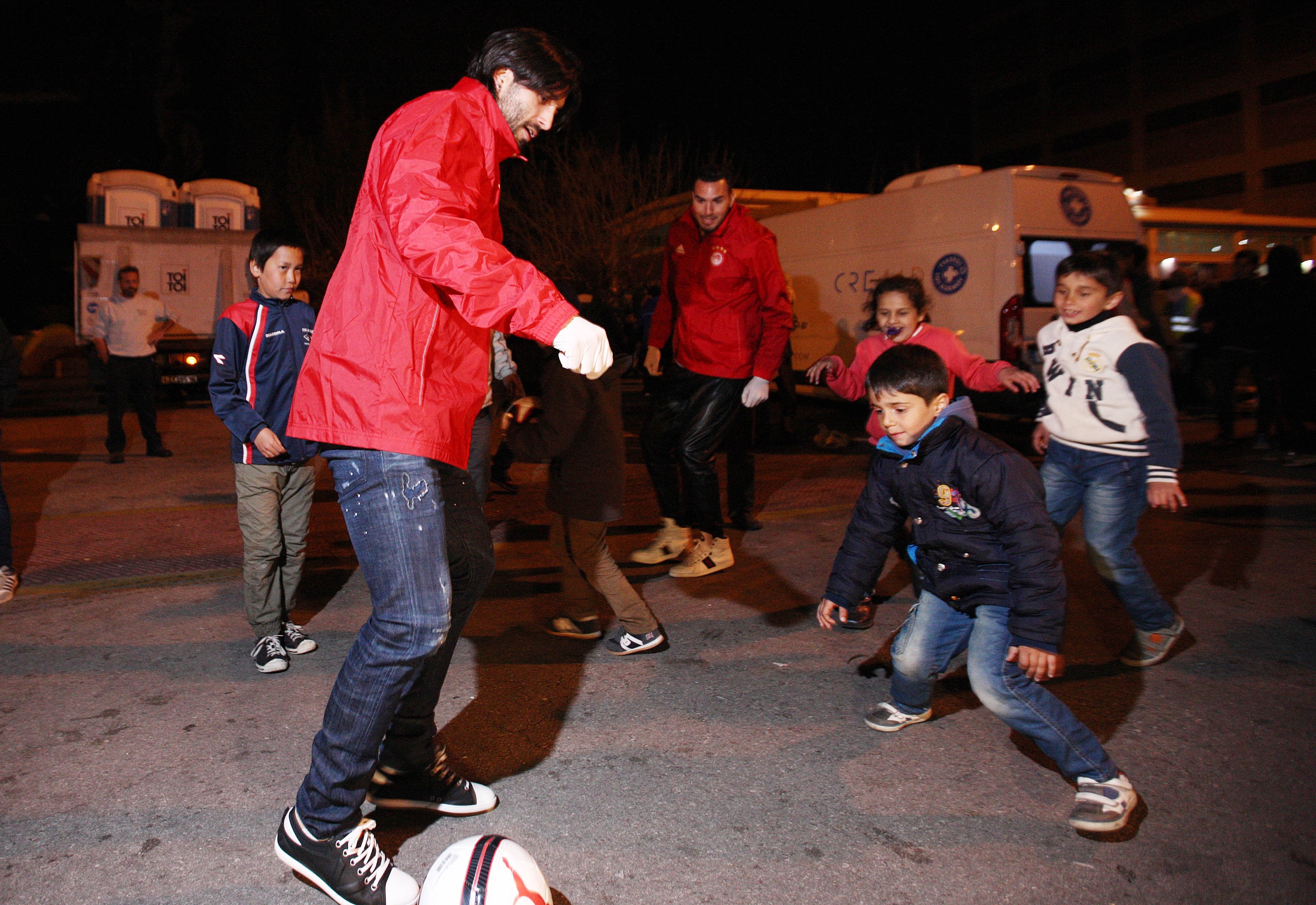 Chori Dominguez said: "The truth is that this is a very difficult situation. It's nice to be able to help. We can see that things here are really difficult. This is a great initiative by our President who offers a helping hand and in general supports people in need."
Roberto Jimenez added: "As Chori said, we have the opportunity to see what the situation really is. To see how tough reality can be and how privileged we are. The most important thing, besides showing what is going on here and how we are helping these people, is to realise how grave the situation is. We must pay attention to the fact that people do not live as comfortable as we do. The fact that we can, through our Club's initiative, help these people, makes things a little better for us."
Watch the relevant video:
To see more photographs, click HERE.