Paulo Bento:
-About his expectation for tomorrow's fixture: "I believe that tomorrow it will be a match in which both sides will try to dominate. They will both try to take control and prevail on the pitch. Certainly, winning top place of the group is an extra incentive for us, whereas APOEL can afford not to win. Ourselves, we are prepared to meet our objective. Both sides will play strong and try to get the upper hand. I don't believe our plan will be affected by the fact that some players have been sidelined. All our players are more than ready to deliver the proper reaction on the pitch. We believe in and rely on team work.".
-Will it be a failure for Olympiacos not to finish top of the table and what does it mean to have Chori in the squad?: "Firstly, we have 20 players in the squad with us, meaning that 2 of them will be left out before the match. Out of the rest, we will pick the best for the starting lineup. We will know by tomorrow who they will be. As per the first question of yours, our spell in the group stage to date cannot be considered a failure. We played a knock-out tie and we made it to the group stage where we should be. Then, we have set as our main goal to qualify for to the next round which we have already accomplished. Currently we struggle to win top of the table, however I don't think there is any chance for our campaign so far to be considered a failure no matter what happens tomorrow".
-Whether Olympiacos, tomorrow, will play an offensive-minded match: "This is our intention be it in a domestic league match or in the UEFA Europa League. We try to play offensively and win matches. We definitely want to win tomorrow's match. Both teams want so. We will try get control of the match, dominate the pitch and attack. No teams wins matches solely on its offense. There has to be a balance; and that we will try to do".
-Whether the Olympiacos roster has enough quality to reach dar in this competition: "We are well aware of our roster's capabilities and our players' qualities. It's been proven in the matches won. We've done quite well so far. Our championship lead tells a lot. Of course, there is a long way ahead. Our team is doing fine in all three competitions we participate in; let us not forget the Greek Cup in which we have qualified as well. We know we have quality and we rely on that to win. Our first goal is to win the championship. Having said that, we will try to do the best in Europe".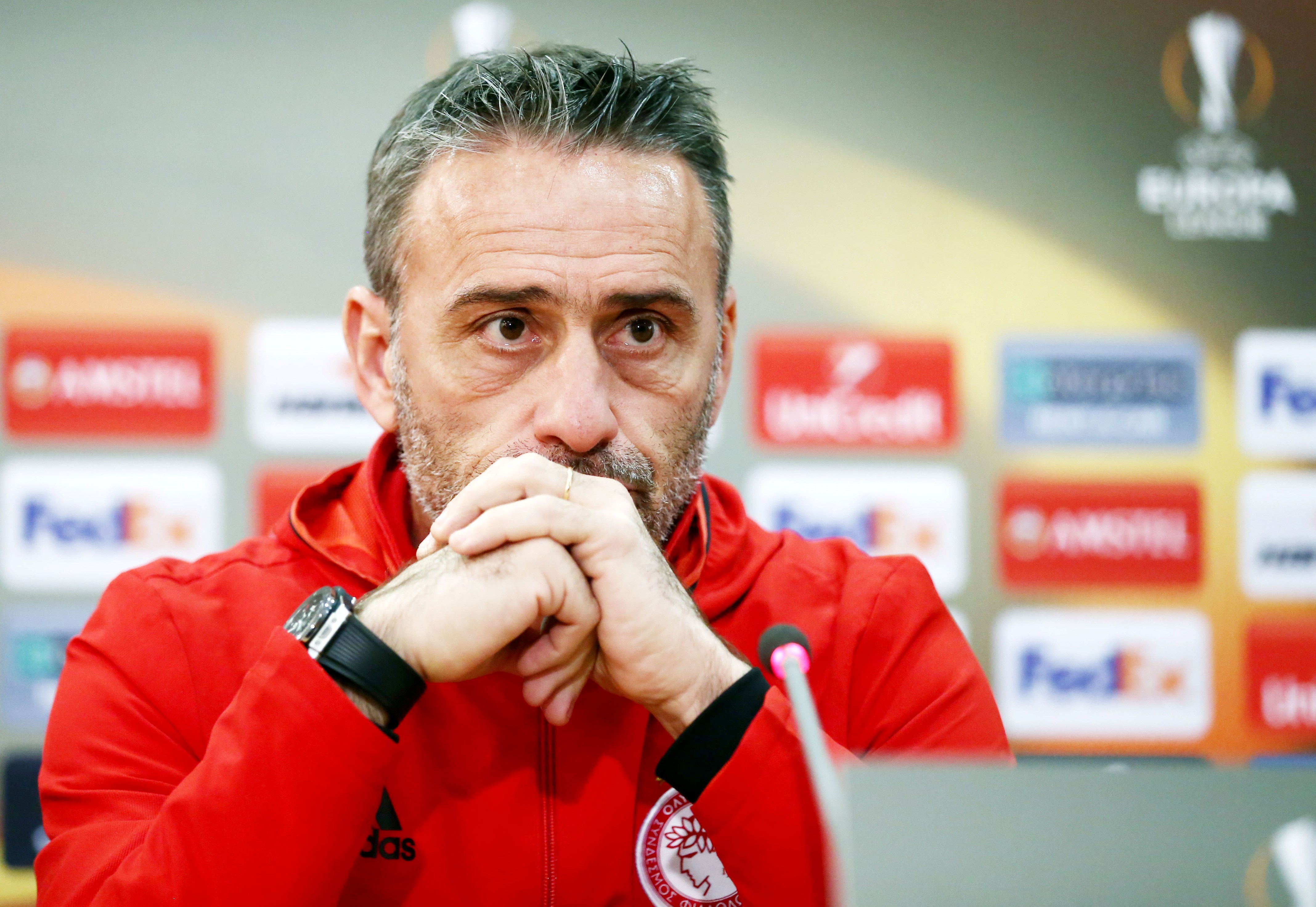 Alberto de la Bella:
-On how he and his teammates deal with tomorrow's match given that qualification has been secured: "We came here aiming at winning top place of our group. We have played well so far but we have not been able to find ourselves at the first place. We came here knowing that APOEL beat us in the home match, so we will have to struggle to win and earn top place. We know it is going to be a tough match but we will try for the best".
– How much different do you expect APOEL to be compared to the first match in G. Karaiskakis?: "It will definitely be a different match; APOEL will be completely different. They play at home. I believe our home defeat was not fair. We had had our goal-scoring chances. APOEL can earn top place tomorrow even without winning the match, but they know they will play against a strong outfit ready to give everything and make their lives difficult. Tomorrow's match will be an open one and APOEL will play in such a way in order to dominate the pitch».
-On the fact that Olympiacoo's fans have had enough championships and maybe it's time for a European final: "Certainly, this is a dream of ours. Olympiacos is definitely a club of such a history and size that is worthy of something more beyond Greek championship titles. That's why we are ready –despite we have not been able to attain the goal you mentioned in previous years- to give everything and go as far as possible and register a very good campaign".