Olympiacos FC announces selling of footballer Panagiotis Retsos to German Bayern Leverkusen.
Upon completion of the transfer of young central defender to Leverkusen, Olympiacos FC President Evangelos Marinakis made the following statement: "I want to wish the best to Panagiotis, who, as of now, will be playing in one of Europe's major leagues. This transfer is of historical proportions, since it is the most expensive one in the history of Greek football. Panagiotis was just a 10-year old kid when he joined the Olympiacos family; he is now taking the next step in his career as a professional football player. He is a very talented individual, both as an athlete and a champion, he is no stranger to hard work and he is a young man of outstanding character.
I am certain he will be an exceptional ambassador of our Club and country. I am particular happy because our vision of a model Academy has now become reality and this has been the product of love for OLYMPIACOS put in action by football-savvy specialists and of hard work. This transfer means a lot for the level reached by Greek footballers and for football Academies of all clubs across our country. Young Greeks, the very hope of our country, they spill over with talent and it takes skillful people to help these talents emerge and create better individual and great athletes. We keep on dreaming".
For his part, Panagiotis Retsos said the following: "It is a great honour for me to have played with this jersey on for 10 whole years. I would like to thank the entire Olympiacos family, who have helped me so throughout these years to make my dream come true: to play football at a professional level for the club I love and joined while still a kid. [I would like to thank] all my coaches, from my early years until today, who believed in me and my teammates who, by means of our training and matches played, have assisted me to evolve both inside the pitch and outside. They have helped me build strong ties of friendship and learn how to operate as a part of a single entity. It was just some days ago that I have been given the captain's armband, that of the greatest Greek team. This is something that will accompany me throughout my entire life and will always bring feelings of honor and pride back to me.
I feel equally proud of all the moments I have experienced inside the Karaiskakis arena, together with the always-present fans of Olympiacos; those have been incomparable moments. I would like to thank each and every one of them for everything they have offered me; Mr Marinakis, in particular, not only for believing in me, but in all Olympiacos Academy kids. I wish an amazing year to the club, coupled with the 8th consecutive championship title, a successful campaign in Europe and many years to come filled with success".
Panagiotis Retos was born on τις 9/8/1998 in South Africa's Johannesburg. At the age of 5, he started playing football for Agios Dimitrios-based Thyella. When 10, in 2008, he joined Olympiacos Academy and U-1o team, with Ilias Savvidis as his first coach. On March 6th 2009, he got his Hellenic Football Federation player ID issued.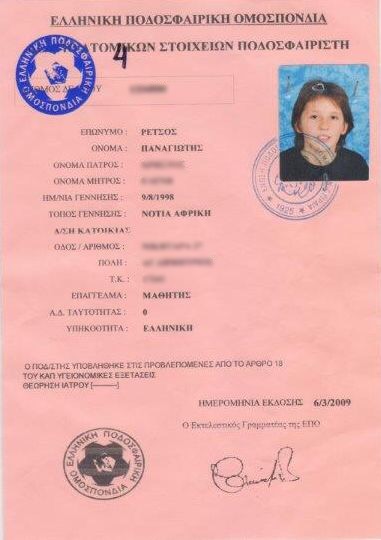 In 2011, he won first place with the U-13 team in the "Biale Cup" International Tournament in Poland. This team has been awarded many times by Olympiacos President Evangelos Marinakis for their success. After playing for the U-3, U-14, U-15, U-16 teams, he was promoted to the U-17 team. As the team's captain, he wins the U-17 Super League title. In the final hosted on 30/5/2015 in Agrinion, Olympiacos downs 1-0 the team of PAOK. This has been Retsos' original title at the Super League level! During that season, he was capped 20 times and scored one goal for the U-17 team.
In the same year (2014-15), he also plays for the U-20 team. His premiere match with this team is on 24/11/2014 against OFI (0-4). Panagiotis plays for 14'. As a U-17 player, he also features in 7 matches of the U-20 in the same campaign. Apart from the U-17 championship, he also wins the U-20 title in the same year. On 22/10/2014 he makes it into the team's squad for their home match against Juventus for the UEFA Youth League franchise, whereas in the 2014-15 season, he is capped 10 times with the U-17 National Team.
On 17/7/2015, together with Dimitris Nikolaou, sings his first professional contract with Olympiacos FC and joins the First Team's pre-season training! In the 2015-16 season, he wins the U-20 Super League Championship! In the UEFA Youth League, he is capped 6 times during the 2015-16 campaign. His first one was that at home against Bayern Munich on 16/9 in Rentis. Olympiacos wins 1-0 and Retsos plays the entire 90 minutes. He also features in the remaining 5 matches against Dynamo Zagreb (2), Arsenal (2) and Bayern (1). With the U-20 team, he plays 25 matches in the U-20 Super League franchise.
As a player of Olympiacos Academy, he used to play in teams featuring older players than him and he had captained them all!
In summer 2016, he joins once again the Frist Team's pre-season training and becomes a squad member. On 25/8/2016, he plays for 120' in the Europa League match against Arouca. Our side beats them 2-1 at home and qualifies to the group stage.
* On 11/9/2016 he debuts in the Super League in Olympiacos home match against Veria. Olympiacos wins 6-1.
* On 11/10/2016, together with Nikolaou, Manthatis and Androutsos, renew their contract for another 5-year term, until 2021.
* On 26/10/2016, he is capped for the first time in Greek Cup match against Platanias in "G. Karaiskakis".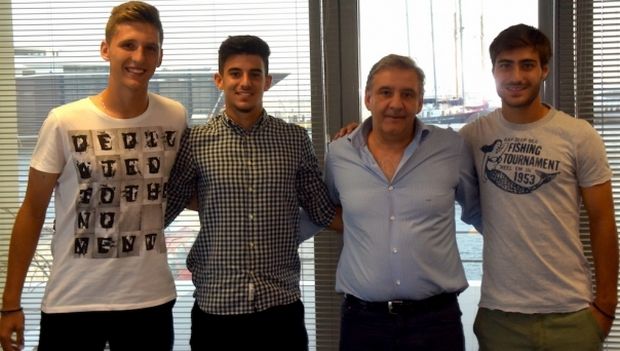 * In the Greek Cup match against Atromitos in "G. Karaiskakis", Panagiotis Retsos becomes the youngest ever player to captain the Olympiacos squad. The date us 8/2/2017 and Panagiotis is no more than 18 years, 5 months and 30 days old.
* In total for the 2016-17 season, Panagiotis Retsos played in 18 Super League matches, 8 Greek Cup and 8 Europa League ones. He wins the Super League title with Olympiacos.
He was capped 134 times with the U-20 National Team and on June 1st, 2017, he was summoned to join the National Men's Team for the 2018 World Cup qualifier against Bosnia.
* For the 2017-18 season, he has played 2 matches in the Super League and 4 in the UEFA Champions League qualifiers.
TITLES
* 1 Super League Championship (2016-17)
* 2 U-20 Super League Championships (2014-15, 2015-16)
* 1 U-17 Super League Championship (2014-15)
* His brother Dimitris was born in 2004 and plays as a central defender in the U-14 team of Olympiacos Academy. He has one more brother, older Michalis, and a young sister, Maria.