The effort to keep OLYMPIACOS amongst Europe's finest, also in terms of our Academies, never stops and thanks to unwavering commitment and investments by the leader of OLYMPAICOS, Mr. Evangelos Marinakis, the qualities of our club's Academies are being recognized throughout Europe.
It is not by chance that the Rentis training ground has been recently visited by delegations from Liverpool and Atletico Madrid in order to exchange insights and knowhow on football in young ages and those academies that represent a nursery for those great players we all enjoy in European leagues.
This year, OLYMPIACOS takes one more step ahead and implements its plan to bring our entire U-19 team in England and in Nottingham Forest's state-of-the-art, recently renovated training center. This will the place where our team will spend preseason and get ready to excel in the coming year.
The players of Riccardo Peres are to experience something unique since they will also play 6 demanding and important friendly matches against Nottingham Forest, Manchester City, Everton, Aston Villa, Reading and Sheffield Wednesday. All matches, except for the one against Forest, will be hosted at the training center helping thus OLYMPIACOS young players to gain additional experience.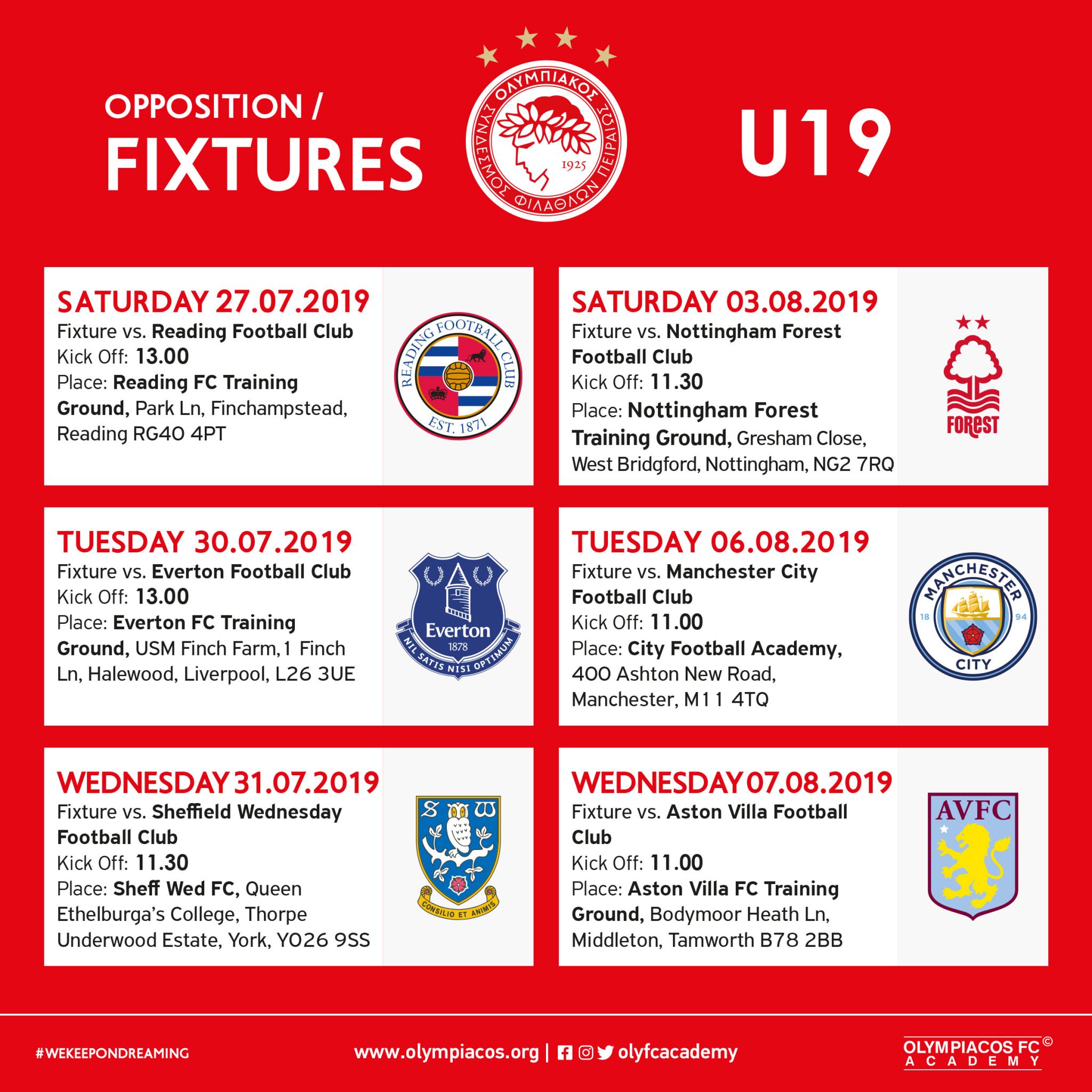 Apart from purely physical training and the acquisition of new insights, our club will also be able to demonstrate once more our philosophy and dynamics that have brought both the club and our academies within Europe's elite.
The red-and-whites are to gather for their first meeting on 15/7 in Rentis. They will fly to Nottingham on 26/7; on 9/8, they are back to base. In fact, our U-19 will be the first Greek team, at the level of Football Academies, to conduct its main preseason training abroad. Members of the Olympiacos Academy went to the Forest's Training Center a few days ago to check on all facilities where our team will train and stay for a total of 14 days.
A visit by the Nottingham Forest's Football Academy has already been prepared. Its aim will be to host all teams that our OLYMPIACOS U-19 team will play against in England, in the context of the corresponding tournament to be hosted this time in our ultra-modern facilities of the Rentis Training Centre; besides, our U-17 team will play in tournaments abroad.