Olympiacos will host Slovan Bratislava for the UEFA EUROPA LEAGUE 3rd qualifying round on Thursday (start time: 22.00) at the G. Karaiskakis stadium.
The «red-and-whites» new coach Carlos Corberan and the Piraeus club central defender Socrates Papastaphopoulos in press conference duties ahead of our side's Thursday match
Detailed quotes by Socrates Papastathopoulos during the press conference:
What is the one thing that Olympiacos must do differently in this 2-legged tie with Slovan from what the team had done against Maccabi Haifa?
We have to do all things differently, not just one; what we saw in both previous fixtures was no Olympiacos. Surely, we, the players still feel very bad – especially the second match was a disgrace and we are determined to show on the pitch and to our fans, most importantly, that this has been just a bad moment and may it never happen again.
A new coach joined the club; have you had the time to assimilate his systems?
When one joins a team 3-4 days before a fixture, time is certainly not enough for anyone. Since his first day, our new coach showed certain things he wants us to introduce to our game. Certainly, we will apply some of them and we will be better and ready.
With your new coach, are there differences in terms of his mentality and the way of working compared to the past?
Certainly, some things are different and this is quite reasonable; I don't mean that it's better or worse than before. We have to integrate some new things in our game that the coach wants. We have to be concentrated so as to help him and also make it to the next round.
Are the fans to expect something different from the squad on the pitch?
I believe they should wait for an Olympiacos squad that will set foot on the pitch and stay hungry until the 90th minute, ready to fight for the win. Apart from the fact that we, the players, want to demonstrate bits and pieces from our new coach's teachings, we also want to show that what happened especially in the last match, was a disgrace and it will never happen again. Of course, in football, one should never say never, however, we do not want to experience again such a thing.
What will be the «key» to this match?
How we will set out to play this match will be critical; equally, the key will be to remain patient both in offense and defense. Our lines should be close and respond properly during the match. If we do that and given the things our coach told us, I believe we will have a beautiful evening and a great result.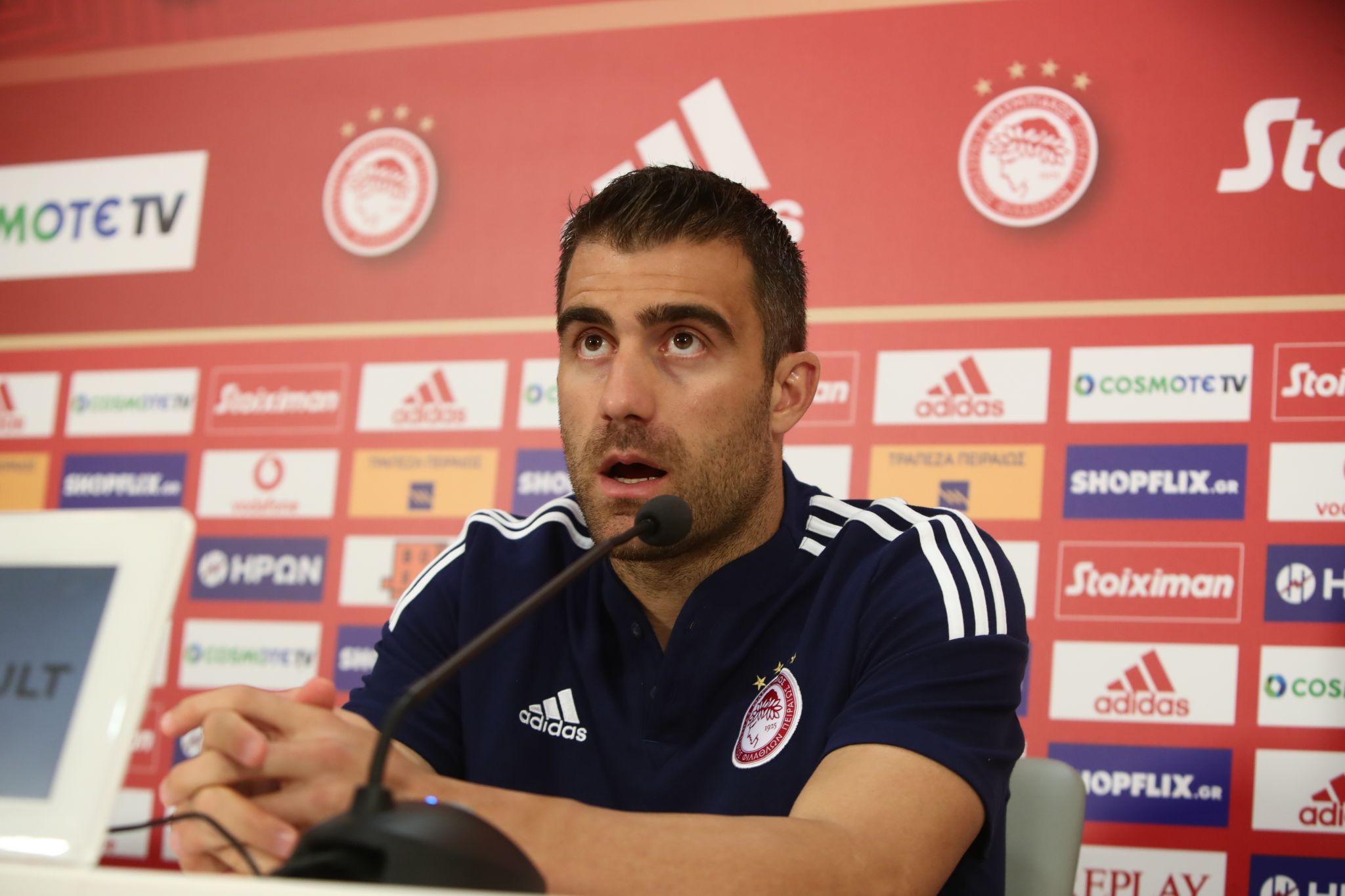 Detailed quotes by Carlos Corberan during the press conference:
Having watched Slovan, what will be the key for Olympiacos to win and get the advantage for qualifying;
The emotional part will be important, this is important for us; the same applies for our reaction given our last matches. I think that we have to display a team spirit, to stay united with our amazing fans. I know I have joined a club with strong supporters and it is important to us to show that we stand united in order to attain our goal. Of course, we have 2 matches ahead of us to do so; however, the one tomorrow is the most important.
Have you made up your mind about the potential starting XI? Moreover, will there be any change in the UEFA list for the tie?
We will have two changes in the list and, after these few days I have been with the team, I have decided on the ones to the starting line-up. I think that tonight or tomorrow it will be more proper to discuss about potential changes, since we still have one training session to go.
Is there any case to see players being capped who were not played by the previous technical staff?
It all depends on how one sees the players; I will take my own decisions from my point of view and based on what I saw in the past few days. I will take my own decisions. All players who are in the list are the players currently training with the team.